Discover How To Convert BMP to PDF in a Few Seconds!
BMP is a bitmap image file format developed by Microsoft. It's the most common uncompressed raster graphics file format on Windows.
PDF stands for Portable Document Format, and it was developed by Adobe. This file format is used for distributing and presenting documents in a manner independent of application software, hardware, and operating systems.
Want to convert BMP to PDF? We'll show you how to do it with a free online converter in a few steps!
Since free online converters aren't known for being super reliable and trustworthy, we'll also offer you a different and more secure conversion method—DoNotPay. Subscribing to our app will allow you to convert any number of files you want, including BMP and PDF, securely and in record time!
How To Convert BMP to PDF Online
Converting BMP to PDF with a free online converter is perhaps one of the most practical ways to do it. But before you decide to use one, you should find out all about how the conversion process works, what converters you can choose from, and what their common drawbacks are. Luckily, you don't have to search the internet on your own to find this info—we're here to provide you with all the details.
Here's how the conversion process works with free BMP to PDF converters online:
Go to the website you want to use
Upload the BMP file you need to convert
Choose PDF as the format you want it to be converted to
Click on Convert
Download your file once converted
Some of the commonly used BMP to PDF converters are:
Online2PDF
Zamzar
Smallpdf
Although the process isn't complicated or demanding, there are certain security and quality issues you'll likely come across when using these web-based converters.
The Issues You Can Run Into When Using Free BMP to PDF Converters Online
If you're looking for a free file converter to handle your conversions, you might want to pause for a moment before completing the task. Many converters, especially web-based ones, come with embedded viruses or malware that can infiltrate your computer and corrupt the files they convert.
Some of these converters will provide you with files that are riddled with errors. Your converted file can often end up blurry or pixelated, and the quality is usually significantly reduced.
The biggest issue regarding free online converters is the fact that these websites aren't properly secured, and third parties can gain access to your personal info. Cybercriminals can use it for malicious purposes, so beware of these platforms.
How To Convert BMP to PDF With DoNotPay Safely in Three Steps
Once you start using DoNotPay, you won't have to worry about whether your data is protected or not. We make sure all of your personal info and data are completely secured and even remove it from our database after 24 hours. There is no way unauthorized parties can gain access to your files, and you can have peace of mind knowing you'll get high-quality results risk-free in only a few seconds!
We also make sure that the conversion process is completely streamlined—all you need to do is access DoNotPay and complete the following instructions:
Open the File Converter product
Upload your BMP file
Select PDF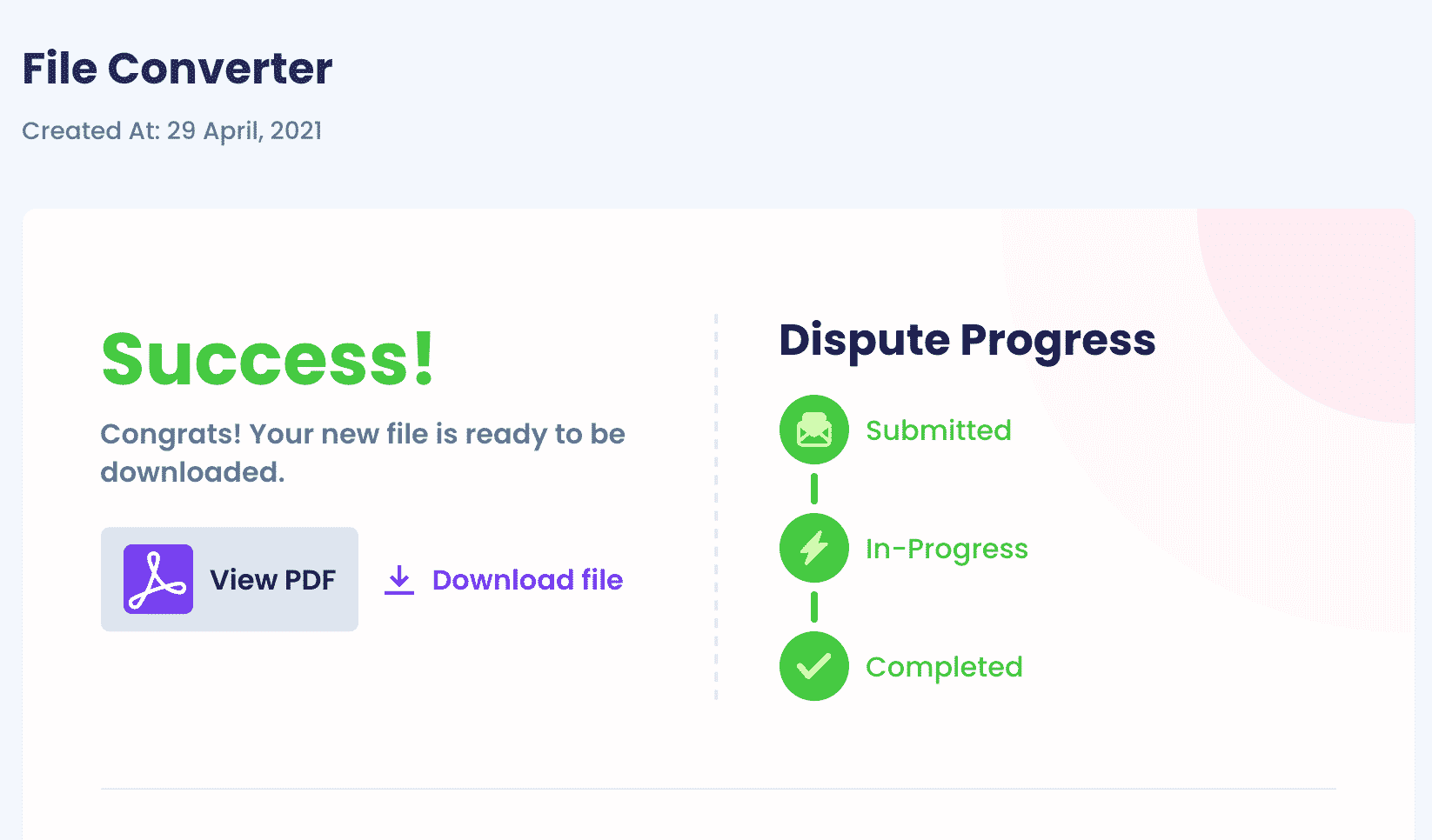 We'll convert your BMP file right away, and you'll be able to download it from the My Disputes page in seconds!
What Other Files Can DoNotPay Convert?
Need a simple way to convert other files besides BMP and PDF? Use DoNotPay to convert a wide range of file formats in only a few taps! Check out the table below to see some of the other files our app converts in a snap:
Have All Your Files in One Place
DoNotPay is designed to help you do more with less work. Apart from converting hundreds of different file types, you can also leverage DoNotPay to compress your files to take up less space on your device.
Found a video online that you'd like to save as an MP3 to play it on the go? Whether it's a music video, a guide, a lecture, or a podcast, DoNotPay can convert all manner of online videos to MP3 files with ease! You can also use our award-winning app to download videos from social media and the web so you can enjoy them even when you don't have access to the internet.
DoNotPay Helps You Tackle All Manner of Different Tasks With Ease
Streamlining complex processes and saving you a ton of time and money in the process is what DoNotPay does best!
For instance, we can help you skip the phone queue of any company by waiting on hold in your stead. We can also help you cancel any unwanted subscription or service with a single click, as well as request a chargeback, return an unwanted item, and get a late delivery refund.
You can also use DoNotPay to find unclaimed funds in your name, lower your bills, reduce property taxes, appeal parking tickets, and dispute seatbelt tickets. Apart from saving you a ton of money each month, DoNotPay can also give you that much-needed peace of mind by helping you get rid of annoying robocalls and email spam for good!