Learn How To Convert Audible to MP3 Step by Step
Audible is the world's largest seller and producer of downloadable audiobooks.
AAX is a file extension developed by Audible, and it can contain audio, links, images, videos, and more.
If you downloaded an audiobook from Audible and now want to convert AAX to MP3 or other formats, we're here to show you how! You can use different audio converters to convert Audible to MP3, but you should get acquainted with how they work and what their downsides are first.
If you're looking for a safe way to convert more than your AAX files, DoNotPay is the perfect solution! Once you sign up, you'll be able to convert any number of files in a jiffy!
How To Convert Audible to MP3
You can convert your Audible to MP3 by installing a downloadable converter and using it to get the job done. Some of the commonly used ones are:
ViWizard Audible AA/AAX Converter
Audials Music
Macsome Audiobook Converter
Inaudible Converter
AudFree Audible Converter
Most of the downloadable converters work in the same way. You need to:
Download the converter to your computer
Run it
Choose the files you want to convert
Choose the output format you want
Wait for the file conversion to be complete
Download your files once converted
Even though using the above-listed programs can be convenient, it's not always easy nor cheap. You should gather as much info as possible before you decide to download a program and use it to convert your files.
The Downsides of Using an AAX to MP3 Converter
Audible to MP3 downloadable converters may be convenient, but they come with a few downsides as well.
One of the biggest disadvantages is that using these converters requires too much time and effort. You have to follow numerous steps to complete the conversion, and if your internet happens to be slow, you can expect to wait for quite some time for the converter to even download.
Another big issue is the price. Most of the downloadable conversion programs don't come for free—there is usually a fee that you must pay to use them. This fee varies depending on the program in question.
The quality of your files can also be significantly downsized when using this conversion method. You may even end up with unusable files.
Use DoNotPay To Convert Your Files in a Few Clicks!
If you want to convert other files besides AAX to MP3, DoNotPay will provide you with the most straightforward and secure way to do so! We can help you convert a wide range of file types, including MP3, MP4, OGG, AMR, and more!
The service we provide is 100% safe, and there are no annoying ads or limits on the number of files you can convert. We'll delete your data from our app's database 24 hours after the conversion to ensure its safety.
You can also convert your files on both Mac and Windows, so you don't have to worry about whether your operating system is supported or not. All you have to do to initiate the process is sign up for our app and complete our quick three-step guide:
Open the File Converter product
Upload the document you want to convert
Choose the output format and go to the My Disputes page to download it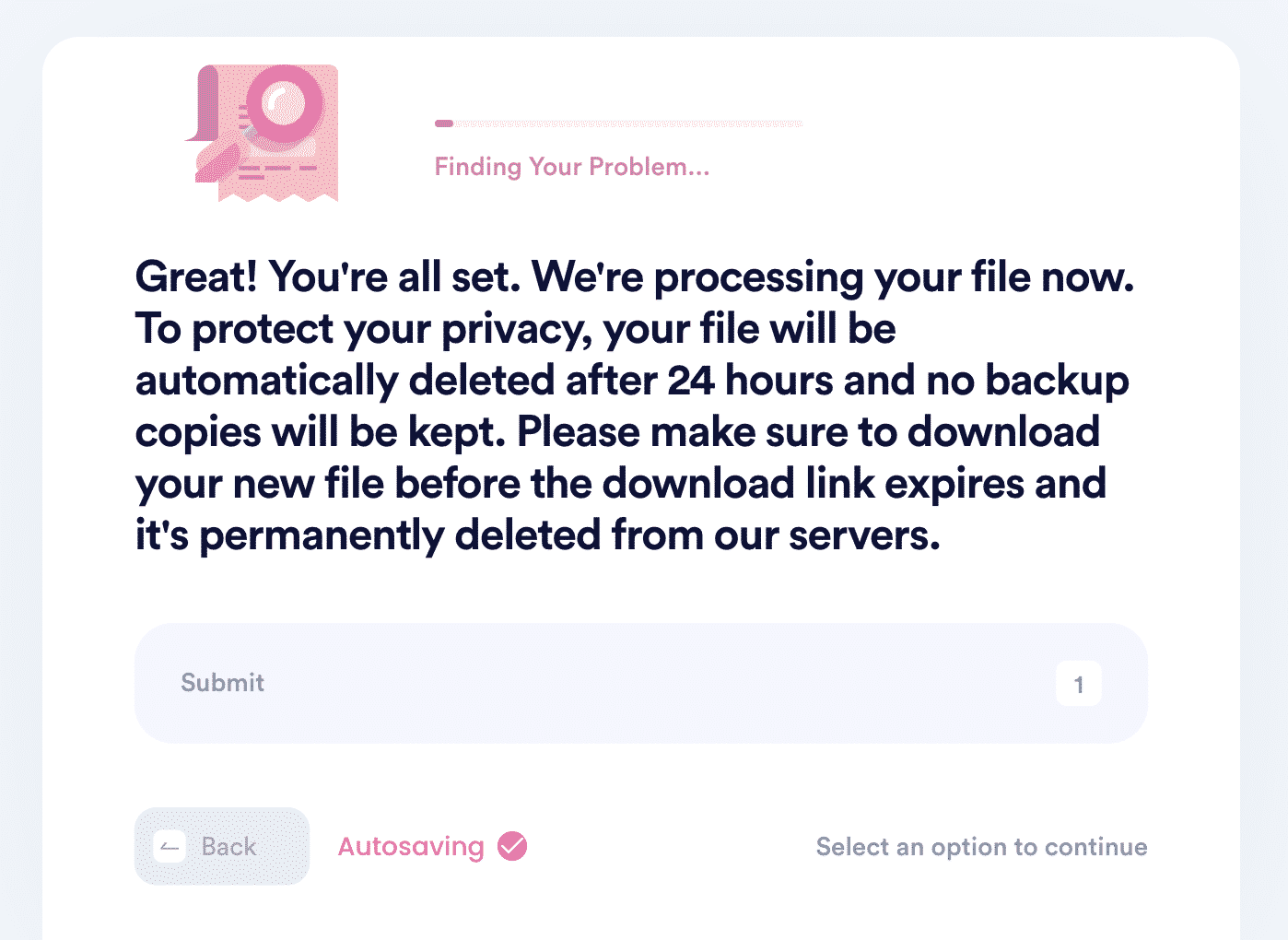 What Other File Types Can DoNotPay Convert?
Helping you convert your files to MP3 isn't everything we got in store! You can use our app to convert various other file types as well. Check out the table below to see what files you'll be able to convert using our AI-powered app:
Convert, Compress, and Download Anything With DoNotPay
Technology is advancing at a rapid pace, and it can be rather difficult to keep up. But there's no need to worry if you're not particularly tech savvy—DoNotPay got you covered!
With our easy-to-use app, you can compress any file, download videos from the web, and convert online videos to MP3 files, all with a few clicks. There's absolutely no experience needed. Your files are 100% safe, and your privacy is ensured because we delete the converted and compressed files after 24 hours.
Save Time and Money With DoNotPay
On top of file conversion, DoNotPay has hundreds of different products that automate boring tasks and streamline complex processes. And the best part is—you get access to all of them, so you can use our award-winning app to save a ton of time and money.
Here are just a few examples of what DoNotPay can help you with: