Discover the Easiest Way To Convert AAC to MP3
AAC is a compressed audio file that can be opened with media players like Windows Media Player, iTunes, and VLC. It's a compressed audio format that typically has a superior audio quality to MP3 files and contains metadata about the track, including artist, title, album, release year, genre tags, and artwork.
An MP3 file is a digital audio file that can be played on MP3 players, computers, smartphones, and other devices. The MP3 medium is typically compressed to reduce the size of the file, using lossy compression. This means it can't offer CD-quality sound, but it decreases the size of the file by up to 90%.
By converting AAC files to MP3, you will be able to listen to your favorite songs on many different devices. Also, they will be more convenient to share with other people.
If you're not sure how to convert AAC to MP3, we got you! This article will explain different ways to do this, including using DoNotPay. Our nifty app is the quickest, safest, and most reliable way to convert all kinds of files!
How To Convert AAC to MP3
If you're looking for a quick way to convert your files, there are many online converters on the internet that can help you complete this task. They are easy to use and convenient because there's no need to install additional software on your computer. Some commonly used online converters can be found in the table below:
| Converters | Description |
| --- | --- |
| CloudConvert | CloudConvert is a website dedicated to converting files. It supports all major formats, such as DOCX, PPTX, XLSX, PDF, MOV, and MP4 |
| Convertio | Convertio is an online tool that lets you convert your documents between different formats |
| Zamzar | Zamzar is a file conversion service that lets you convert any type of file from one format to another. It supports over 200 formats |
| FreeConvert | FreeConvert is a platform that lets you convert your files to dozens of popular formats, including PDF, MP3, OGG, WAV, and more |
Offline converters offer more reliable results since you have complete control over the conversion process. Here are some popular ones you may want to try:
Any Audio Converter
Freemake Audio Converter
AudioZilla Audio Converter
Total Audio Converter
What Are the Downsides of Using an Online AAC to MP3 Converter?
Before opting for an online AAC to MP3 converter, you should get familiar with a few downsides. The first downside to using an online file converter is that you won't get the flexibility that you might be accustomed to. Most of these converters use one set of presets and don't give you the option to customize the settings. This isn't always a problem, but it can be if you have a specific aspect ratio, resolution, or format that needs to be preserved in your conversion.
The second downside is the poor quality of the converted files. If their quality is of utmost importance to you, you should avoid free online converters.
Convert AAC to MP3 in Seconds Using DoNotPay
Converting AAC to MP3 using our nifty app couldn't be any easier! All you need to do is:
Log in to your DoNotPay account and open the File Converter product
Upload your AAC file
Choose MP3 as the output format
And you're done! Your newly converted file will be ready for download on the My Disputes page in only a couple of seconds. We will delete it from our database 24 hours after the conversion to protect your privacy.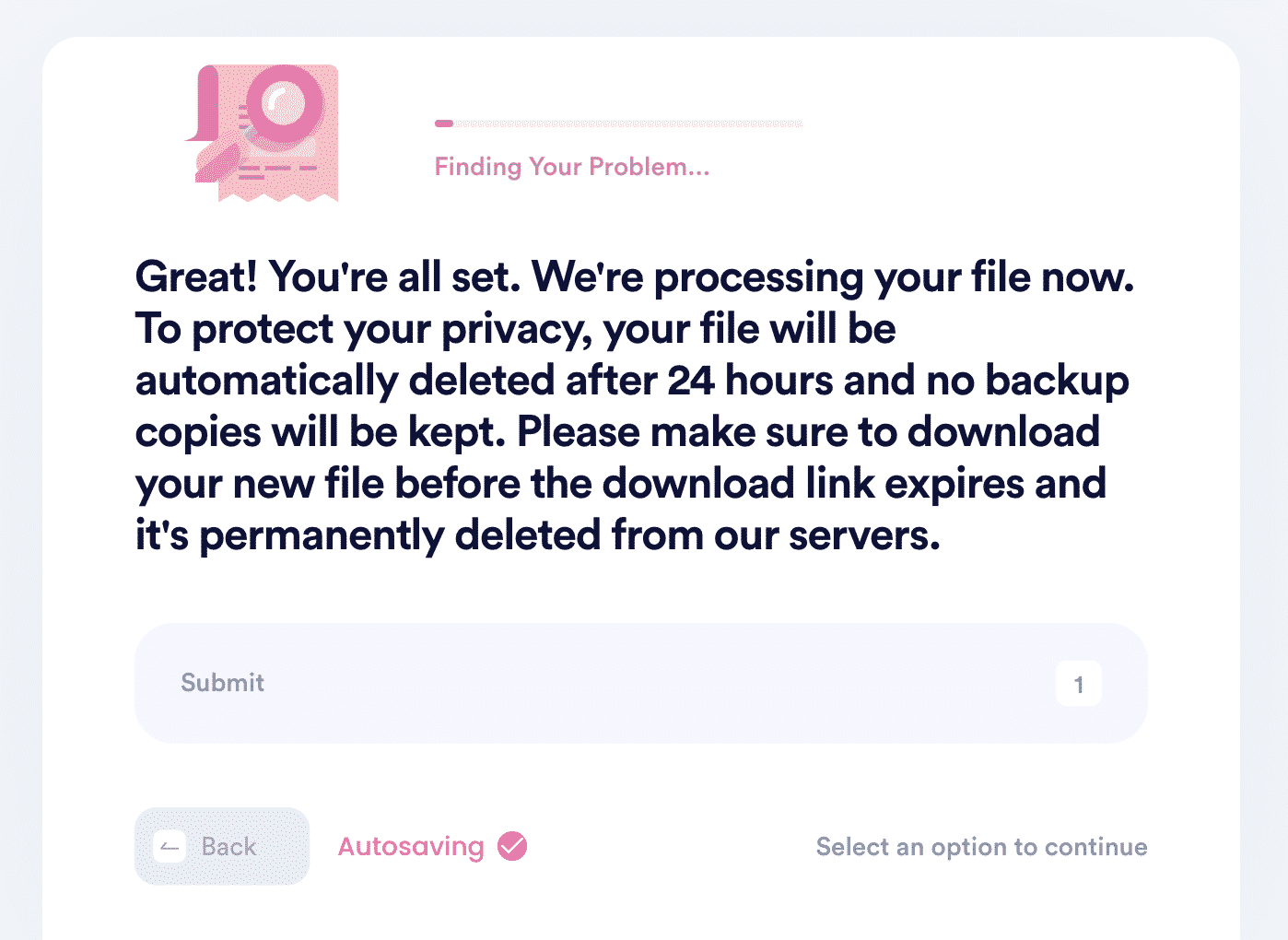 With DoNotPay, you can convert an unlimited number of files for a low monthly fee. Since our File Converter product is browser-based, you can convert any file regardless of what operating system you're using.
What Other Files Can DoNotPay Convert?
To see what other files other than AAC and MP3 you can convert using our award-winning app, check out the table below:
Download and Compress Anything With DoNotPay
Converting hundreds of different file types is just one of many DoNotPay's file-management capabilities. Once you start using our app, you'll also be able to compress files in seconds, convert online videos to MP3s so you can play your favorite tunes on your PC and phone, as well as download videos from the web with a single click.
Once you understand how convenient and easy to use DoNotPay is, and once you understand how much time and energy it saves you, you'll never do any of these tasks manually again!
What Else Can DoNotPay Do?
DoNotPay is an ever-expanding app. We're constantly adding new products and features that will save you time, money, and energy!
From simplifying complex legal processes like creating a power of attorney and drafting a will to suing companies in small claims court, DoNotPay does everything in its power to improve the quality of life of the average person.
Are you sick and tired of annoying robocalls and email spam? Let us take care of it and enjoy your peace of mind.
Don't want to spend hours waiting on hold or filling out dozens of forms? Use DoNotPay to jump the phone queue, schedule a DMV visit, or cancel an unwanted service or subscription in seconds.
This is just a fraction of what DoNotPay can do for you! Sign up today and see for yourself why over 150,000 people rely on our award-winning app each month.