Easy Ways To Convert 7z to ZIP Quickly
7z format is an archive file format that supports various different data compression, encryption, and preprocessing algorithms.
ZIP format is also an archive file format, and it supports lossless data compression. That means that data can be compressed without losing any quality.
You can easily convert your 7z files to ZIP by using different online converters. We're here to explain how the conversion process works and show you how to get it done. In case you don't want to convert 7z to ZIP using an online converter, you can sign up for DoNotPay and use our app to convert a variety of files, including 7z and ZIP, in seconds!
How To Convert 7z to ZIP Online
Converting files online for free is one of the most popular conversion methods. Most people opt for this method because of its convenience and efficiency. However, there are other factors and disadvantages regarding free online converters that should be noted, and we're here to discuss them. But first, let's go over how the conversion process works with some of the most commonly used 7z to ZIP converters, such as:
CloudConvert
Convertio
FreeConvert
Here's what you need to do:
Visit the website you want to use
Upload the file you need to convert
Decide what format you want the file to be converted to
Start the conversion
Download the converted file
Although the process is streamlined and doesn't require too much time and effort, there are certain issues you can run into that will make matters quite difficult.
The Issues You Can Run Into With Free 7z to ZIP Converters
With all the free file converters that are available online nowadays, it seems like you're good to go with whatever file conversion you need, right? Not so fast. There are issues with converting files that can come back to haunt you later on, and we'll outline some of them here:
Format conversion issues—This is by far the biggest issue that arises when working with free online converters. For example, if you have a 7z data file, but the free online converter can't convert it to a file type supported by your operating system, then it will likely crash or malfunction in some way
File size issues—Some free online converters don't support certain file types, and if you try to use such a converter with a large or high-resolution image (for example), it may not be properly resized and result in a distorted image
Security issues—Security is something to be concerned about when using free online file converters. It's quite possible that the website you are using could be collecting information about you or your files or may even have security holes that can lead to big issues further down the line. Your files can be shared with unauthorized third parties without you knowing about it
Convert 7z to ZIP Securely With DoNotPay
Forget about risking your data and sensitive info with free online converters, and choose a safe and reliable option instead—DoNotPay. Our app will protect all of your files during the conversion process and remove them 24 hours after the conversion. You can get your high-quality converted files in only a few clicks, but that's not all! You can convert them on any operating system you want, including Windows, Mac, and Linux!
Sign up for DoNotPay, and complete the following instructions to convert your 7z to ZIP in a jiffy:
Open the File Converter product
Upload your 7z file
Choose ZIP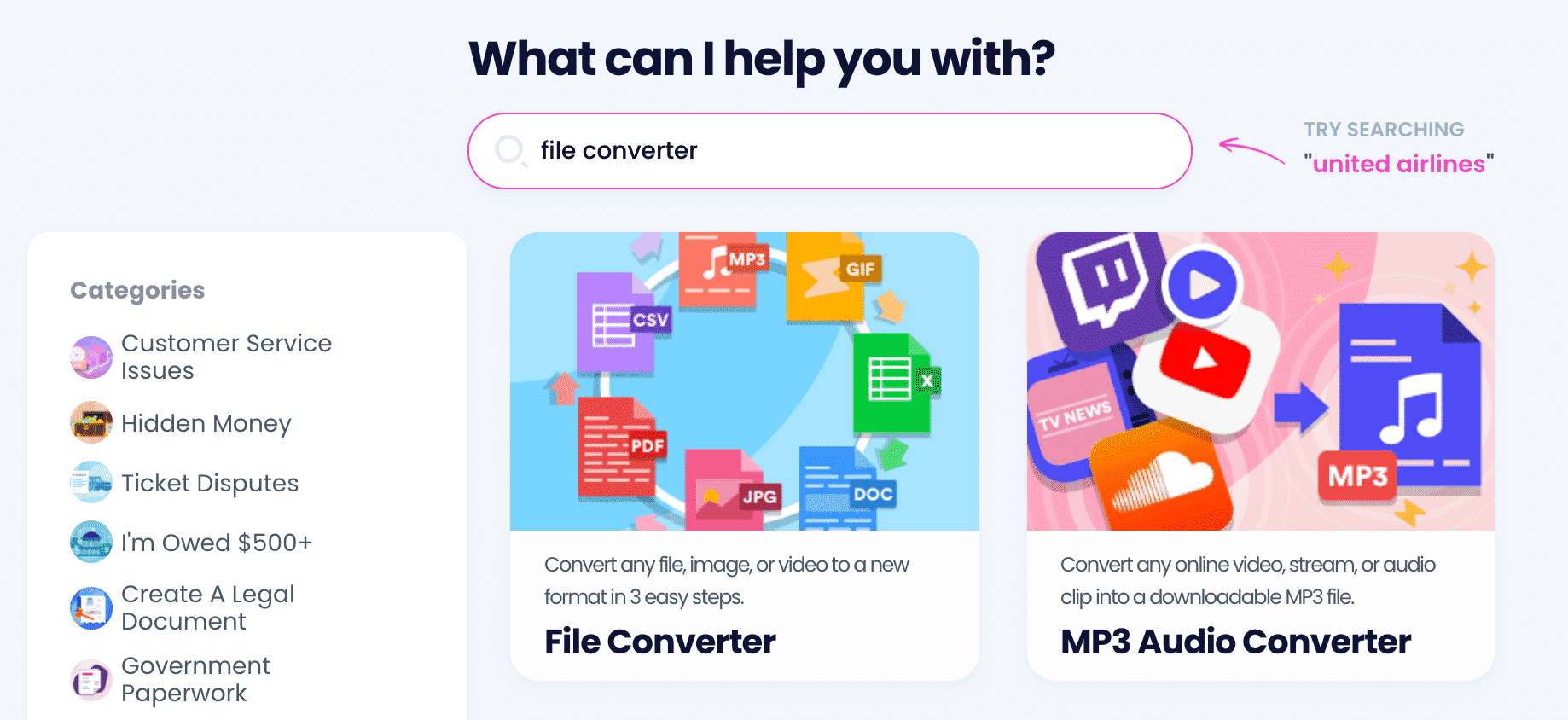 Our app will convert your file in the next few seconds, and you can go to the My Disputes page to download it right away!
What Other File Types Can DoNotPay Convert?
You can convert more than your 7z files with our app! Look at the table below to see a fragment of other file types DoNotPay converts in a flash:
Much More Than a Simple File Converter
When you're converting files, keep in mind you'll need hard disk space for both the original and the converted file. While the HDD space individual files take up is barely noticeable, if you're planning on converting multiple files, it can quickly add up.
Luckily, DoNotPay also lets you compress files to make them easier to store. You can also use our award-winning app to convert online videos to MP3s, as well as download videos from social media and the web and save them on your device.
DoNotPay Offers Unmatched Functionality
DoNotPay offers a lot more functionality than a regular file converter. On top of these file management features, you'll find hundreds of different products within the app that can facilitate, streamline, or automate a wide variety of tasks, saving you time, money, and nerves!
Here are just some of the areas in which you'll find DoNotPay's assistance invaluable:
| Legal | Time-Saving | Money-Saving |
| --- | --- | --- |
| | | |
The possibilities truly are endless with DoNotPay!