Convert 3GP to MP4 in a Couple of Clicks
3GP is a multimedia file created by the 3rd Generation Partnership Project (3GPP). It can be opened on 3G-enabled mobile phones without the need for installing a special app. MP4 is a file format used to store digital video and audio, especially on internet video streaming websites. It was developed by the Motion Picture Experts Group with the help of Apple Inc.
These files are similar because both are container files. However, 3GP was designed specifically for mobile phones whereas MP4 was designed to be played on various platforms.
If you are looking for a quick and safe way to convert 3GP to MP4, you can't go wrong with our File Converter product. Apart from being safe and quick, it is also easy to use and reliable. You can get access to it by signing up for DoNotPay!
How To Convert 3GP to MP4
Converting 3GP to MP4 is not that difficult if you have the right tools. There are countless converts out there, but they all fall into the two main categories:
Downloadable file converters
Online File converters
Using a Downloadable 3GP to MP4 Converter
If you don't mind downloading and installing third-party software on your computer, a downloadable file converter is probably the best choice. Even though you'll need more time and skill, the output quality will be much higher. You'll have more control over the conversion process and the ability to convert your files without an internet connection. Batch conversion is another great feature of offline file converters. It will save you so much time if you need to convert a bunch of files.
Using an Online 3GP to MP4 Converter
If you do not have a lot of time at your disposal, you should consider an online converter instead. You won't need to waste time downloading and installing additional software and completing numerous steps to initiate the conversion. Online file converters will require you to take only a few simple steps:
Upload the file you want to convert
Select the output format
Click on the Convert button
Download the file
What Are the Disadvantages of Using an Online 3GP to MP4 Converter?
Online file converters are extremely convenient, especially if you need to convert your files as soon as possible. However, they have several disadvantages which make them less than ideal. The major issue you should take into consideration before opting for an online converter is the risk of malware. There are a lot of shady websites that will trick you into downloading malware that can harm your device or even get access to your sensitive data, like emails and passwords. If you see that a website is full of suspicious ads, it's better to avoid it.
Another issue you should be aware of is the inability to convert large files or multiple files at once when using an online file converter. Lastly, you won't have any control over the conversion process or be able to edit your file after the conversion. This means you can't expect the converted files to be of great quality. What you can and should do before uploading your files to any online service, is to check its Privacy Policy and read reviews of previous users.
Convert 3GP to MP4 With Minimum Effort Using DoNotPay
By opting for DoNotPay, you'll be able to convert your files in seconds, while having peace of mind, knowing that our award-winning app is 100% secure. Our File Converter is the safest and most reliable file conversion tool on the market! The best part about it is that it's browser-based, so you'll be able to convert your 3GP file to MP4 in only a few clicks on both Windows and Mac.
To get started, log in to your DoNotPay account and take the following steps:
Open the File Converter product
Upload your 3GP file
Choose MP4 as the output format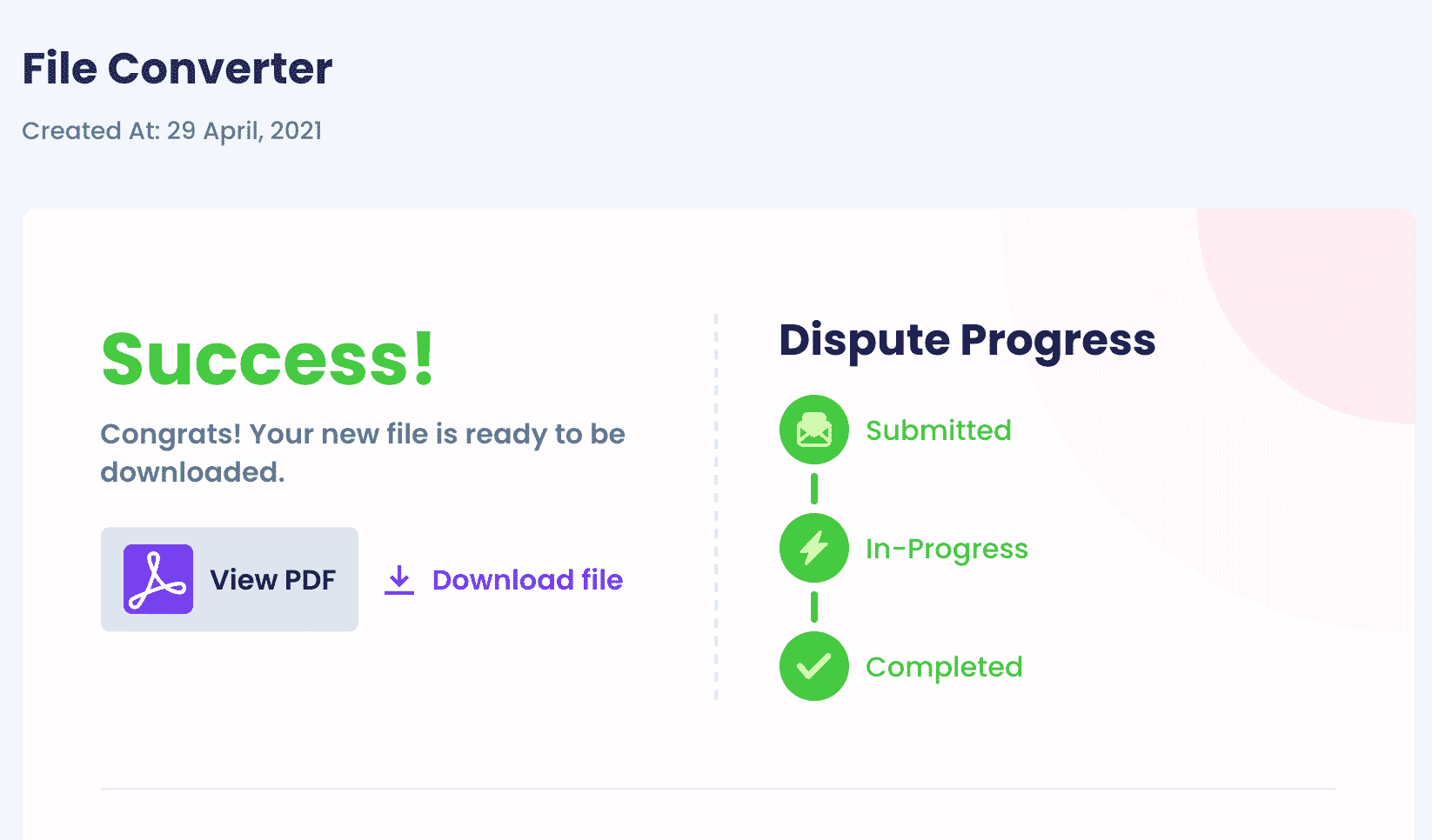 That's all you need to do! The conversion process will take only a couple of seconds. Once it's done, proceed to the My Disputes page and download your file.
What Other Files Can DoNotPay Convert?
DoNotPay is here to assist you with more than just 3GP and MP4 file conversions! There are many more files we can convert for you. To find out what these are, take a look at the table below:
Hundreds of Useful Features at Your Fingertips
What makes DoNotPay stand out from regular file conversion tools is the array of other features you get access to once you start using our app.
On top of converting hundreds of file types, you can also use DoNotPay to:
DoNotPay isn't just a converter—it's an app designed to make your life easier by automating tedious and complicated tasks. You'll find hundreds of different products inside our award-winning app that will help you save time and money!
Create Legal Documents, Cancel Subscriptions, Appeal Parking Tickets—All With One App!
There's no shortage of tasks DoNotPay can assist you with. For example, the world's first robot lawyer can help you with all manner of legal processes, including:
You can also have DoNotPay handle tedious, time-consuming tasks, like filing complaints, requesting refunds and chargebacks, canceling subscriptions, contesting parking and seatbelt tickets, and fighting email spam for you.
DoNotPay can also save you hundreds of dollars each month by helping you reduce property taxes, lower your bills, and find unclaimed money in your name.