How To Convert 3GP to MP3 in Seconds, Even If You're Not Tech-Savvy
3GP file is a multimedia file used for storing video and audio streams that are transmitted between 3G-enabled mobile phones over the internet. MP3 file is an audio format used to store audio data in a compressed lossy manner, which reduces the size of digital audio files. It can also be used for music distribution online or on USB flash drives.
MP3 is a more popular file format that can be played on many devices and takes less space when compared to the original 3GP file.
With DoNotPay's help, you can convert 3GP to MP3 without breaking a sweat. Our nifty File Converter is easy to use, secure, reliable, and fast. To get access to it, sign up for our service.
How To Convert 3GP to MP3
The easiest way to convert 3GP files to MP3 is using an online converter. Unlike downloadable apps that require some technical knowledge, you don't need to know anything about file conversion to be able to use online converters. The conversion process is pretty much the same with all online converters, and all you need to do is:
Drag and drop or upload the file you want to convert
Select the format you want to convert it to
Hit the Convert button
If you have a fast internet connection, your files will be ready for download in less than a minute.
Some of the commonly used 3GP to MP3 converters are listed in the table below:
| Converters | Description |
| --- | --- |
| Convertio | Convertio is a website that allows you to convert hundreds of types of files. It is free and easy to use |
| CloudConvert | CloudConvert is a cloud-based file conversion service that enables you to convert audio files, documents, images, videos, and more |
| Zamzar | Zamzar is a free online file conversion service that supports more than 200 formats. There are no ads on the site |
If you'd like to have more control over the conversion process or convert multiple files in one go, opt for a downloadable file converter.
Keep in mind that your computer might already come with a program such as QuickTime or VLC Player installed on it which you can use for converting 3GP files to MP3, so check that before downloading any additional software.
The Downsides of Using an Online 3GP to MP3 Converter
Many websites that claim to offer free 3GP to MP3 conversion services are really just scams. By downloading files from sketchy websites, or clicking on ads that may pop up there, you risk downloading malware or viruses. Always make sure you are using a reputable website—prior to uploading your files, read the Privacy Policy and check user reviews.
Also, note that the quality of the converted file might not be the same as it would be with downloadable apps. You will have no control over the conversion process and won't be able to edit the converted file or convert multiple files at once. If your internet connection isn't fast, large files will take forever to convert.
Use DoNotPay To Convert 3GP to MP3 With Minimum Effort!
Why struggle with using complicated file conversion software when you can have a fast, secure, user-friendly conversion tool right at your fingertips? Our File Converter is able to convert 100+ different file types in seconds!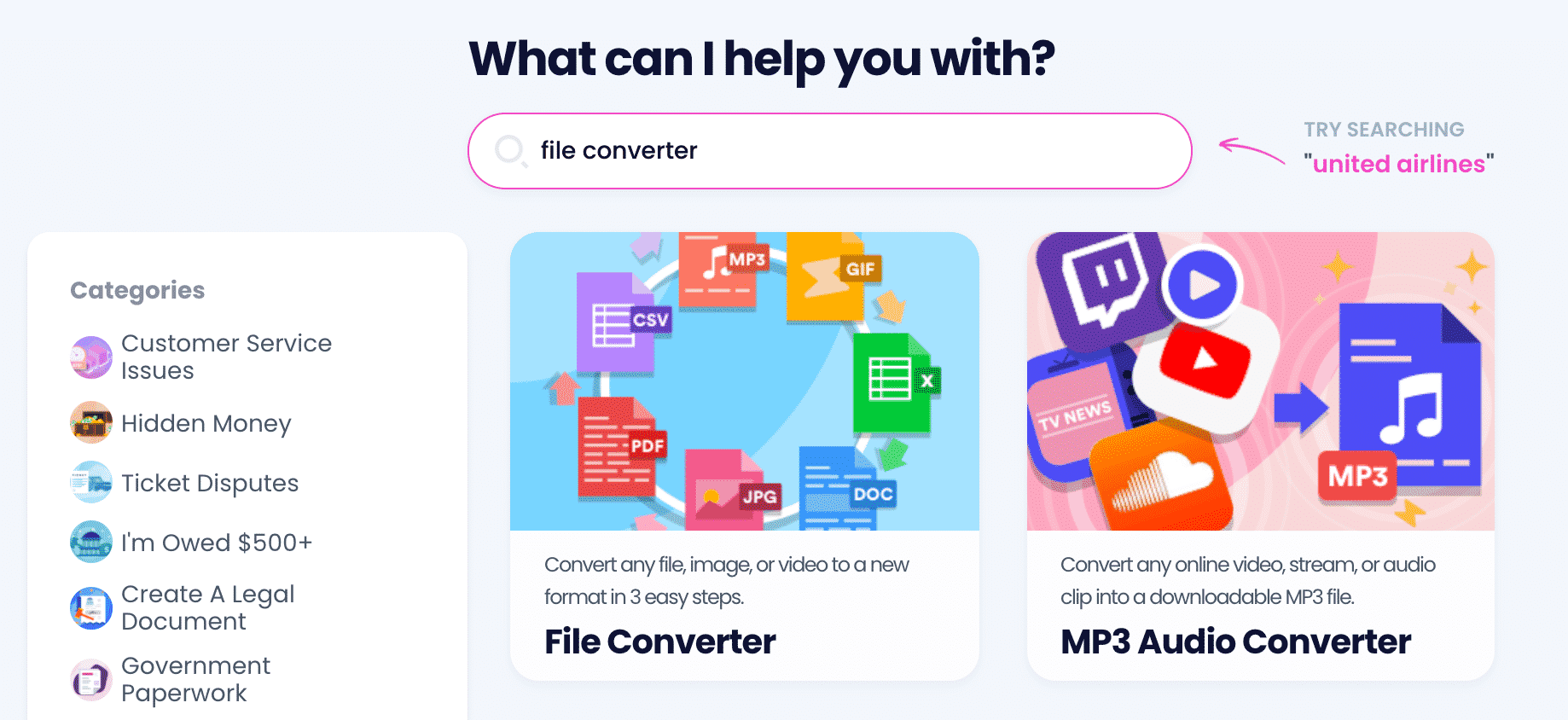 To get started, all you need to do is:
Access your DoNotPay account and open the File Converter product
Upload your 3GP file
Choose MP3 as the format you want to convert it to
That's all you need to do! Your file will be ready in a couple of seconds and you'll be able to download it on the My Disputes page. To protect your privacy, we will delete the file from our database 24 hours after the conversion.
What Other Files Can DoNotPay Convert?
DoNotPay's File Converter can convert a wide range of files and there is no limit to the number of files you can convert. Check out the table below to find out what other files you can convert using our service:
Convert, Compress, and Download Anything With DoNotPay
Technology is advancing at a rapid pace, and it can be rather difficult to keep up. But there's no need to worry if you're not particularly tech-savvy—DoNotPay got you covered!
With our easy-to-use app, you can compress any file, download videos from the web, and convert online videos to MP3 files, all with a few clicks. There's absolutely no experience needed. Your files are 100% safe, and your privacy is ensured because we delete the converted and compressed files after 24 hours.
Save Time and Money With DoNotPay
On top of file conversion, DoNotPay has hundreds of different products that automate boring tasks and streamline complex processes. And the best part is—you get access to all of them, so you can use our award-winning app to save a ton of time and money.
Here are just a few examples of what DoNotPay can help you with: