Create a
Contractual Agreement
Without Brain Contractions
Everyone has to create a contractual agreement at some point, whether for renting a property, selling a product, or making a business deal. It may seem that writing contracts is too difficult for a layman, but that doesn't have to be the case!
You don't always have to hire an expensive lawyer to draw up an agreement or resort to using dodgy contract templates. DoNotPay will teach you all about contracts and help you create a professional contractual agreement in a few clicks!
What Are Contractual Agreements?
Contractual agreements are legally-binding documents between two or more parties that involve an exchange of value. The purpose of a contract is to define mutual legal obligations between signees and determine the consequences of breaching the agreement. 
An individual or business can create a specific contract for any transaction. Contracts can be based on:
Sale

Property ownership transfer

The performance or specific service
What Makes a Contractual Agreement Legally Binding?
The main purpose of a contractual agreement is to define the terms according to the law. If two parties create a valid document, the court is required to enforce it. 
A legally binding contract includes specific elements, such as:
Offer and acceptance

—An

offer is the expression of intent to exchange something of value with the other party. The acceptance of that offer creates the basis for making a contractual agreement

Consideration

—

This term refers to the benefit that each party will gain from entering the agreement. It can be money, an object, service, or anything else of value

Mutuality

—

It refers to both parties' intention to create a valid agreement

Legality

—

A legally valid contract mustn't include unlawful consideration. An example of that is promising to do something against the law, such as commit a crime

Capacity

—Capacity refers to a person's legal ability to enter the agreement. For example, a minor isn't considered legally capable of signing a contract
Contracts that meet the above criteria are enforceable even if they are not equally fair to both parties. Specific factors making a contractual agreement void include:
Various Types of Contractual Agreements
Contracts can come in many forms and have various purposes. Some of the main contractual agreement types are:
Expressed and implied contracts

—The terms of the former are expressed openly, and the latter is implied by actions, facts, or circumstances  

Unilateral and bilateral agreements

—Unilateral agreements involve only one party providing something of value, while in bilateral both parties agree to exchange items or services  

Unconscionable contracts

—They are considered to give an unfair advantage to one party

Adhesion contracts

—A contract created by a person with bigger bargaining power. The other party can only accept or decline to enter the agreement

Aleatory contracts

—These contracts have to be triggered by an outside event. An example of such a contract is an insurance policy

Option contracts

—They allow a signee to enter a contract with another party after a specific time. An example of that is a real estate contract

Lump-sum agreements

—A contract where a buyer and seller agree on a fixed price for a project 
Crucial Sections of a Contractual Agreement
Contracts can vary in length, language formality, and many other characteristics. While the content may differ, all contractual agreements need to have a specific structure. 
Here is an overview of every contract's main sections:
Contract Section

Description

Preamble

This section states:

Name of the agreement

Date of the execution

Names of the involved parties

Recital

The recital specifies the agreement's background. It states both parties' understanding of the situation and intent for entering the agreement 

Agreement

This section outlines the exchange of promises between signees

Definition

It explains the contract terms in detail 

Consideration

This part sets the foundation for other contractual terms that support the exchange of value, including:

Rights of each party

Relevant dates

Prices

Quantities

Payment terms and due dates

Taxes

Interests

Late fees

Reps and warranties

This section contains assurances from one or both parties that specific facts in the agreement are true

Covenants and rights

The covenant section contains a promise that certain actions will be taken before the agreement takes effect

Conditions

This section determines what actions must take place before the other party starts to perform its contractual obligations

Provisions and remedies

You can use this section to outline the consequences of the agreement failure, including remedies and damages for breaching the agreement

General provisions

General provisions refer to governance or management of the contract, including the governing law, disclaimers, and limitations on liability

Signatures

Both parties must provide signatures in this section
DoNotPay Can Help You Create Contractual Agreements
You can ditch expensive lawyers and unreliable contract templates. You don't even have to write a contract yourself. DoNotPay can create numerous legal documents on your behalf! After you provide crucial information, we will generate a professional, comprehensive legal document that every court will accept!
To get your tailor-made contractual agreement, you should:
Type in the name of the document you need

Answer our chatbot's questions

Download your personalized contract
Some contractual agreements require a notary certification. Fear not because our app enables you to schedule an appointment with an online notary and even fax the document to the other party!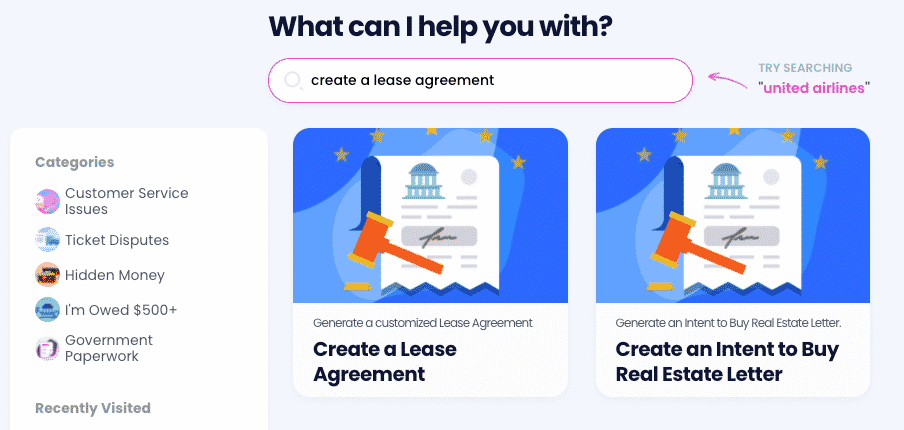 We can generate numerous personalized contracts at your request. Access our app and pick the one you need from the table below:
Business and Real Estate Documents
Miscellaneous

Quitclaim Deed

Estoppel Certificate

General Business Contract

Intent To Purchase Real Estate

General Affidavit

Promissory Note
DoNotPay Keeps Your Privacy Intact
DoNotPay can help you surf the web safely and securely. No need to provide your personal information to every company whose service you'd like to take for a test drive. Our Virtual Credit Card and Burner Phone products shield your data from prying eyes and dishonest merchants.
Feel like subscribing for a free trial? Make it truly free and avoid automatic membership renewals with our card. It can also help identify spammers and potential scammers who send bothersome robocalls and robo texts your way. As soon as they act on the virtual card number, DoNotPay will unmask them and demand compensation!
DoNotPay Can Help You Bring Any Business to Justice
Should a company refuse to grant you a refund or compensation, our app will help you take them to small claims court! 
We'll help you cancel the service in question to avoid any future charges, and we'll call their customer service so you can get info on your denied request. We'll draft the relevant court documents for your jurisdiction and give you instructions on filing them.
More Nifty Features That'll Make Your Day
You may not have breach of privacy issues or reasons to bring someone to court, but you surely have ample motivation to save or earn a few dollars here and there—especially if we catch you unawares!
DoNotPay can show you how to reclaim funds that you didn't know were under your name or make a denied warranty appeal to any company. We streamlined the processes of requesting refunds, college fee waivers, airline flight compensation, parking infraction dismissals, as well as applying to clinical trials that pay!