A Contractor Refuses To Pay the Subcontractor—How To Fight the Injustice
You have put all your energy and hard work into completing a project only to find yourself in a situation where a contractor is refusing to pay you. What are your options to make the contractor honor their side of the agreement? What can be done when a contractor refuses to pay the subcontractor?
DoNotPay has all the information you need about a breach of contract—how you can seek remedies and collect damages without filing a lawsuit. We will tell you how to draft a demand letter that should get you the desired settlement.
Types of Contractual Breaches
Getting familiar with different types of contractual breaches will help you plan your next course of action. Check out the table below for a brief overview of the basic breach of contract types:
| Type of Breach of Contract | Brief Description |
| --- | --- |
| Material breach | A material breach of contract is a type of breach that makes the agreement irreparably broken. An example is a contractor hiring a subcontractor and refusing to pay for their services |
| Minor breach | A minor (or partial) breach of contract implies that one party has violated specific terms of the agreement. For example, if the subcontractor uses different brands of materials than those specified by the agreement, they are in minor breach of contract |
| Anticipatory breach | An anticipatory breach of contract occurs when one party implies—with words or actions— that they will not uphold their end of the agreement. If a contractor tells the subcontractor that they will not pay them, they are in anticipatory breach of contract |
| Fundamental breach | A fundamental breach happens when one party fails to meet a contractual term that is essential to the agreement. For example, if a subcontractor abandons the site where they should carry out the work, the contractor is forced to terminate the agreement |
What Can You Do To Avoid Delays in Your Payment?
To avoid the payment refusal issue, the contractor can protect their rights by:
Raising a mechanic's lien claim
Being mindful of contingent payment clauses
Making a claim against the payment bond
Drawing up a demand letter
Filing a lawsuit
File a Mechanic's Lien
A mechanic's lien is a claim that guarantees payment to builders, contractors, or subcontractors. They can file it against the property owner if they do not get paid. A mechanic's lien can be used to solve the issues of unpaid labor and material costs related to the project. The mechanic's lien stays effective until the subcontractor is paid in full.
This document can force foreclosure on the property or make the property difficult to sell.
Be on a Lookout for a Contingent Payment Clause
Contingent payment is a clause in a contractor-subcontractor agreement stating that a contractor cannot pay the subcontractor if they do not get paid first. If you—as a subcontractor—want to avoid this type of issue, do not sign contracts with contingent payment clauses.
Claim Against Payment Bonds
A payment bond is a guarantee that a surety company will pay out the subcontractors at least part of the money that the contractor owes them. If a general contractor refuses to pay you, you can file a claim against the payment bond and get the money you have earned.
A Demand Letter
A demand letter outlines all the details of your case and includes a warning that you are ready to pursue the matter in court. It should contain:
The terms of your agreement
A warning that you will seek justice in court
The due date by which the breaching party has to pay you out
You can find plenty of demand letter templates online, but they are generic and cannot be fully applied to your case.
Filing a Lawsuit
If all previous methods fail, you can take the contractor to court. In some states, there is a "prompt pay" law requiring the contractor to pay the subcontractor by a specified due date. The contractor may try to use affirmative defenses, e.g., provide a reason for breaching the contract. If that happens, you should hire a lawyer to protect your rights.
Sending a carefully drafted demand letter can save you from lengthy and expensive court proceedings. If you sign up for DoNotPay, we will generate a demand letter in a few simple steps!
Draft a Professional Demand Letter With DoNotPay Quickly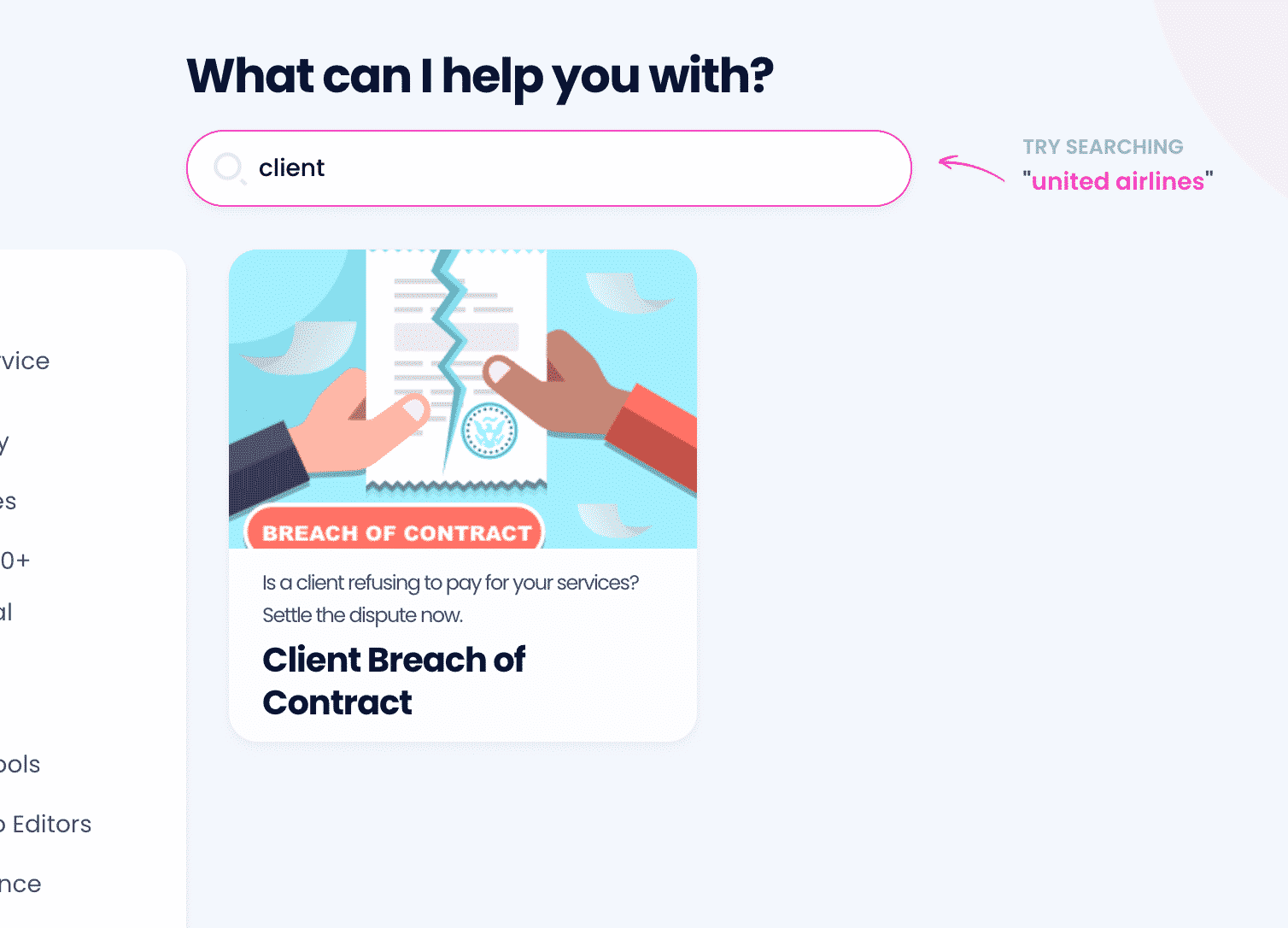 DoNotPay will create a demand letter that adheres to state-specific laws and caters to your particular situation. Follow these simple steps to create a custom demand letter in minutes:
Log in to DoNotPay and find the Client Breach of Contract product
Complete a questionnaire that will help us personalize your demand letter
Select the final due date by which the contractor needs to pay you before you take the matter to court
After you provide all the information we need, we will generate a demand letter immediately.
If you need more information about breach of contract for a specific state, view the table below:
If your demand letter goes unanswered and your employer still doesn't pay you, DoNotPay can help you sue them in small claims court. Our app will assist by:
Collecting and filing all the necessary paperwork
Submitting the claim with the court
Creating a script you can use during the court hearing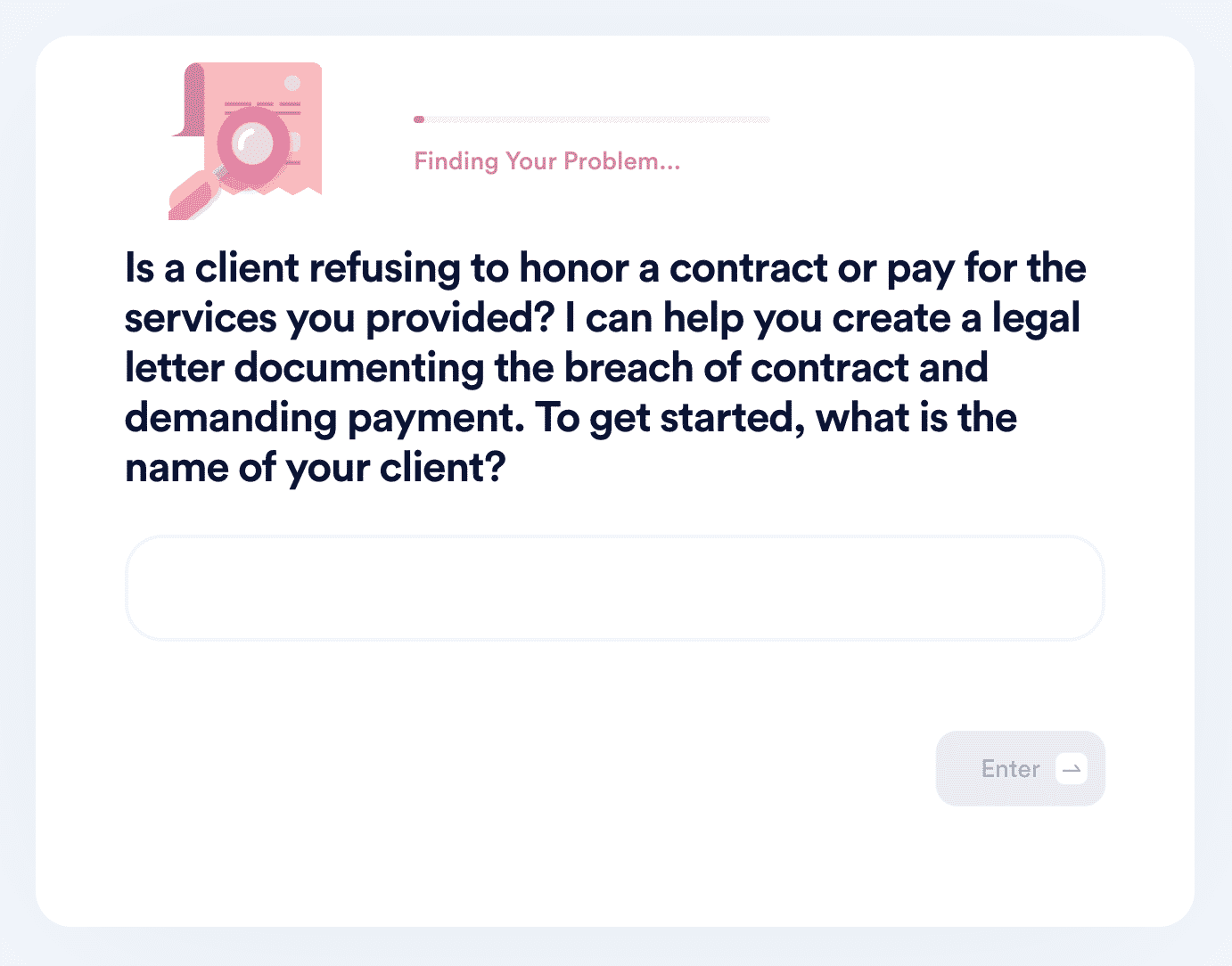 Get Down to Business With DoNotPay
If your to-do list is getting longer by the day, we offer numerous solutions. You can focus on growing your business while we handle the endless administrative tasks.
Here are some of DoNotPay's products and services that will assist your company tremendously:
DoNotPay Feature
Our App Will
Trademark Registration

Complete your company name, logo, or slogan registration application
Submit the application in your stead

Trademark Protection

Perform monthly checks
Notify you in case there is any trademark infringement
Help you file cease and desist letters

EIN Registration

Fill out and file your Employer Identification Number (EIN) application
Notify you of your new EIN

Register a DMCA Agent

Complete the DMCA agent registration process
Register the designated agent with the U.S. Copyright Office
There Is Even More We Can Do for You
Navigating the business world can be overwhelming. If your paperwork is piling up and disputes keep emerging, start using our app and declutter your workday from numerous chores.
The world's first robot lawyer can help you deal with the following:
Chargeback scams
Business loan applications
Faxing and mailing
Negative online reviews
83(b) election forms
Self-certification with the Privacy Shield program