Learn All About a
Contract Termination Agreement
With DoNotPay
While most people tend to focus on enforcing a contract, rules for terminating it are equally important. Creating a comprehensive contract termination agreement will provide a clean break for all involved parties and shield them from potential legal disputes.  
If you want to know more about creating a valid contract termination agreement, look no further. DoNotPay will explain everything you need to know about this legal document and show you how to write any contract easily!
What Is a Contract Termination Agreement?
Once the parties decide to enter an agreement, they become legally obligated to fulfill their contractual duties. If the participants choose to end their collaboration, they should sign a contract termination agreement. 
It is a document that formalizes the cancellation of a contract and outlines the terms and reasons for ending the collaboration. 
What Are the Common Ways of Terminating a Contract?
A contract can be terminated under various circumstances. Check out the most common ones in the table below:
| | |
| --- | --- |
| Five Ways for Terminating a Contract | Description |
| Performance impossibility | If it's impossible for any of the involved parties to fulfill their contractual duties, the contract will be terminated |
| Breach of contract | When one of the parties intentionally fails to honor their contractual obligations without legal justification, that constitutes a breach of contract. The non-breaching party has the right to sue for damages and cancel the agreement |
| Termination by prior agreement | Participants can terminate a contract if they have a written agreement that requires termination under specific circumstances. The agreement must contain a detailed description of qualifying reasons for terminating the contract |
| Contract recission | One of the involved parties can rescind the contract if the other party misrepresented themselves, made a mistake, or committed fraud |
| Completion of the contract | The contract is considered terminated when all the parties complete their contractual obligations. Both parties should save the documentation after the original contract expires as proof |
What Should You Pay Attention to When Entering a Contract Termination Agreement?
Signing a contract termination agreement is a serious step. Take a look at the factors both parties should consider and actions they should take to ensure a consequence-free outcome:
Taking sufficient time to evaluate the original contract

Hiring a lawyer if the terms of the contract termination agreement are too complicated

Making sure that the contractual duties prior to termination have been completed

Continuing to fulfill contractual obligations until signing the termination agreement

Providing copies of the contract termination agreement to all participants

Signing two copies of the termination agreement (one for the signer and one for the other party)

Having the contract termination agreement notarized
Sections of a Contract Termination Agreement
Creating a valid contract termination agreement is crucial in preventing legal disputes and setting future expectations. You have to pay attention to legal requirements, but at the same time tailor the agreement to fit your specific situation. 
Take a look at the sections a contract termination agreement should include: 
Introduction

—Names of both parties and a contract termination date. The names should match the ones in the original contract

Recitals

—Contract date, the clause that allows the termination of the agreement, and the copy of the original contract

Termination

—Reasons for terminating the agreement, including terms that should continue after the termination (for example, information confidentiality)

Mutual release of liability

—Both parties' agreement that no liabilities are owed 

Return of goods

—A confirmation that the parties will return each other's belongings (optional)

Non-disparagement

—An agreement that the parties won't hurt each others reputation (optional)

Covenant not to sue

—An understanding that neither party will sue the other

Governing law

—A statement that the agreement will be interpreted according to a particular state's law 

Authority

—A confirmation that the parties signing the agreement have the authority to do so

Signatures

—All involved parties must sign the agreement
Generate Legal Documents With DoNotPay
Contracts are an unavoidable part of our personal and professional lives. We can't always afford lawyers or rely on contract templates. 
DoNotPay's Standardized Legal Documents tool can help you by generating various business, real estate, and many other agreements for a modest price! Our contracts are designed to meet personal and legal requirements to a tee.
All you need to do is access DoNotPay from a web browser and complete these steps:
Enter the contract name in the search field

Answer several questions from our chatbot to help us personalize the contract

Download or print the document
The enforceability and safe transfer of your contracts will never again be an issue. After receiving your contract, use our integrated features to get your document notarized and fax it in no time!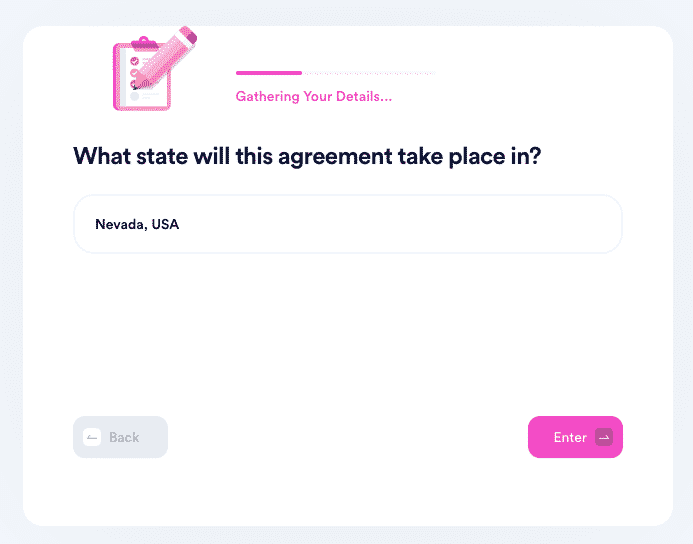 Check out the various documents you can create if you subscribe to DoNotPay:
Type of Documents

Detailed List

Business

General business contract

Real Estate

Residential

lease agreement

Quitclaim deed

Estoppel certificate

Intent to purchase real estate

Other

General affidavit

Promissory note

Child care authorization form
DoNotPay Keeps Your Privacy Intact
DoNotPay can help you surf the web safely and securely. No need to provide your personal information to every company whose service you'd like to take for a test drive. Our Virtual Credit Card and Burner Phone products shield your data from prying eyes and dishonest merchants.
Feel like subscribing for a free trial? Make it truly free and avoid automatic membership renewals with our card. It can also help identify spammers and potential scammers who send bothersome robocalls and robo texts your way. As soon as they act on the virtual card number, DoNotPay will unmask them and demand compensation!
DoNotPay Can Help You Bring Any Business to Justice
Should a company refuse to grant you a refund or compensation, our app will help you take them to small claims court! 
We'll help you cancel the service in question to avoid any future charges, and we'll call their customer service so you can get info on your denied request. We'll draft the relevant court documents for your jurisdiction and give you instructions on filing them.
More Nifty Features That'll Make Your Day
You may not have breach of privacy issues or reasons to bring someone to court, but you surely have ample motivation to save or earn a few dollars here and there—especially if we catch you unawares!
DoNotPay can show you how to reclaim funds that you didn't know were under your name or make a denied warranty appeal to any company. We streamlined the processes of requesting refunds, college fee waivers, airline flight compensation, parking infraction dismissals, as well as applying to clinical trials that pay!