The Intricacies of a Contract Template
If you are over 18, you probably signed a legal document at some point. Contracts are inevitable, and more often than not, quite beneficial. Getting a new postpaid phone, subscribing to a streaming service, buying a car or an apartment, selling some goods—all of these actions require a legally binding contract to ensure you won't be a victim of fraud. If you want to know all there is about contract templates, check out our useful guide.
Why Would I Need a Contract Form?
A contract form is a customizable template that provides the framework for a legally binding document. It helps you create a contract, which defines the responsibilities of the parties involved.
The advantages of having a contract form are that it:
Saves time

Improves the result

Ensures consistency
How Does a Contract Form Save Time?
Templates contain the general requirements of a contract, so it is much easier to make the initial draft of any contract with a template. You can use old documents to come up with new ones, but it is a much slower process. Ultimately, templates speed up the agreement creation process. 
Contract Forms Improve the Result
A contract form helps you create an adequate document without worrying about the form, style, and mandatory sections. A good template ensures all the relevant issues are considered, so you can create a consistent and transparent contract.
Ensuring Consistency With a Contract Template
Consistency means less room for deviation from all the terms set out in the contract. It is beneficial because it can prevent either party from making mistakes due to the ambiguity of some terms. Vagueness is a common mistake in rookie contracts, and it often causes problems for both parties.
What Should I Put in My Contract?
Writing a contract can be intimidating. It is a serious legal document, and you have to be sure you add all the important details to it. If you are afraid you might leave out something important, we listed the essentials of any contract for you:
The parties' names

and addresses

The rights and responsibilities of each party

Payment terms and requirements

Termination rules and methods

 

Dispute resolution

Liability regulation

The duration of the contract

Definitions of key terms 

Description of goods or services in the case of buy/sell agreements

Renegotiation or renewal options
Types of Contracts
There are numerous contract templates since agreements vary in scope and purpose. Some of the most important contract types are:
Unilateral

—Typically used for awards, for example, giving a financial reward if someone finds your lost item

Bilateral

—Two parties exchange items or services of value

Executory

—The parties must perform certain duties by a specific date. An example of an executory contract is the one between a lender and a debtor

Express

—Lays out the terms and conditions of an agreement, either verbally or in writing

Implied

—The actions of the parties determine whether the contract is enforceable, for example, painting the room for your friend and getting paid without putting the agreement in writing

Voidable

—Unenforceable because they don't reveal an important fact when signed. If you sign the contract to buy a house and then find out it has a pest infestation, but the seller did not inform you about that, the contract is deemed voidable

Contingency

—If-then agreement, signed when the parties can't reach a definite agreement, i.e., a company hiring a freelance worker after his/her work is approved by stakeholders

Verbal

—Two or more parties have settled on an agreement but haven't written it down

Adhesion

—Drafted by a party with stronger bargaining power, for example, a bank, and signed by a party with less bargaining power, such as a house buyer

Aleatory

—Something needs to happen before the obligations of the contract are carried out, and the most common example is an insurance policy

Cost-plus

—One party agrees to reimburse another party for expenses, plus give a specific amount of the profit. Construction business contracts are one example of cost-plus agreements
Use DoNotPay To Make Personalized Contracts
If all that you have read so far about contracts and contract forms makes you feel a bit overwhelmed, we've got some good news for you! You don't have to waste time with unreliable legal document samples or templates. With DoNotPay, you can easily generate a personalized contract. Follow these steps:
Open DoNotPay in a

web browser

Enter the name of the document you want to use

Answer our chatbot's questions

We'll generate a contract for you instantly
Always sign or notarize the contract to make it official.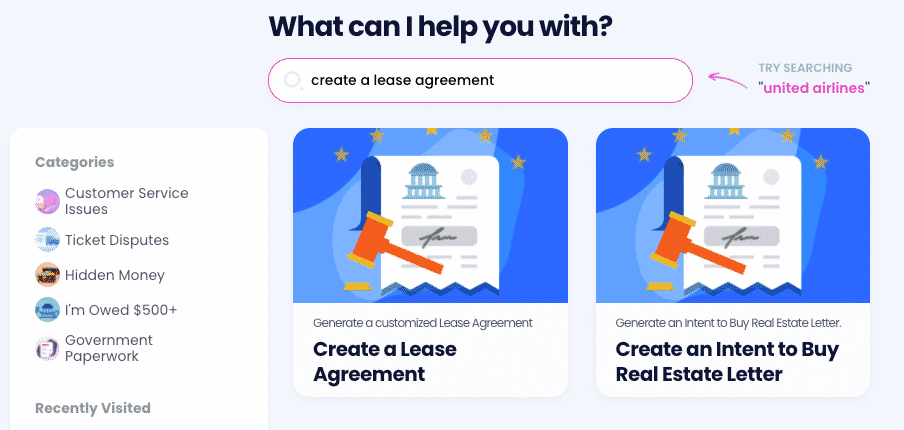 We offer numerous legal documents at the moment, so check out the table below and pick the contract you need:
Business and Real Estate Documents
Other Documents

Estoppel Certificate

Intent to Purchase Real Estate

General Business Contract

General Affidavit

Promissory Note
Falling for Scams Is Less Likely With DoNotPay
Thanks to AI technology, DoNotPay is a great resource for protecting your privacy and finances from potential scammers. Our bots can help you report robocalls, keep your inbox clean from spam email and shady text messages, or even deal with stalking and harassment, if it comes to that. 
In case the issues escalate, skip the expensive lawyers and sue the offenders in small claims court with ease. 
Another great way to increase your online security is to use our virtual credit cards and sign up for any free trial without risking unwanted charges. You can even avoid sharing your contact info with our Burner Phone feature. 
The Solution to Your Driving Woes
DoNotPay provides invaluable help to future and current drivers. By helping you ace that driver's license test, scheduling a DMV appointment the easy way, or contesting parking tickets, our app saves you money and time. 
If you need to file a car warranty or an insurance claim, we will help you deal with the necessary paperwork within minutes. Trying to get out of a car wash membership? DoNotPay can cancel it in an instant. 
Our platform works above ground as well. You can use DoNotPay to secure refunds from airline companies or compensation for delayed and canceled flights.