Contract Proposal Template—Write a Stellar Proposal With These Tips!
Owning a business that provides quality services or sells excellent goods is a challenge in itself. Finding customers to buy what your business is selling is another matter entirely.
What helps to draw the clients in is an excellent contract proposal—but what if you've never written one?
This article helps you ditch lousy contract proposal templates and gives you tips on how to write your proposal so that buyers actually accept your deal!
What Is a Contract Proposal?
A contract proposal is an official offer by one party made to another to enter into a legal agreement. The party that proposes a contract is called the offeror or the promisor, while the other party is called the acceptor or the promisee.
Every business that intends to attract clients needs a solid contract proposal. The proposal serves to define the:
Business approach and objectives

Services or goods the business will offer to a client in exchange for payment

Expected deliverables and deadlines

Negotiable terms and conditions of an agreement between the parties

Proposed price and payment schedule
The main purpose of a contract proposal is to attract customers and make them want to work with the business making the offer.
The contract proposal also serves as a starting point for negotiations between the parties. While it needs to be specific, keep in mind that the terms and conditions in your contract proposal are always subject to change as you begin the negotiations.
What Is the Difference Between a Contract and a Contract Proposal?
If you are going to write a contract proposal, you must understand that it is not the same as an actual contract.
While a contract proposal is a written document, it only serves to make an offer to prospective clients.
When the client accepts your terms—or when the new terms are drafted after the negotiation— you can write a contract.
A contract is a legal document that is enforceable by law after you and your client sign it. Breaching any terms in this legal document incurs specific penalties defined in the contract.
Why You Need a Contract Proposal
You may be thinking that, since it's not an actual contract, you don't need to write a contract proposal. While that may be true, there are a lot of reasons why you want to write a proposal before you contact prospective clients.
You want to write a solid contract proposal for your business because it:
Saves time

—When you outline how your business can help the client solve certain issues, you don't need to spend hours pitching your ideas. When a potential client looks at your proposal, the document should answer all of their questions. You can also use the same proposal for approaching different customers

Makes your business stand out

—Besides making you look professional, the proposal also serves as a portfolio in which you can outline your qualifications 

Serves as a basis for an actual contract

—Although the proposal isn't an actual business contract, it can become one once the client agrees to your terms. You can use or modify your proposal to create a legal document
What To Include in Your Contract Proposal
The key ingredient for creating an amazing business proposal is being specific. Instead of using generic templates that will take time to edit, write your proposal from scratch.
Here are the details you want to include:
The issue you'll solve

—Define the problem your client has that your business can solve by providing specific goods or services

Business strategy and objectives

—If you're going to offer continuous service to your client, present a clear project strategy you'll implement. You should include information about how the project will evolve, how your client will benefit from it, and what goals you're going to achieve together

Payment details

—Put a price tag on your goods or services but remember that this and the other sections are negotiable. You should also state at what intervals you expect to be paid

Project duration

—Propose the start and end date of the potential agreement

Your qualifications

—Present your business by including the qualifications you already have. You can incorporate positive reviews of your previous customers
When the client agrees to your terms and conditions, it's time to make your proposal into a legally binding contract. When writing a contract, you should add the following sections:
Termination clause

—Every legal document needs to have termination details. They define the conditions under which the contract can be terminated

Dispute resolution

—Should anything go wrong while you're under a contract, you should have clear strategies for how you'll resolve issues. That way, you minimize the risk of lawsuits
Rely on DoNotPay To Write Top-Notch Agreements
Writing contracts isn't too complicated once you get the hang of it. It is even easier to have a pocket-sized assistant that can generate legal documents for you in a jiffy!
With DoNotPay, you can create complete and up-to-date agreements in only three steps! Here's what you should do when you need a contract:
Search for the document you need

Provide specific details you want your document to include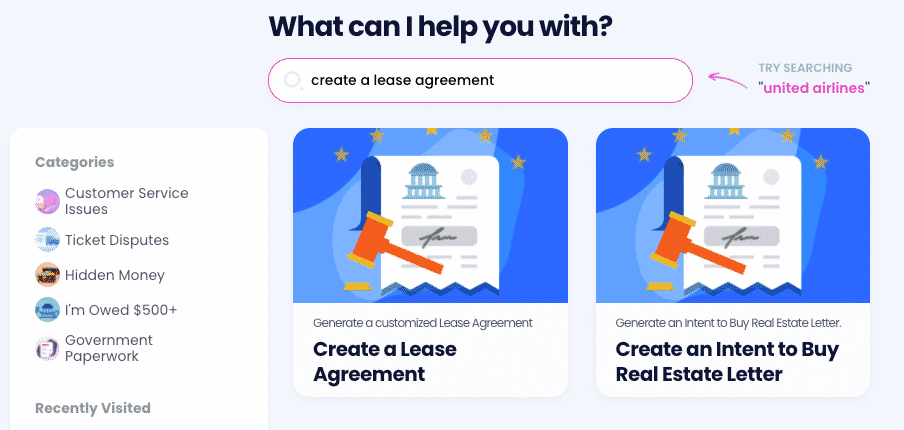 Whether You Need a Business or Another Type of Contract, DoNotPay Has Your Back!
What's great about DoNotPay is that you can use to generate all kinds of documents.
Check out the table below to see what contracts DoNotPay creates:
Legal Documents DoNotPay Creates
Business
Real Estate
Other

General business contract

Intent to purchase real estate

Quitclaim deed

Child care authorization form

General affidavit

Promissory note
Free Yourself From Boring Tasks With DoNotPay's Help
Our AI-driven app comes in handy for numerous bureaucratic or administrative chores that usually take up a lot of time. With DoNotPay's speedy service, even the most tiresome task will be complete in a flash!
You can forget all about waiting in line at the DMV and being on hold with customer service—we will get you to the finish line in a few clicks. Tired of the old snail mail? Use DoNotPay to mail letters fast. Better yet—fax your documents using our app. If your document requires a notary's signature, we can assist you in scheduling a virtual appointment.
No Lawyer—No Problem! Rely on the World's First Robot Lawyer
When you're in a bind but you can't afford a lawyer, there is still something you can do—sign up for DoNotPay and let our award-winning app give you a hand. With our expertise, the following tasks will be a piece of cake: