How Does the Contract Labor Law Protect You?
Are you an independent contractor looking to find out more about the contract labor law? You're in the right place!
DoNotPay can help you understand and write various legal documents, and we have a knowledge base with different contract templates you also might find useful.
If you want to learn more about what contract labor forms you need for your upcoming projects, we'll help you find out!
What Is Contract Labor?
Contract labor is an agreement that is entered into by a company and an independent contractor. It is a legally binding document that defines the agreement between the employer and the contract laborer.
Contract labor contains the following information:
The length of the project

The predicted cost of the project

The money that the employer pays the independent contractor
How Are You Protected by Contract Labor Law?
As an independent contractor, the law isn't on your side as it is for someone who's an employee.
The good side of being a contract laborer is that you're free to choose when you'll work and how you perform the job altogether. The downside is that you need to pay your own taxes, get your health insurance by yourself, and pay into worker's compensation and unemployment funds if you want to use these benefits.
What Is the Difference Between an Employee and a Contractor?
You can find information about differences between employees and contractors in the table below:
Contractors
Employees

Aren't covered by the federal and state employment laws

Can decide in the contract how they want to be paid—hourly, daily, weekly, etc.

Get paid by companies after they send invoices based on the terms in the contract

Don't have to report to any agencies other than tax ones—they must report payments of $600 or more in a calendar year

Enter into agreements that include a Statement of Work with a legal section

Companies control what employees do

Companies withhold income tax for employees

Employers provide the necessary tools and supplies

Written contracts between employers and employees ensure that employees have benefits like pension plans, insurance, and vacation pay

Employees are covered by federal and state employment laws

Employees earn salaries

The pay period for employees stays the same unless it formally changes based on federal and state laws
How To Write the Labor Contract by Yourself
To write a watertight labor contract, you need to follow the steps below:
Write the title of the agreement at the beginning of the page

Write the name of the client and the contractor under the title

Include the general information such as the date, location, and name of the project

Describe exactly what work you will be doing for the employer and add the materials, tools, or any other kind of equipment you'll use

Write the details involving the payment—an invoice number, the dates covered by the invoice, and a summary of the work you'll do

Add the additional expenses that will be your responsibility, such as travel expenses, vehicle maintenance, repair costs, etc.

Write the independent contractor's status—your job description or position and everything that you're able to do during your work (performing services for other companies, controlling and directing means, manner, and methods by which you'll perform, etc.)

Add the end date of the agreement

Add information about whether the job is full-time or part-time

Include your date of birth if you're younger than 21

Add the name of the person you'll report to

Leave some space at the bottom of the document for signatures and the date of the agreement closure
Use DoNotPay To Create Your Legal Documents
DoNotPay created a product called Standardized Legal Documents to help you generate various agreements in three clicks.
You can and start creating any of the following documents:
Businesses Contracts
Real Estate
Other

General Business Contract

LLC Operating Rules Document

Intent To Purchase Real Estate

Quitclaim Deed

Child Care Authorization Form

General Affidavit

Promissory Note
DoNotPay is constantly updating the list of documents you can draft with our help, so be sure to stay tuned.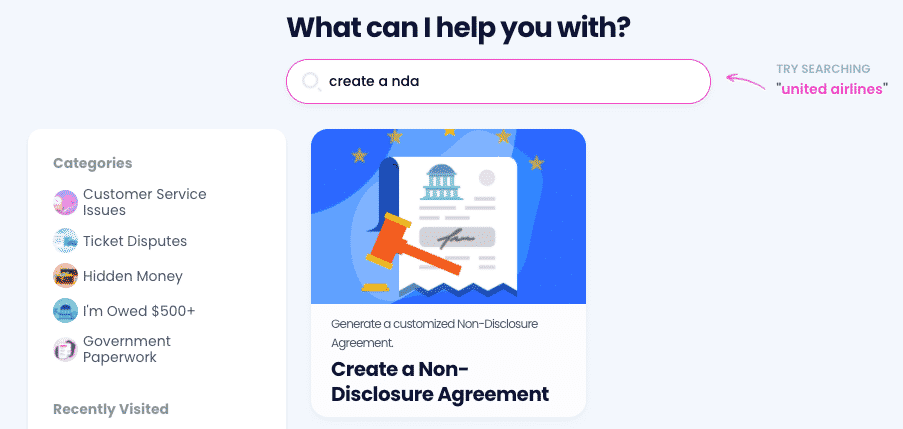 The Steps to Creating a Legal Document With DoNotPay
To use DoNotPay to create your documents, you'll need to first. After you sign up, follow the steps below:
Find our

Standardized Legal Documents

product

Type in the name of the document you need into the search bar

Provide all the necessary information about your contract
We will create a personalized agreement that you can download straight to your device. If you want to add legal weight to your document, DoNotPay can help you get it notarized in a snap!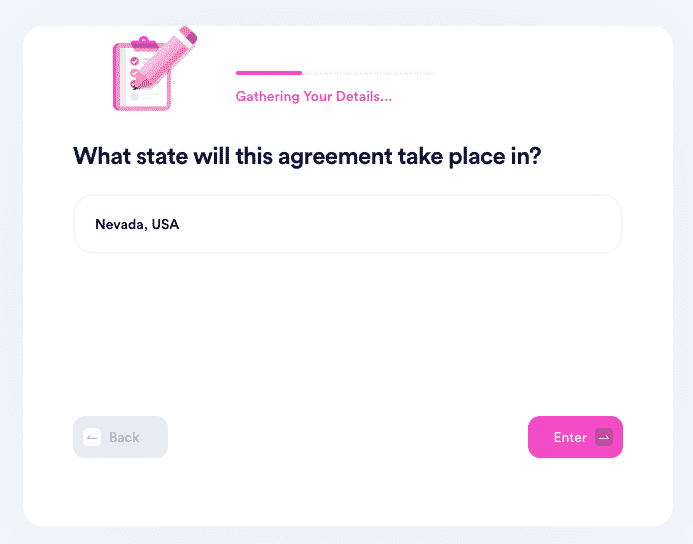 Use DoNotPay's Features to Your Advantage!
DoNotPay offers a myriad of helpful services you can use to resolve your everyday hurdles. 
Do you need help paying bills or finding and claiming missing money? Are you interested in applying for clinical trials in your area? We can help you solve these and many more issues in no time!
Here are some other problems you can handle effortlessly with our help:
Hiring a Lawyer Can Cost a Small Fortune—Rely on DoNotPay Instead
If you're on a tight budget and can't pay a lawyer to help you create legal documents, file a claim in small claims court, or handle stalking and harassment, DoNotPay has a solution for you. 
Our app will help you create various documents, including child travel consent forms and complaint letters for a problematic neighbor. 
Are you a victim of a crime and need help applying for reimbursement of your crime-related expenses? You can sign up for DoNotPay and allow us to handle your crime victims compensation on your behalf.
DoNotPay can also connect you with an online notary and enable you to get your documents notarized from the comfort of your home.