Write Your Contract for Deed in Oklahoma the Right Way
Do you want to buy a property in Oklahoma, but you can't obtain a mortgage due to a bad employment situation or poor credit score? Do you want to sell your house or apartment to a buyer who wants to pay for it in installments? Whichever the case may be, you should consider signing a contract for deed form. If you don't know how to draft one, we are here to provide a detailed guide.
DoNotPay will explain the pros and cons of this document and teach you which elements your contract for deed in Oklahoma should include. Besides offering valuable info, we can also assist you in writing other legal documents without spending hundreds of dollars on lawyers. Subscribe to DoNotPay and discover how to draw up contracts in under three minutes!
Find Out What a Contract for Deed Is
A contract for deed—also known as a land contract or an installment land contract—is a legally binding document signed between a buyer and a seller of a property. This document is needed if the buyer can't get a mortgage from a bank, credit union, or any other lenders. The contract allows the buyer to purchase the property by paying monthly installments to the seller.
The buyer can live in the property, but the seller will hold the legal title until the buyer pays off the debt. Once the last installment has been paid, the buyer will obtain the deed to the property.
The Good and the Bad of a Contract for Deed
Before you decide whether a contract for deed is the best solution for your situation, you should be aware of both the pros and cons of this document:
Advantages
Disadvantages
For the Buyer
For the Seller
For the Buyer
For the Seller

It's more affordable than getting a loan
You don't need to qualify for financing to buy a home
The interest rates are favorable
You can negotiate with the seller
The process is super simple

The property will stay in your name until the buyer pays the final installment
Buyers will be more interested in purchasing your property
You'll pay lower taxes if you sell your property this way
You will have a regular monthly income

You'll lose the property if you miss one payment
The seller usually determines the payment plan
You won't be the owner of the property until you pay off the debt

You might need to waste money on a lawsuit if the buyer fails to pay his or her monthly installment
You will probably have to wait a few years before transferring the ownership
The buyer could damage the property before defaulting
Which Information Should Your Oklahoma Contract for Deed Address?
Before you sign a contract for deed in Oklahoma, you should check if it covers the following info:
Names, addresses, and phone numbers of both signing parties
Property description, including the:

Address
Square footage
Property use
Property access

The total price of the property
Down payment amount
Installment amounts
Balloon payment terms
Late payment fees and penalties
Interest rate
Property insurance
Tax details
The duration of the agreement
Liabilities of both parties
Warranties
Ways To Get a Contract for Deed in Oklahoma
You can get a contract for deed in OK by:
Writing it yourself—you can compose the contract on your own, but this option can be risky, especially if you're unfamiliar with legal terms and Oklahoma laws
Using a contract template—there are numerous contract for deed samples that you can use. Note that finding a template suitable for your situation might be tricky. You'll probably have to modify the sample you find to adjust it to your needs
Hiring a lawyer—while this option is the most expensive one, hiring a lawyer ensures you get a valid and professional contract for deed
The Easiest Way To Write Legal Documents Is With DoNotPay
Hiring a lawyer or spending hours browsing the Internet to find the perfect contract template might be your only options to get a contract for deed. The good news is that there is a more convenient alternative if you need to create other legal documents, such as:
Child Care Authorization Form
General Business Contract
Intent To Purchase Real Estate
Quitclaim Deed
General Affidavit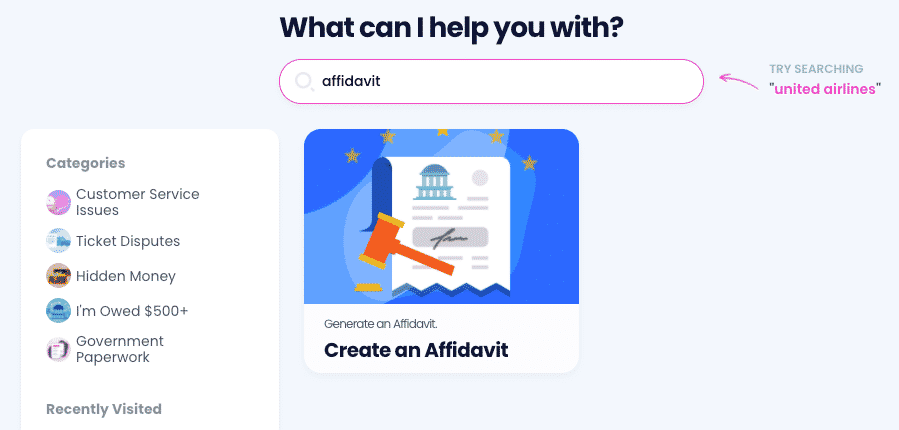 By using DoNotPay's Legal Documents feature, you can draft numerous contracts in a few clicks, and here's how:
Type in the name of the document you need
Respond to our questions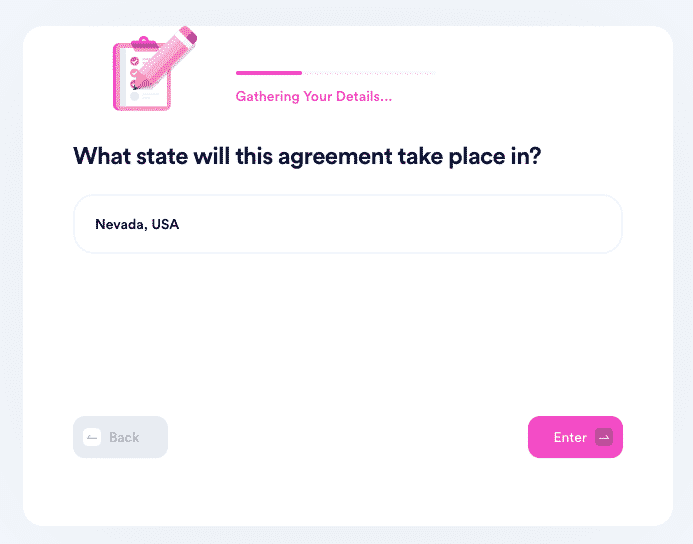 You will get a professional and personalized document in a matter of minutes. Once you print or download the contract, you will have to sign it and get it notarized.
If you need help handling the notarization procedure, you can use DoNotPay for that too and get your contract notarized remotely. We will find an available Oklahoma notary and send you a link that enables you to schedule a meeting in under three minutes.
DoNotPay Has the Most Convenient Solution to Most of Your Problems
Whether you want to cancel subscriptions, request refunds for services, purchased items, or late delivery, or enjoy free trials without being charged, DoNotPay has a product for you.
We strive to help you users solve their issues as quickly and effortlessly as possible. With us, you can enter various raffles and sweepstakes, claim warranties or insurance, report copyright infringement, and reduce your property taxes in less than five minutes.
Protect Your Privacy With DoNotPay
Protecting your privacy can be challenging nowadays since most platforms require your phone number and email address upon registration. DoNotPay is here to ensure your personal info stays as secure as possible. Choose our Burner Phone product to register for services without phone verification or our virtual credit card if you want to use a randomly generated email address and payment details.
By using a fake phone number and email address, you can also avoid receiving annoying spam emails, text messages, and shady robocalls. DoNotPay can even make correspondence with inmates safer. If you don't feel comfortable sharing your address with an inmate, DoNotPay can receive the letters for you, scan them, and forward them to you risk-free.