Buying a Property With a Contract for Deed in Illinois
Drafting contracts and preparing legal documents can be intimidating, especially if you do not have enough funds for legal guidance. Do you need to get familiar with laws and rules regarding a contract for deed in Illinois, or can you get help in some other way? 
DoNotPay can assist you with this matter as this article provides important information about drawing up this type of contract. We can also assist you with the preparation of formal documentation necessary for your smooth operation. 
What Is a Contract for Deed in Illinois?
A contract for deed is a document used when purchasing a home or other residential property. This contract also goes by some of the following names:
Rent-to-own

Bond for deed

Agreement for deed

Articles of agreement

Installment sales contract
In this type of contract, the buyer of the property does not get the title to the home until he or she has made all the payments defined in the agreement. This type of arrangement differs from the typical mortgage transactions. 
A Mortgage vs. a Contract for Deed in Illinois
The following table outlines the differences between a mortgage and a contract for deed:
Mortgage
Contract for Deed

The buyer:

Takes a loan from a lender 

Uses the loan to pay the seller for the property

Becomes the owner of the home immediately

Acquires title at the time of the purchase

Has to repay the loan:

To the lender

Through monthly payments

Over a longer period—often around 30 years

The buyer:

Is not the owner of the property at the start of the contract

Does not receive title to the home with the signing of the contract

Makes payments:

To the seller

Through monthly installments

Over some time—commonly five years or more

Needs to pay a lump sum—or a balloon—payment at the end

Has to purchase homeowner's insurance and pay:

Any repairs 

Real estate taxes

Becomes the owner when he or she makes all the payments due under the contract for deed

The lender:

Has a lien on the property

Can enforce the mortgage lien if the buyer defaults on making the necessary payments

The buyer's failure to pay out the loan will result in:

A foreclosure lawsuit 

A court ordering the sale of the property

The seller:

Is the owner and retains title to the property until the buyer pays out all contractual payments 

Can file:

An eviction case if the buyer fails to make any required payments

A foreclosure lawsuit if the buyer defaults on making the required payments but has already settled more than 20%—this option offers greater protection than the eviction for the buyer 
Key Legal Aspects Regarding a Contract for Deed in Illinois
The Installment Sales Contract Act applies to contracts for deed in Illinois. Here is a list of some important aspects concerning a contract for deed:
The seller needs to:

Provide one copy of the contract for deed at least three days before the closing—this time is called the cooling-off period

Record the contract or a memorandum of the contract in the public land records to acknowledge your legal interest in the property. Otherwise, you can cancel the contract 

Provide you with an account statement when requested 

The seller cannot:

Charge a prepayment penalty if you decide to make payments before you are required 

File a foreclosure or eviction lawsuit against you until first giving you 90 days to pay any late fees and charges
Keep in mind that a contract for deed has to be in writing. If you are interested in finding out:
Use the Cooling-Off Period Wisely
As the Illinois State law sets a three-day cooling-off period for contracts for deed, you are not required to sign the agreement during this time. However, you might want to use this period to:
Consider your decision 

Read the contract carefully

Obtain additional information

Get the property appraised and inspected

Consult an attorney or a

housing counselor
If at any time you believe you are the victim of fraud, you should get in touch with the Illinois Attorney General's Office.
Need Help With the Preparation of Documents? DoNotPay Is the Right Way!
You should stop spending your money on expensive lawyers and time on online templates that are too generic. DoNotPay can help you prepare numerous agreements and other types of formal documentation to secure your personal or professional interests.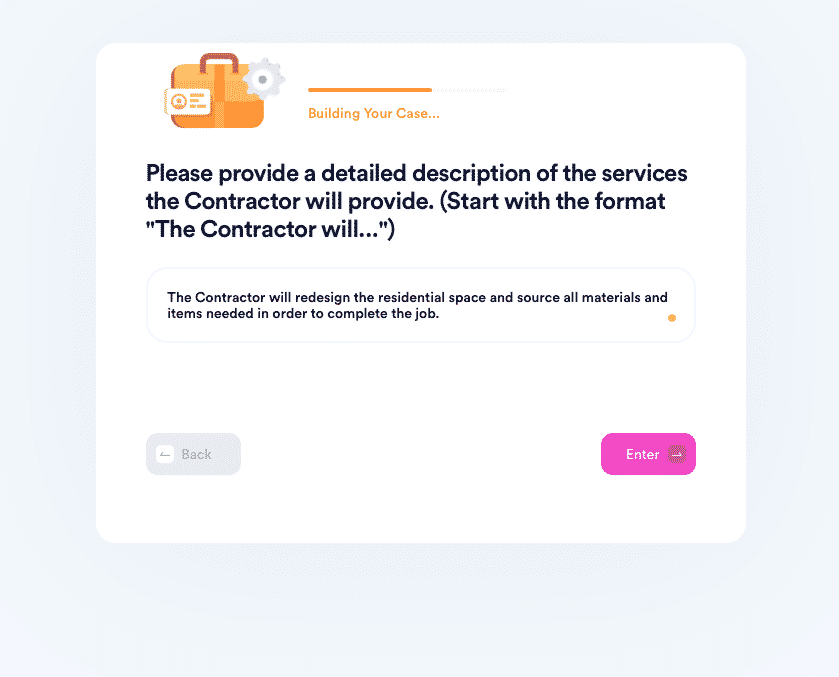 Here is the list of some documents we can help you with:
Documents DoNotPay Can Prepare for You
DoNotPay Offers Valuable Information On

Quitclaim deed

Promissory note

General affidavit

Estoppel certificate

General business contract

Intent to purchase real estate
When you need help with the creation of a document, access DoNotPay to receive one customized for your specific needs.
DoNotPay Can Be Your Document Generator Any Day
To get the document you need, subscribe to DoNotPay and follow these steps:
Select the

Standardized Legal Documents

product

Enter the name of the document you want us to help you with

Provide the necessary details to the chatbot, including names, addresses, and additional relevant data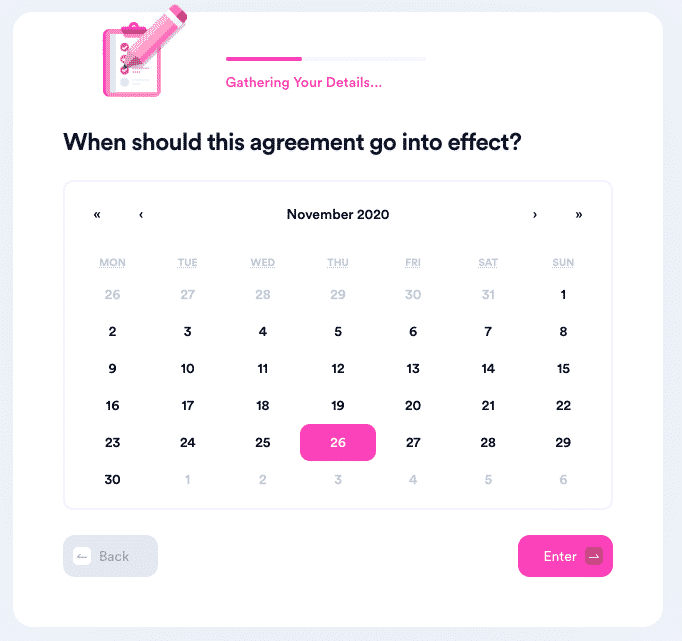 In a few clicks, DoNotPay will provide you with a personalized document. 
DoNotPay Helps You Deal With Various Problems Worry-Free
DoNotPay has developed a wide variety of products you can use to manage numerous tasks.
Do you want to get a refund from a company? Are you wondering whether you can request compensation from airlines for poor Wi-Fi or canceled flights? Is hiring a lawyer to draw up legal documents too expensive for you? Sign up for DoNotPay and solve your issues in a matter of minutes!
Use our AI-powered app to get rid of robocalls, spam emails, and text messages. 
Need help locating and canceling all your unused memberships? DoNotPay has a product for that too! 
Prepare for your driving test using our Government Tests Prep feature and schedule a meeting with the DMV to take the test through the same app. We can even help you claim your car insurance or warranty and contest parking tickets in a flash!
Learn How To Protect Your Privacy With DoNotPay
Protecting your personal info online can be challenging but not impossible. The next time you come across a service that requires phone verification, make sure to use our Burner Phone product and have us generate a fake phone number you can use. 
Our virtual credit card can help you sign up for free trials without having to disclose your name, email address, or credit card info. 
Are you thinking about connecting with an inmate pen pal? Make sure to keep your real address a secret by relying on DoNotPay. Besides helping you send letters to inmates, we can also receive mail from the prison on your behalf, scan each letter, and send it to your email address.