Draft Seller Financing Agreements and Buy Contract for Deed Homes Safely With the Help of DoNotPay
Have traditional lenders denied financing because you went through unforeseen circumstances and had a poor credit rating? Are you looking for an easy way to finance a contract for deed homes purchase to get a "forever" home for you and your family? 
DoNotPay is here to help. In this step-by-step guide, we will explain what a contract for deed is, how to write any contract, and how to draw up various other legal documents in record time.
What Is a Contract for Deed?
A contract for deed—otherwise known as a real property installment sales contract and land sale contract—is a legal document enabling the seller to finance their property's sale. It is one of the most popular financing options in the U.S., allowing buyers to obtain property even if they don't qualify for mortgage loans or have a poor credit history.
Under this contract, you can make payments in regular installments to the seller until you cover the amount in full. You can use the property, but the seller remains the title owner until you meet all the terms of the contract. Once the payment is complete, you get full ownership and the legal title of the property. 
If you are unable to pay due to any unforeseen circumstances, the seller can claim repossession of the property. In such cases, some states require the seller to pay the buyer back for any repairs or improvements to the property. 
How Does Buying a Home on a Contract for Deed Work?
The contract for deed process goes as follows:
The buyer and the seller negotiate the terms of the agreement. These include the payment amount, the average duration of the contract, and interest rates

Once the negotiations are complete, the agreement is written, signed by both parties, and

notarized

by a state official

The down payment can be 10–20% of the total amount. The interest rate can vary from 1–3% above the market rate and is decided through mutual agreement
Most sellers prefer a balloon payment at the end of the payment process. If you have a five-year contract of fixed monthly payments, you will have to pay the remaining amount in full once the contract period is over. The balloon payment is often sourced through a loan because you risk defaulting and losing the property completely. 
Benefits of Contract for Deed Homes
Opting for purchasing a home on a contract for deed has many benefits:
Your credit score does not have to be excellent

You can claim property tax and interest paid when filing tax returns
It allows more freedom to negotiate the terms of your contract, including a flexible down payment, low interest rate, and quicker settlement period

No additional fees apply, including origination or closing fees necessary for a mortgage

Flexibility for both buyers and sellers
What Happens if You Fail To Honor Your Contract?
Like any other sales contract, a contract for deed is legally binding for both the buyer and the seller. If any party fails to honor the agreement, they might face legal consequences. If you're the buyer, one of the biggest consequences you might face is getting a negative credit rating. This will cause difficulties in future financing and purchasing a new property.
If you default on your payment, you risk losing the property without a foreclosure sale, even if you have covered most of the amount. You can also lose all previous installments you have paid as liquidated damages.
How Can You Create a Contract for Deed Yourself?
You can hire a lawyer to draft a contract for deed or create it yourself. Although a lawyer might be a safer bet, hiring one can be quite expensive, especially if you're on a budget. 
In case you want to create the agreement yourself, you can search for contract templates online to get a gist of how to draft it. The contract must ensure that both parties are equally protected. Creating legal documents yourself bears the risk of forgetting crucial clauses required by your state's law. 
Here are essential elements to include in your agreement:
Purchase price

Down payment

Interest rate

Number of installments

Balloon payment

Responsibilities of the buyer and seller

Legal consequences in case the buyer defaults
DoNotPay Can Draft Legal Documents in a Matter of Minutes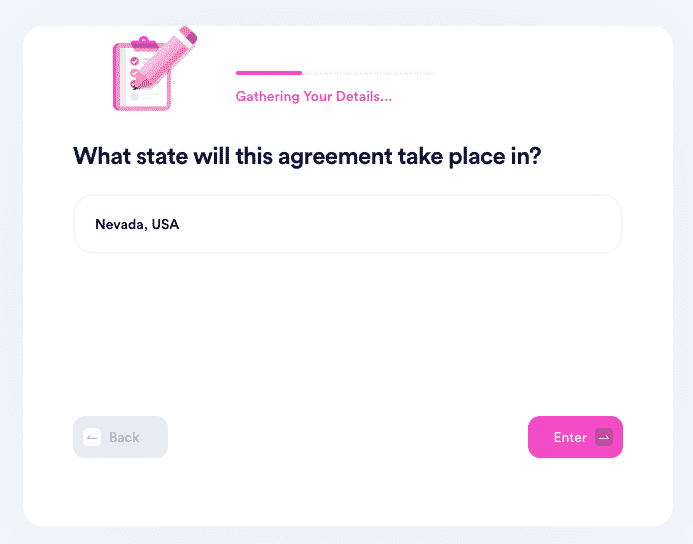 Stop squandering money on expensive lawyers or wasting time with dodgy online contract templates. DoNotPay can help you draft legal documents within minutes! All you have to do is follow these steps:
Enter the name of the document you want to create

Respond to our questions to personalize the document

Print the document and sign it to make it official
DoNotPay can create various legal contracts and agreements, including the following:
Real Estate
Business Contracts
Other

Intent To Purchase Real Estate

Quitclaim Deed

General Business Contract

Promissory Note

Estoppel Certificate

Child Care Authorization Form

General Affidavit
Easy-Breezy Ways To Deal With Not So Breezy Issues
Administrative and similar tasks don't have to be as complicated as we've known them to be. With DoNotPay, dealing with paperwork and companies is done in a few clicks. Let the world's first robot lawyer help you:
Money Troubles? I Don't Know Her!
As our app's name says, DoNotPay's mission is to put a stop to losing money and overpaying. We will help you get your hands on free trials and snatch free raffle tickets. DoNotPay can also provide solutions for you to get help covering bills and reduce your property taxes.
If you want to get some additional funds, use our app to sign up for clinical trials. You may also take our practice tests to ace a government test and land a better-paying job.
It doesn't hurt to check whether you are owed some unclaimed money, and we can help you with the application.