The
Contract for Deed Form
Made Simple
When you decide to buy a property, obtaining a mortgage seems like the most convenient solution. The bad news is that this option isn't available to everyone. Many applications get rejected for various reasons, including:
Questionable credit scores

Unfavorable employment situation

Bad employment history

Insufficient down payment
In such cases, you may turn to a contract for deed form—a legal document that helps you purchase your dream property without loads of requirements. Follow our tips and learn how to write a valid contract stress-free!
What Is a Contract for Deed?
A contract for deed is a real estate purchase document for people who don't qualify for a traditional mortgage. In it, a buyer agrees to pay monthly installments directly to the seller. They can use the property or reside on it, but they become a legal owner only when they pay the full price. The contract usually proposes a set period for the buyer to pay off the debt.
This document determines the terms and conditions of the collaboration between a seller and buyer. The parties are free to negotiate and define the rules, which wouldn't be possible with a standard mortgage.
What Risks and Benefits Does a Contract for Deed Bring to Sellers and Buyers?
Contracts for deed bring many advantages, but they also entail certain risks for both parties. Below is the table highlighting some benefits and drawbacks of this agreement:
Party
Advantages
Disadvantages

Buyer

The process is simple

The buyer doesn't need to qualify for financing when buying the property with a contract for deed

Negotiation with the seller is always possible, which is not the case with mortgages

Quicker and cheaper closing procedure

Favorable interest rates

The buyer must pay the entire price of the property to obtain a legal claim to the real estate in question

If the seller stops paying monthly installments, they may lose the property and the money they already paid

There are limited inspection rules 

Seller

Regular income

The income the seller gets from the buyer can help them pay off other debts

The procedure is much quicker than the standard mortgage sale

The seller has the right to terminate the agreement early if the buyer doesn't pay or breaches any other regulation

It's easier to sell a non-conforming property this way

With the property being in their name until the buyer pays it off, the seller's investment strategies may be affected

The seller can stop paying, which means the buyer can lose the profit

Being a legal owner until the buyer pays off their debt, the seller is responsible for all legal or ordinance issues
What Should You Include in Your Contract for Deed?
The following list shows a recommended structure you should follow while drafting a contract for deed:
Information about the buyer and seller

Full legal names of both parties

Contact information

State (if the parties reside in different parts of the USA)

Property information

Full physical address

Description of the property, including the description of the premises and square footage 

Property use and access

Payment details

Full purchase price

Number of monthly installments

Interest rates

Payment method

Late payment penalties

Other relevant terms

Potential seller's debts

Property insurance and tax details

Responsibilities of each party

Default protocols
Discover a Full Range of Customizable Templates With DoNotPay
To create a valid contract, you must:
Get familiar with local regulations

Adapt the contents of your agreement to the existing local laws

Use appropriate legal terms

Write the agreement clearly and concisely

Have it notarized if the laws in your state require it or if you want additional security
For most people, these steps are too hard to handle. Finding a lawyer to draft your contract guarantees a proper and well-made document, but it may cost you an arm and a leg. If you don't want to take risks with generic and inaccurate online templates, DoNotPay has the solution.
Our app helps you come up with a perfect agreement based on your state's laws! All you should do is choose a customizable template from our database, and we will generate a personalized document for you in an instant. 
That's not all. You can also have it notarized by booking an appointment with an online notary in the same app. Once you obtain a notary's digital signature, use our Online Fax feature to fax your documents to anyone from your phone or laptop!
How To Draw Up an Agreement With DoNotPay
To get your personalized contract, follow these steps:
Sign in to DoNotPay

in any web browser

Pick the template you want to modify

Give us more details on the contents of the contract
The only remaining step is to download your agreement and sign it!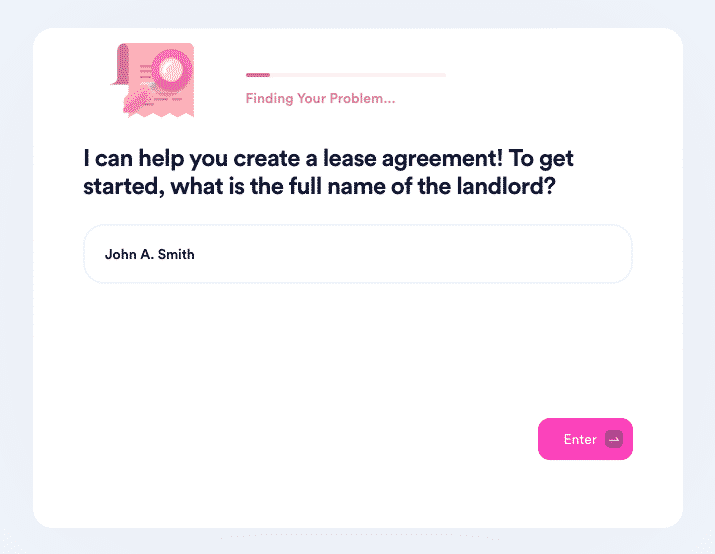 What Documents Can You Create With DoNotPay?
Our app offers 15 document templates listed in the table below:
Real Estate Legal Documents
Other Legal Documents

Intent To Purchase Real Estate

Estoppel Certificate

Quitclaim Deed

General Business Contract

General Affidavit

Promissory Note

Child Care Authorization Form
If you can't find the desired contract on our list, don't worry! DoNotPay features many practical guides on most sought-after legal documents. Visit our knowledge base and learn how to create:
Discovering DoNotPay Will Make Your Day
If you feel overwhelmed by tons of paperwork flooding every area of your life, you can finally breathe out and let go of that stress. DoNotPay is the world's first robot lawyer that handles your bureaucratic chores for you. 
Some of the benefits that come with our service include:
Why Get a Lawyer When You Have DoNotPay?
Our agenda has one major goal—provide easy legal access to anyone who needs it. Every new feature we come up with relies on AI technology that simplifies bureaucratic procedures and saves you time and money. 
If you're wondering how to navigate tasks like contacting imprisoned friends and family members or reducing your property taxes, DoNotPay has the answers. Our service cuts through the red tape even if you need to deal with stalking and harassment, claim forgotten assets the proper way, or secure compensation for crime victims.