Extend a Successful Business Relationship With a Contract Extension Agreement
Is your contract nearing its expiration, but you don't want to end the business relationship? Are things going well enough for you to request a contract extension? Get busy now! If you don't know how it works, we're here to help you out!
In this manual, DoNotPay teaches you everything you need to know about a contract extension agreement and shows you how to write valid contracts the easy way!
What Is a Contract Extension Agreement?
Generally, most business contracts have a fixed term. When the contract is nearing the expiration date, you have two options:
End the contract
Extend the agreement with a new date
If you want to extend the duration of your existing contract, you can create a contract extension agreement. It is not an entirely new document. You only need to alter the termination date at the end. Once both parties agree to the modified date, you can sign the deal and move forward.
It's easier to have a contract extension agreement instead of creating a completely new or an additional amendment document. The extension does not deviate from the terms of the primary contract. If you need to make more modifications, you will need to draw up a fresh document.
Alternative names for a contract extension agreement are:
Contract extension letter
Extension of contract agreement
When Is a Contract Extension Required?
You can use a contract extension if:
Your contract end date is near, and you wish to extend the duration of the contract beyond the original end date
Both parties want to set a modified termination date
The project did not end at the expected due date
A new project with the same contractor awaits
What Contracts Might Require a Contract Extension Agreement?
You can use a contract extension agreement to extend the duration of several business contracts, such as:
For extending property contracts, you should opt for a lease extension agreement.
How To Make a Contract Extension Agreement Yourself
If you're familiar with legal terms, creating a contract will be a piece of cake. If not, you can always hire a lawyer to do the job. Are lawyer fees too high for your budget? Scan the internet for free contract templates to get a basic idea of what to include in your document.
Most contract extension agreements contain the following essential clauses:
Clause
Brief explanation
Details of both parties
Names, office/home addresses, and contact information of both parties
Date
The effective date of the agreement
Original contract
This section will contain:

Terms and conditions of the main contract
Original ending date

Extension
Extension terms can include the following:

A statement that both parties agree to the extension
Terms and conditions of the agreement continuation
Duration of the extended contract

Dispute resolution

Dealing with conflicts
Handling a breach of contract
Defining possible remedies

Signature
Signature of both parties, along with the date, to confirm they have understood and agreed to the new terms and conditions, i.e., the new end date
How To Make a Contract Extension Agreement Legally Enforceable?
By signing the document, whether digitally or physically, you make the document legally binding. If any party, intentionally or unintentionally, violates the contract, they risk facing legal and disciplinary action, including a lawsuit.
Get a Personalized Contract in Minutes With DoNotPay
Creating a legal document with its specific structure and format can be a complicated process. Most people prefer handing it over to their lawyers even though the fees can be sky-high.
What if you had a better alternative? For an affordable monthly fee, DoNotPay can draw up numerous contracts and agreements you can customize to your requirements!
How to get started?
Enter the name of the agreement you want to make in the search box
Answer our chatbot's questions and provide required details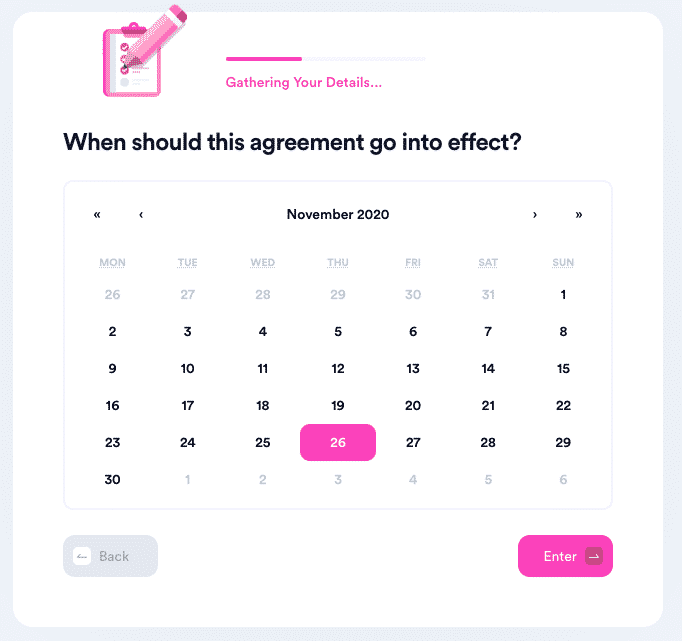 We will generate a personalized document within minutes! When you receive it, make it legally binding by signing or getting it notarized. Our Notarize Any Document service is integrated with the Standardized Legal Document tool, so you can do both tasks within the same app!
Check out the list of legal docs we can draft:
Real Estate
Business Contracts
Other

Intent To Purchase Real Estate
Quitclaim Deed

General Business Contract
LLC Operating Rules Document

Promissory Note
Child Care Authorization Form
General Affidavit
How Else Can DoNotPay Help You With Your Business Documents?
If you're looking for learning material on other business agreements, DoNotPay has a massive vault of information, so check out our articles about:
Easy-Breezy Ways To Deal With Not So Breezy Issues
Administrative and similar tasks don't have to be as complicated as we've known them to be. With DoNotPay, dealing with paperwork and companies is done in a few clicks. Let the world's first robot lawyer help you:
Money Troubles? I Don't Know Her!
As our app's name says, DoNotPay's mission is to put a stop to losing money and overpaying. We will help you get your hands on free trials and snatch free raffle tickets. DoNotPay can also provide solutions for you to get help covering bills and reduce your property taxes.
If you want to get some additional funds, use our app to sign up for clinical trials. You may also take our practice tests to ace a government test and land a better-paying job.
It doesn't hurt to check whether you are owed some unclaimed money, and we can help you with the application.