A
Contract Addendum Template
From A to Z
Choosing a contract addendum template is no easy task. You want to make sure it covers everything you want to add to your contract and that it holds up. Not to worry—we'll dissect the addendum to a contract and help you find the best template. If you want to create legal documents from scratch, you can turn to DoNotPay—the world's first virtual lawyer that writes contracts in your stead.
What Is an Addendum to a Contract?
A contract addendum is an additional document or an attachment that is added to the initial contract. Typically, the original contract is still in full force and effect, while the addendum only tweaks the specific terms that are described. All involved parties must agree to it and sign it. The purpose of an addendum can be to:
For example, an addendum to a purchase agreement can add a spouse as a co-owner.
Other situations requiring an addendum may include:
Date adjustment

Deadline extensions

Clauses that need to be added or removed

Specific term or condition that isn't working out for one or more parties
The Difference Between an Addendum and an Amendment
The basic definition of an addendum is that it's an addition, whereas an amendment is a change. While both the addendum and the amendment modify the original agreement in a sense, there are crucial differences:
Addendum
Amendment

A separate document

Items not included in the initial document

Small changes or additions

Changes within an existing document

Details changed in the original document after the parties have executed it
Writing a Contract Addendum
Whether you decide to write a contract addendum on your own or you want to check whether a template is good enough, the tips below will come in handy:
Steps

Brief Description

Make a new document in addition to the existing contract

State that you're adding an addendum to a contract. The two documents must be linked

Use the same style to be consistent with the contract

Use the same margins, typeface, and font size

Reference the original document by date and name

Title the document to make it clear it is an addendum

Indicate the parties

Name the parties that are part of the initial document

Identify any additional parties

Add dates

Include the date when you're attaching the addendum

Write the addendum's effective date using the same date format as in the contract

Specify the terms

Indicate the terms from the original document that will be modified

Specify whether an item is an addition, a change, or a replacement

Determine the addendum clause

Add a concluding paragraph

A concluding paragraph should safeguard against any unwanted alterations

Add a signature block

It should have spaces for both parties to sign with their names and titles

Include a notary section if necessary

If the document needs to be notarized, a notary section is required
What To Keep in Mind Before Creating an Addendum
One of the most important details when attaching an addendum to a contract is to make sure it complies with the original document and its existing terms. This way, it becomes legally enforceable. You should read through your contract and check whether it's stated that addendums are not allowed or whether there are any requirements or restrictions regarding addendums.
Another vital piece of info to check is whether the addendum complies with the applicable laws. If you're unsure of your addendum's legitimacy, you should consult an attorney to be on the safe side.
What To Look Out for When Choosing an Addendum Template
When looking for a contract addendum template, you can either look for a specific one based on the type of contract you want to modify or search for a general one. Both of these come with flaws. A specific template will be easier to change and customize to fit your contract. A general template may require more time to adjust, but it gives you more freedom to add terms you want to include.
Create a Legal Document in Three Simple Steps With the Help of DoNotPay
When you need a whole new document, we can swoop in and save you the trouble of looking for templates or hiring a lawyer! Our AI-powered app offers a Standardized Legal Documents product that generates a contract or agreement while you only need to click a few times.
Here's how it works once you sign up for DoNotPay:
Enter the name of a document in the search bar

Answer several questions to personalize your document

Download it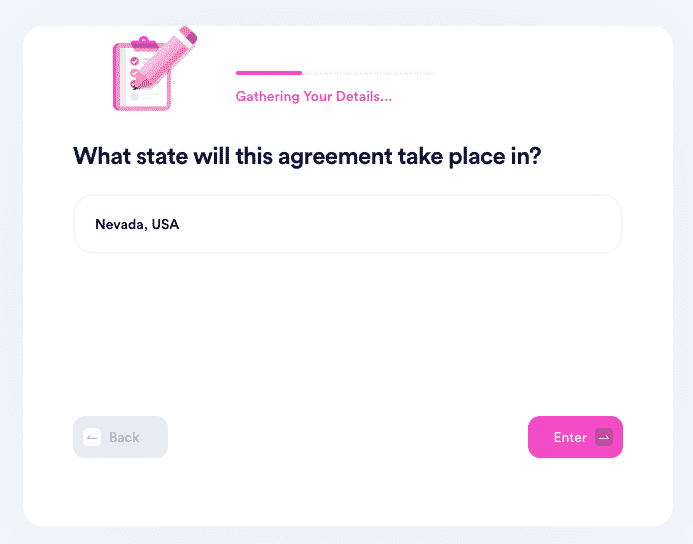 What Documents Can DoNotPay Draft?
Our app helps you get documents for various situations—personal, business, real estate, and others. We can draw up the following contracts for you:
Estoppel certificate

General affidavit

Promissory note

General business contract

Bill of sale

Child care authorization form

Quitclaim deed

Intent to purchase real estate

Residential

lease agreement
When you create a DoNotPay account, you'll also be able to use all our products. Generate, e-sign, fax, and notarize documents—everything with your trusted virtual assistant.
Use Our Robot Lawyer To Eliminate Pesky Tasks
Administrative tasks are often time-consuming, which is why many people give up on them before even trying to tackle them. Requesting refunds, canceling services, signing up for clinical trials, reporting stalkers and robocalls, and trying to find unclaimed money are all processes that would usually take a long time to resolve.
With the help of DoNotPay, though, all of these admin hurdles become a piece of cake. In just a few minutes, our app can assist you in appealing parking tickets, getting in touch with your imprisoned loved one, getting an extended warranty, reporting copyright infringement, and so much more!
Don't Break the Bank—Sign Up for DoNotPay!
Our app can save you lots of money by helping you get a refund from any airline, sign up for a free trial without your credit card info, earn off persistent and illegal spam emails, and get an application fee waiver for a college you apply to.
With DoNotPay, you can even schedule a DMV appointment or jump the phone queue when getting in touch with a customer service representative without breaking a sweat!