The Rundown on Contra Costa County Divorce
Are you and your spouse parting ways? Filing for a divorce is a complicated process, but what happens after is even more difficult and distressing. The best way to make this situation easier is to familiarize yourself with the rules and requirements in your county and state.
If you want to know how Contra Costa County divorce works, you're in the right place! We'll tell you which forms to gather, how and where to submit them, and which steps to take to file for a divorce.
Grounds for a Divorce in Contra Costa County
Contra Costa County is located in California, which is a no-fault state for a divorce. A no-fault divorce enables spouses to get a marriage dissolution without either one taking the blame for the breach of the marital contract.
To file for a divorce in Contra Costa County, you don't have to provide the list of your spouse's wrongdoings and proof of them being true. You can get divorced based on the grounds of your "irreconcilable differences."
While you're not required to provide legal reasons, you cannot file for a divorce in Contra Costa County if you don't meet the residency requirements, including:
At least one of the spouses must have lived in Contra Costa County for at least three months before petitioning for a divorce
At least one of the spouses must have lived in the State of California for at least six months before filing for a divorce
Can I Get an Uncontested Divorce in Contra Costa County?
If you want a quick termination of marriage, you should get an uncontested divorce in California. Not everyone qualifies for this type of divorce. To be able to file for a friendly divorce, you and your spouse have to work out certain issues, including:
Child support
Custody and parenting plan
Spousal support
Division of debt, assets, and property
It's estimated that the cost of a divorce in California is $17,500 on average. Agreeing on important matters enables you to get divorced without a lawyer, which will help you save a substantial amount of money.
California offers several court services that can help you during the process:
Settlement conferences
Family court services
Family law facilitators and self-help centers
You can also opt for a private service, such as a lawyer, mediator, or collaborative lawyer. If you're looking for a low-cost divorce, mediation is the best option out of these three. A mediator's job is to help you and your spouse resolve any disputes and reach an out-of-court settlement.
Which Divorce Forms Do I Need for a Divorce in Contra Costa County?
Before petitioning for marriage dissolution, you—the plaintiff—have to collect all the divorce forms required by the state and county. You can find all the documents on the Superior Court of California website for Contra Costa County. If you don't know how to fill them out or file them, one of the court services can provide instructions.
The most important uncontested divorce papers you have to prepare are:
Petition—It's the initial form that starts the entire process
Summons—The form that notifies your spouse—the defendant—that they have 30 days to appear in court or file a Response form
Settlement agreement—It outlines the terms of the divorce you agreed on with your spouse. You can subscribe to DoNotPay to get the document promptly
How To File for a Contra Costa County Divorce
Filing for a divorce can be complicated even when it's uncontested. The process consists of several steps, and you can check the following table for an explanation:
| | |
| --- | --- |
| Steps | Explanation |
| Make copies of the documents | You should make at least two copies of each document—one for yourself and the other one for your spouse. The original document should be filed with the court |
| Start the case | Fill out and file the forms with the Contra Costa County clerk's office. You should pay filing fees before submitting the forms |
| Serve your spouse | A person who's 18 years old or older can serve the forms and a blank Response form to your spouse. They have 30 days to file and serve the Response form back |
Get a Breezy Contra Costa County Divorce With DoNotPay's Help
A judge has to review and approve your settlement agreement to finalize the divorce. That is why you should write this document with utmost care. To avoid making mistakes and having to repeat the process, the best course of action is to let DoNotPay draft the document for you!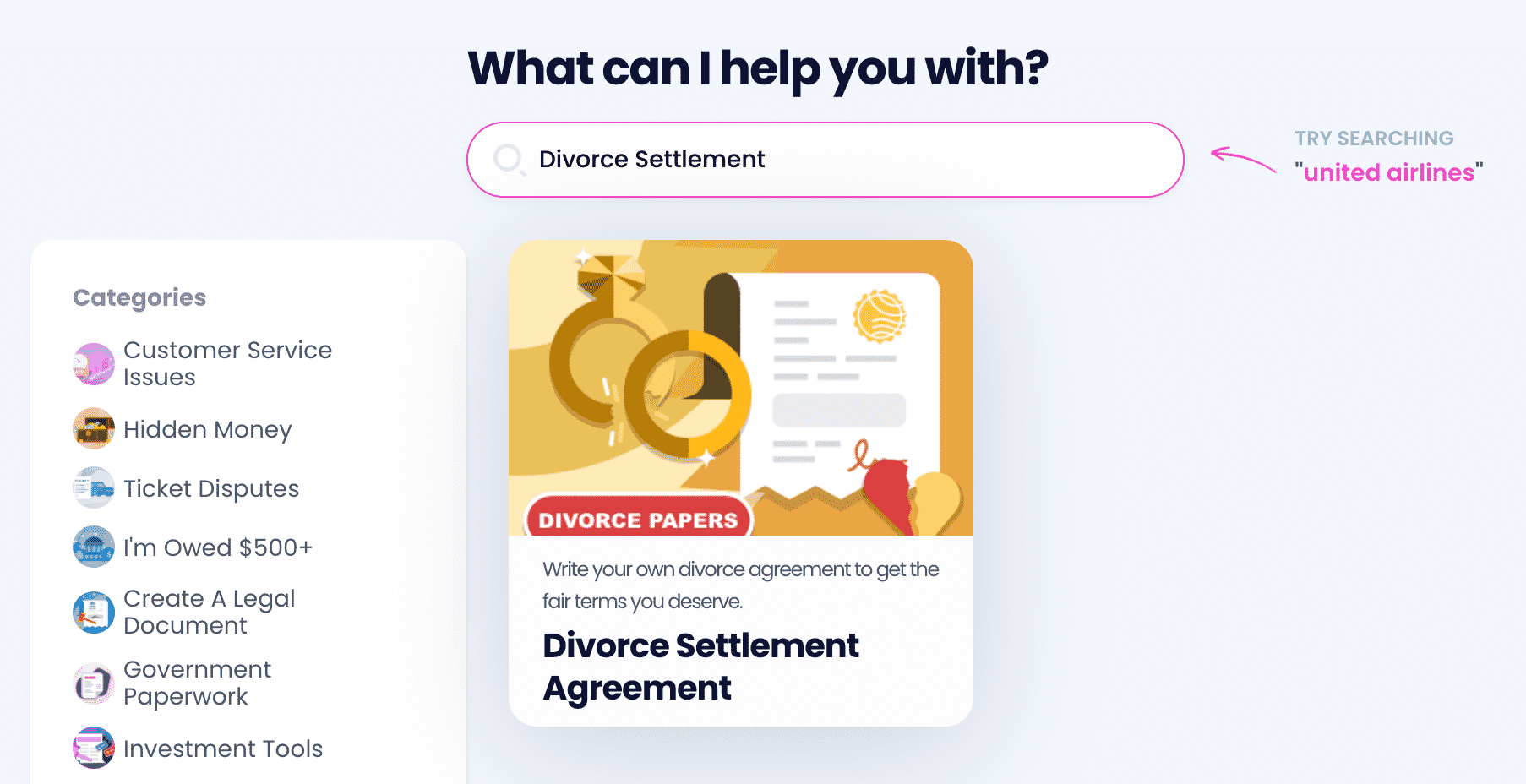 Our robot lawyer will create an error-free divorce settlement agreement in four simple steps:
Choose the Divorce Settlement Agreement feature
Answer our chatbot's questions about your spouse and children
Tell us how you want to allocate your financial assets
We'll send you a custom-made document that complies with the laws and rules in Contra Costa County and is based on the information you provided!
Don't know where to get it notarized? Notify us while filling out the questionnaire, and we'll help you out!
DoNotPay has all the useful information! Find out:
DoNotPay Is Righting Wrongs Left and Right
DoNotPay is a platform that puts its subscribers' safety in the first place. We can keep you safe from sex offenders, stalking, and harassment. In case you're a victim of a crime, we can help you get compensation.
Fight for discrimination at your workplace with the world's first robot lawyer or sue any company or person in small courts if you feel like you've been wronged.
Is There Anything DoNotPay Can't Do?
The short answer is no, and the list of our AI-based app's features keeps growing by the day. We offer professional assistance with issues that no other platform can help you with. Sign up now and: