Draft a Contingency Fee Agreement the Simple Way!
Are you thinking about drafting a contingency fee agreement, but you aren't sure how to go about it? We are happy to assist! Use this article as a guide to creating your contingency fee agreement without a hitch!
What Are Contingency Fee Agreements and Why Do I Need Them?
A contingency fee agreement is a way of billing your attorney in a different way than usual. If you don't want to pay your attorney at an hourly rate, you can use the contingency agreement instead.
The contingency agreement works by you paying a percentage of the amount and not a fixed one. Your attorney agrees to take on your case without you paying him or her right away and without charging you the hourly fees. 
At the end of the case, you pay a certain percentage of the damages to your attorney. The attorney will also have to represent you successfully to get paid. If your attorney loses the case, you usually won't have to pay them any fees apart from the out-of-pocket ones that they get during the case.
The Contingency Agreement—Pros and Cons
If you are debating whether the contingency fee agreement is the right choice for you or your business, we'll help by listing a few of the advantages and disadvantages. Check them out:
Pros
Cons

No up-front fees

Incentive for lawyers

No costs for losses

Possible additional fees

Contingency agreements are, in some cases, prohibited by law
How Do I Draft a Contingent Fee Agreement?
To make sure you don't forget to include anything in your contingency fee agreement, we made a list of all the crucial items your agreement should encompass. Follow the list below, and you won't have to worry about leaving anything out!
Names and Addresses

Date

Client

Legal matter

Retainer fee

Contingency fee

Termination and signatures
Names and Addresses
The first item you should include in your contingency agreement is the name of your attorney or the legal name of the law firm that is accepting the agreement. You should also put the business address of the client or firm below the name.
Date
The specific date that applies to your agreement must be included after the first item to solidify the agreement. Include the calendar month, day, and year at the top of your agreement.
Client
State your full name as the name of the client in this section. You will have to sign the agreement in the end along with the attorney.
Legal Matter
Elaborate on the legal matter and the nature of the case that the attorney will be handling. This section will serve as a way to reach mutual understanding and set out the obligations and expectations from the agreement. You can look at this clause as a clear description of the agreement and note that the attorney must represent you successfully to receive payment.
Retainer Fee
In cases when legal procedures drag on for a significant amount of time, the attorney can ask to be paid a retainer fee. You pay a certain amount to your attorney in advance, and the sum is deducted from the final payment once the case ends. Regardless of whether the retainer sum will be paid in your case or not, make sure you mention it and reach an agreement on the matter.
Contingency Fee
Once you and your attorney decide on the contingency fee you will pay when the case ends successfully, you must put the amount in your agreement. The amount has to be defined as a percentage.
Termination and Signatures
If for any reason you or your attorney decide that you no longer need the services the agreement provides, state how the agreement will be terminated and how much you will pay the attorney. Make sure you reach an agreement on this matter and specify it clearly to avoid any issues later on.
Finally, both you and the attorney must read the agreement carefully and provide valid signatures.
DoNotPay Can Help You Draw Up Countless Legal Documents!
In case you don't feel like searching for contract templates and figuring out how to use them, DoNotPay comes to the rescue! Our app helps you create a variety of different contracts and legal documents by providing you with a simple, step-by-step guide. Don't hesitate to use it!
The best part is that you can gain access to them in a couple of clicks! Here's how:
Load DoNotPay from your

web browser

Provide the name of the document you want us to draft

Give our chatbot a few short answers
We will provide you with your document that you ultimately make official by having all parties involved sign it.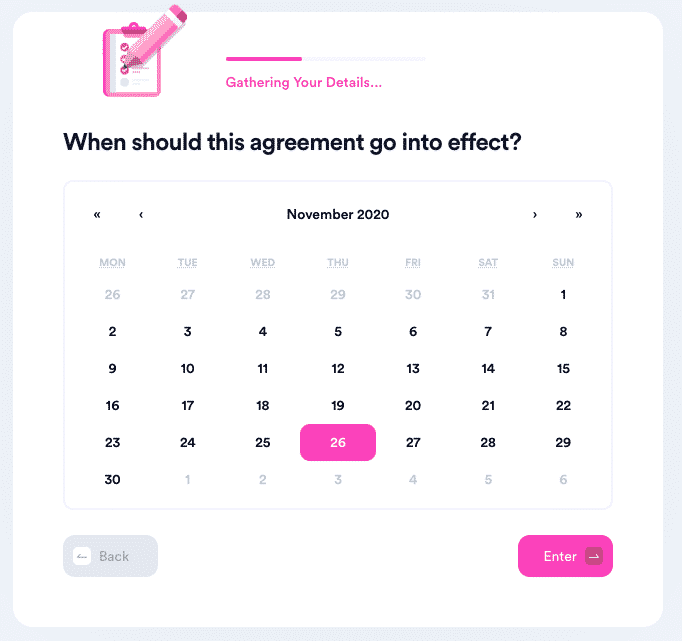 Check out the list of the documents you can make using our app:
General Business Contract

Intent to Purchase Real Estate

Estoppel Certificate

Quitclaim Deed

General Affidavit

Promissory Note
Get Back at Greedy Corporations With DoNotPay
How many times have you tried reaching out to an airline regarding your canceled flight? Did you ever spend hours trying to contact customer service reps only to be refused your refund request?
Big companies tend to make certain processes complicated for their customer in hopes they would give up on pursuing their goals.
This is why your warranty claims often get denied the first time or why canceling a gym membership can be an administrative hell.
Our AI-powered app is here to help you sort these problems out. 
Whether you're trying to file an insurance claim, schedule your driving test, start a free trial without disclosing your payment info or a phone number, or get access to public records, we've got you covered.
DoNotPay Is the Virtual Assistant You Need
DoNotPay is the first robot lawyer in the world created to simplify complex tasks. We can help you with anything from appealing your parking citations to filing lawsuits in small claims court.
In case you need to save up some money, our app will show you how to get an extension on your bill payments, sign up for paid clinical trials, or avoid paying your college application fees.
DoNotPay can also report robocallers, text spammers, and email phishing attempts, and real-life stalkers with a few clicks.