Contested or Uncontested Divorce—Which One Should You Get?
The type of divorce you file for will impact both the cost and the length of your divorce. If you can't decide whether to get a contested or an uncontested divorce, don't worry—DoNotPay will help! We will break down the differences between the two and show you which type of divorce is optimal for you.
Contested and Uncontested Divorce—The Basics
An uncontested divorce is suitable for couples who agree on issues concerning the divorce, such as:
In a contested divorce, the spouses can't reach a compromise on these issues, so they have to take the case to court, where the judge will have to rule on the terms of their divorce.
The Biggest Differences Between a Contested and an Uncontested Divorce
Before deciding on the divorce type, you should know some key differences. Check out the table below for details:
Difference
Explanation
Duration
An uncontested divorce takes much less time to complete than a contested divorce.

When the couple is in agreement regarding the terms of the divorce, they won't need to go to multiple hearings or even go through the serving procedure in some states

Simplicity
Uncontested divorces are usually simpler because you:

Don't have to go to numerous court hearings, as you'll probably be able to get an out-of-court settlement
Won't file as many forms as you would with a contested divorce

Expenses
The filing costs for any divorce type are the same, but an uncontested divorce is usually much cheaper.

This is due to the extra costs of a contested divorce, such as:

Expert witness fees
Financial appraisers

Relationship between spouses
Generally, couples who get an uncontested divorce preserve a relationship. This is very important if there are any children involved
If you want to end your divorce in a friendly manner without spending a fortune and wasting unnecessary time in the process, you should get an uncontested divorce.
Uncontested Divorce Requirements
To get an uncontested divorce, you will have to agree on the key aspects of the divorce with your spouse and meet your state's residential requirements. Advise the table below to see whether you meet your state's residential requirements:
If you're unable to reach an agreement, you can try divorce mediation before filing for contested divorce. Expect that the mediator will try to help you and your spouse come up with solutions regarding the agreement through several sessions.
How To Get an Uncontested Divorce
Steps you'll have to follow to get an uncontested divorce vary from state to state, but generally, you will have to:
File a Petition for Divorce or Dissolution of Marriage—You can find this document at your local county house or the government website. Note that you will have to pay the filing fee, but if you can't afford it, you might be able to request a fee waiver
Serve your spouse with the Petition for Divorce and a Summons—Depending on the state you live in, you will be required to either:

Ask someone neutral to the case to deliver the divorce papers in your stead
Sign the papers with your spouse

Draft a marital settlement agreement—This is the most important document that you will need to write. It outlines the terms on which you're getting divorced and has to be fair to both parties. You can either pay a hefty sum and hire a lawyer to draw one up for you, or you can use DoNotPay and get a customized agreement in a jiffy
Enter a waiting period—Most states have a waiting period after which the judge will review your papers. Once they make sure everything is in order, they will issue a Final Decree of Divorce
Get a Divorce Settlement Agreement in No Time With DoNotPay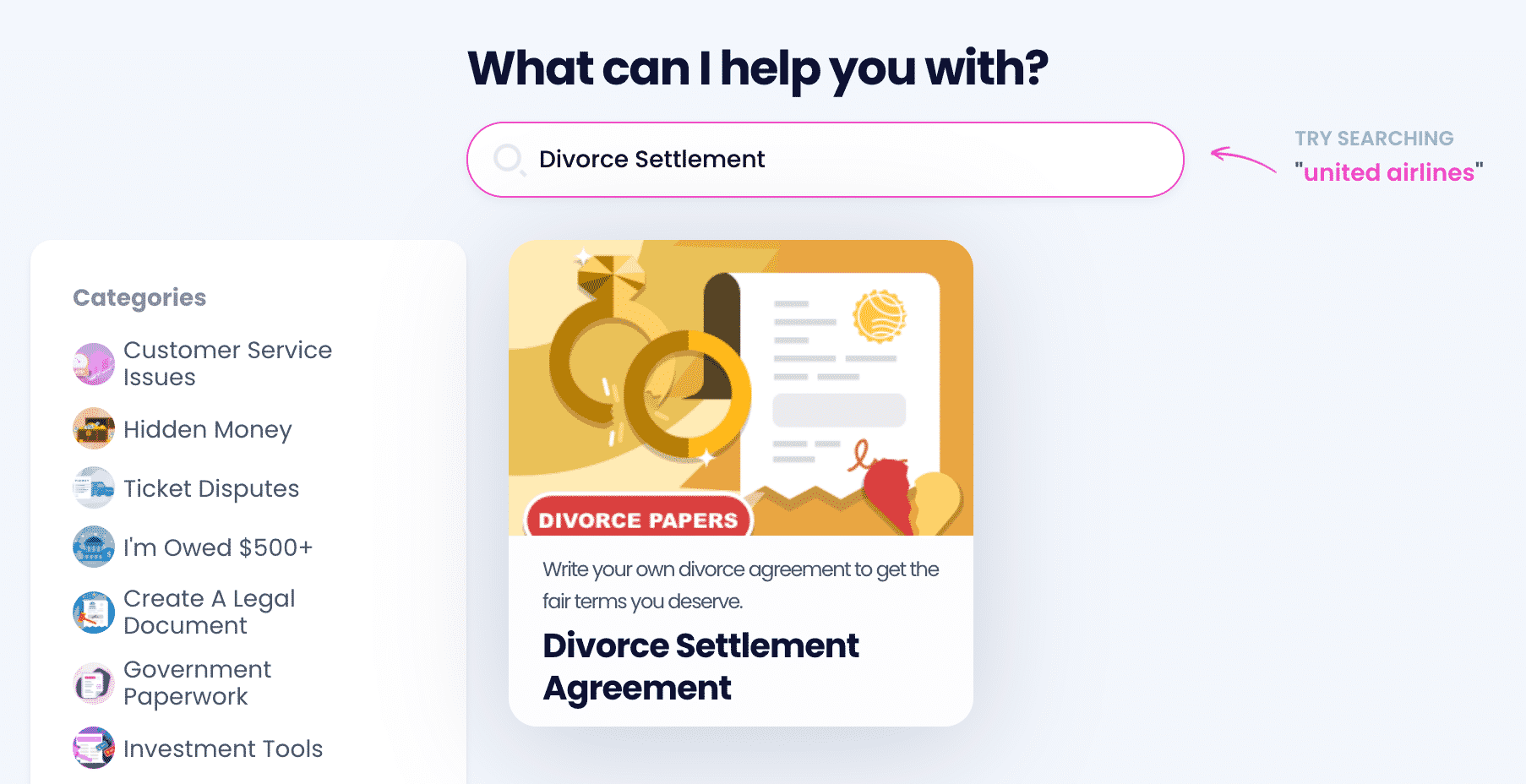 Have you decided that the uncontested divorce is the type of divorce for you? Now you need to get a proper marital settlement agreement! Getting one doesn't have to cost you a fortune—subscribe to DoNotPay and get an affordable agreement that will be customized to your needs.
Here's what you need to do:
Select our Divorce Settlement Agreement feature
Give us the necessary details about your:

Assets
Income
Spouse
Children (if any)

Opt for online notarization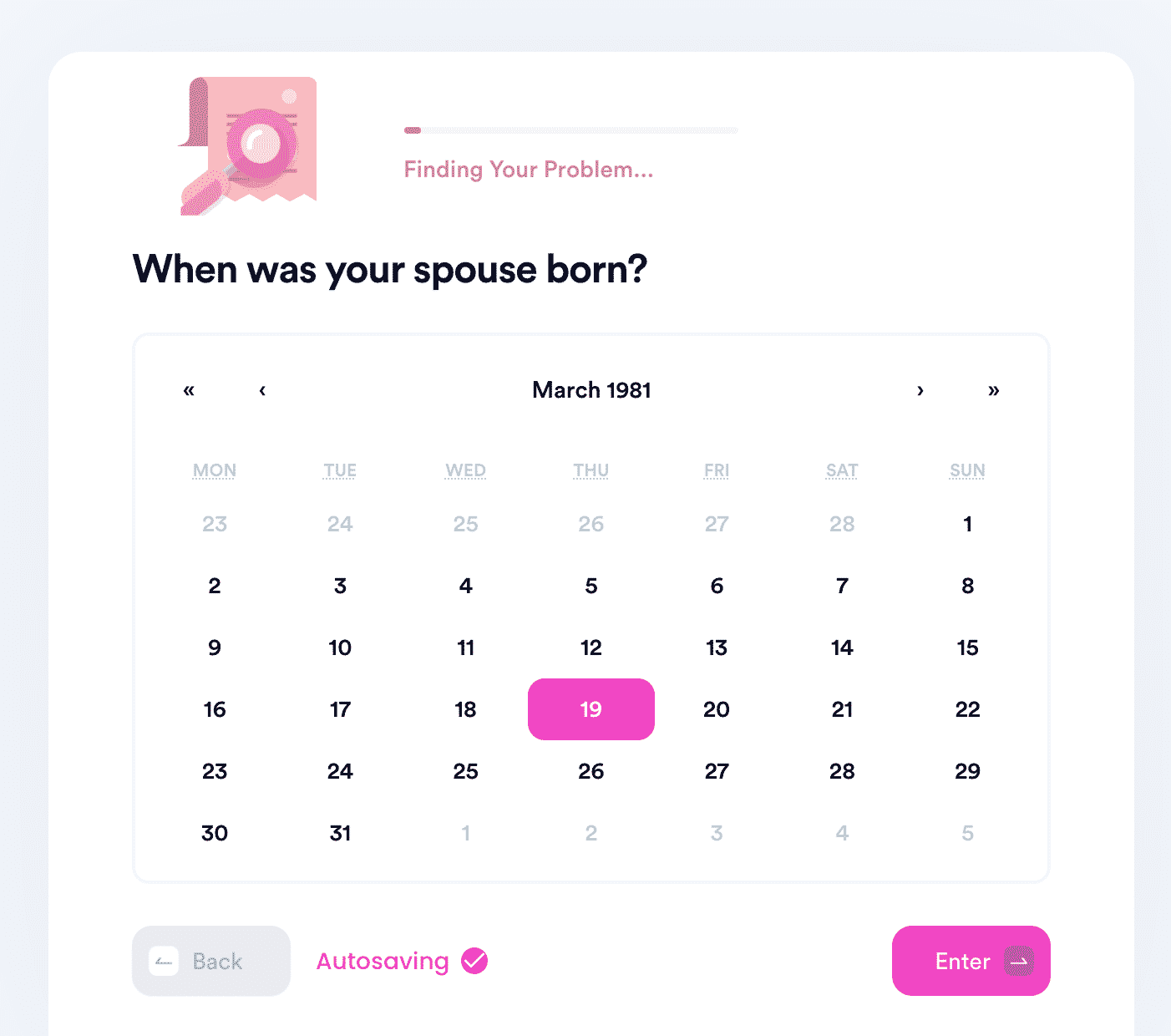 We will process your request in a snap and send you a tailor-made divorce settlement agreement instantly! You can then have your document notarized online by following the link we send you via email.
DoNotPay has all the answers to popular divorce-related questions, such as:
Need Legal Assistance? DoNotPay Got You Covered!
Forget about getting a migraine every time there is an administrative task to handle. DoNotPay makes it easy and stress-free to deal with any bureaucratic issue that comes your way.
Not only can we assist you in drafting a legal document and getting it notarized, but we also help you:
Finishing Your Daily Errands Has Never Been Easier!
Looking for help with running errands? You don't have to spend hours trying to make a DMV appointment or contacting a customer service rep! Completing your day-to-day tasks stops being a burden once DoNotPay gets involved.
There is no shortage of errands we'll help you run for a small subscription fee, including:
Sign up for DoNotPay and avoid spending hours on simple daily tasks that can be done in a jiffy!