How To Make a Consulting Agreement
Are you a subject matter expert frequently contacted by different companies or agencies? If the answer is yes, but drafting legal documents and contracts is not your cup of tea, we have a convenient solution. Learn how to draft a consulting agreement with the help of the world's first robot lawyer.
What Is a Consulting Agreement?
A contract describing the working relationship between a business and a consultant working for that particular business is called a consulting agreement. This document is also known as:
Consulting Contract

Business Consulting Agreement

Freelance Agreement
If you are working as a freelancer, drawing up a consulting agreement is desirable. It outlines the work you should do, establishes the goals, and regulates professional cooperation between two parties.
What Should a Good
Consulting Agreement Template
Include?
You can agree on various aspects of your job when creating a consulting agreement. No two consulting agreements are the same, but they should contain the following information:
Start and end date

Services provided

Contact information for the business and the consultant

Ownership of intellectual property

Fees and compensation

Dispute policy

Confidentiality information

Non-compete agreement or clause

Payment policy

Terms of enforcing the agreement legally

Termination policy
The more specific your consulting agreement is, the better because you reduce the possibility of misunderstanding or misinterpretation of the terms and conditions.
Are Consulting Agreements Legally Binding?
All consulting agreements are legally binding contracts, and breaching them can have legal consequences. They usually have a clause related to resolving disputes in case the offended party wants to complain. 
Notarizing a consulting agreement in the presence of a witness is an additional step to ensure its legitimacy.
The Benefits of a Consulting Agreement
A well-written consulting agreement is vital for both the company and the consultant. There are numerous benefits to this contract, but we have selected the most important ones in the following table.
| | |
| --- | --- |
| Benefits | Explanation |
| Opening up new opportunities | A consultant can use the consulting agreement to promote his/her services. Once the project is completed successfully, the consultant and the client can agree on making a new agreement |
| | The company that hired the consultant should clearly state what and when he/she must do to avoid confusion and misunderstanding |
| Clarifying the company's responsibilities | The company's responsibilities should be stated in the consulting agreement as well, such as providing materials and responses in a timely manner, organizing seminars or training, awarding financial compensation, and so on |
| Protecting intellectual property | Consulting agreements identify information and resources used in the workplace, as well as which party can access the intellectual property and for how long |
| | Apart from the professional relationship between the consultant and the company, consulting agreements can be used for tax purposes since the consultant and the employee do not pay the same amount in taxes |
| Setting the payment policy | One of the most important parts of a consulting agreement is the payment policy. Having it in writing is crucial for avoiding conflicts during the cooperation. The payment policy defines the amount, frequency, and method of payment |
Do I Qualify as a Consultant? 
A consultant is a professional providing expert advice or service in a specific field. The term is a bit broad, but outside consultants are frequent in:
Business

Education

Law

Marketing

Healthcare

Finance
By using a consultant, a company supplements its in-house workforce. A consultant should help the company to increase production and efficiency due to his/her expert knowledge.
Consultants usually specialize in one niche of the market. There are several different types of consultants:
IT

—Optimizes internal networking, web development, and software

Operations

—Focuses on manufacturing and supply chain efficiency

Financial

—Analyzes company finances, finds a way to pay debts, and increase profits

Legal

—Works on protecting the company from liability and deals with contracts and other legal documents

HR

—Develops a convenient onboarding or evaluation system

Leadership

—Identifies potential leaders and focuses on improving teamwork

Compliance

—Deals with industry regulations and standards
Make Legal Documents With DoNotPay
Making legal documents is easy for a lawyer, but if you have no knowledge of the law, it can get tricky. Paying a ridiculous sum of money to get a professional to create a contract for you is a waste of funds when you can use DoNotPay! We are proficient in drawing up various legal documents for you. 
You should take the following steps to get your custom-made independent contractor agreement:
Open DoNotPay in a

web browser

Type in the name of the contract you want to make

Give the necessary information to our chatbot
DoNotPay will generate a contract for you in a minute, but you should always sign or notarize the document to make it official.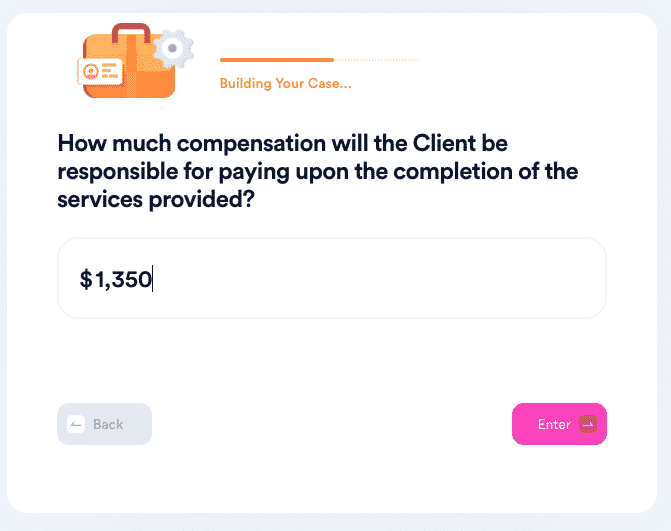 DoNotPay offers an array of customizable templates and is working on getting more of them ready. We offer the following at the moment:
Quitclaim Deed

General Business Contract

Intent To Purchase Real Estate

General Affidavit

Estoppel Certificate

Promissory Note
Minimize Paperwork With DoNotPay
Writing letters, filing claims, sending requests—these chores are nobody's idea of fun. Thanks to DoNotPay, you can bypass these menial tasks with a few clicks in your browser. 
Our platform is full of useful tips and features for filing insurance and warranty claims, dealing with parking tickets, getting refunds and chargebacks, or writing harassment cease-and-desist letters. 
DMV offices don't have to be the place where hope goes to die. With DoNotPay, you will be able to schedule any DMV appointment without the nightmare of waiting in lines. While you're at it, you can check out our guides and practice tests for the best driving exam preparation!
Explore the Full Range of DoNotPay's Services
Don't let annoying bureaucracy stop you from exercising your rights or finding new opportunities. DoNotPay—the world's first robot lawyer—comes with a diverse portfolio full of practical shortcuts for:
Struggling with finances? Our app will help you manage unpaid bills, find and claim lost money in any state, or get college application fee waivers.