The Ultimate Guide to Drafting a
Construction Management Contract
Drawing up contracts and legal documents is no easy task, and it can get confusing. Luckily, DoNotPay is here to offer you a step-by-step guide to writing your construction management contract easily!
Sign up for DoNotPay, and rest assured you'll draft your contract in no time!
What Is a
Construction Management Contract
?
The construction management contract is an agreement signed between the owner of the project—also known as the principal—and the commercial building contractors. There are also contracts that involve a third party—the client's representative (CR).
The construction management contract puts a manager in charge of handling the sub-contractors and supervising the construction.
If a third party is involved, the owner appoints a CR to deal with the site inspections and handle specific matters, such as an extension of time claims.
Construction Management Contract
—Types
There are four different types of the construction management contract:
Lump-sum contract

—The owner and the contractor reach an agreement on a set price for the whole project

Cost-plus contract

—This type of contract offers the most flexibility, but the owner is responsible for all purchases and expenses

Unit price contract

—The contractor sets a price for certain tasks, and the owner must pay for the numbers of units provided at that price

Time and material contract

—The parties involved discuss and reach an agreement on the hourly or daily rate, while the owner agrees to pay for the time and material needed for the project
How To Write a
Construction Management Contract
If you don't know how to write a construction management contract, you can consult the following list to find out which sections to include:
Names and addresses

Timeframe

Prices

Payment method and penalty

Dispute resolutions

Warranty

Attorney fees
Names and Addresses
Start by stating the full names of the parties involved. Follow it up with relevant details, including the addresses and contact info.
Timeframe
Put down all the details regarding the specified time frames, including:
The date when the construction begins

The schedule contractors should follow

The date when the project ends
If you decide that a certain extension can be granted—in cases of poor weather, inspection delays, and similar—make sure to specify the details about it as well.
Prices
Explain every relevant cost and charge involved in the project. If there are any additional costs, make sure to include them in this section. Note that you need to inform other signing parties regarding those expenses.
Payment Method and Penalty
Say how and when the payments will be made. The contractor usually relies on the payments from the owner to fund the project and complete it on time.
If there are certain penalties in case of late payments, include the details in this section.
Dispute Resolutions
Elaborate on how you want to resolve disputes if they arise. These types of contracts usually contain an arbitrary clause, but it isn't mandatory. If you decide to include it, you will agree to resolve the disputes through arbitration instead of in court.
Warranty
Include a warranty clause to answer specific questions, such as:
What types of defects is the contractor responsible for?

How will the contractor fix the flaws?

What maintenance will the owner be responsible for?

How long will the warranty period last?
Attorney Fees
Discuss who will take care of attorney fees if any disputes arise and the case is taken to court. If you don't state this clearly, there is a possibility the court won't let anyone recover the attorney fees.
Let DoNotPay Draft Legal Documents in Your Stead!
While you might need to hire a lawyer to take care of your construction management contract, you don't have to pay a pretty penny for other documents. If you are looking for a quick and efficient way to draw up various contracts, DoNotPay has got you covered! 
We use the info you provide to generate agreements in a few minutes! Why search through a ton of unreliable contract templates when you can have our app create your contract in a jiffy?
Complete the following instructions to create your document:
Enter the name of the contract you want us to draft

Provide some info about the agreement
We'll get to drafting your agreement right away, and you'll be able to download or print it in minutes!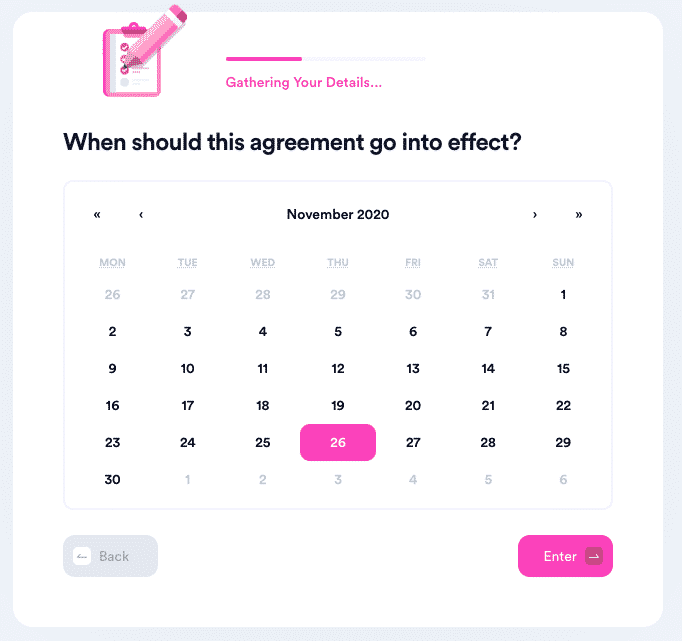 If you're curious about what documents you can draw up using our app, check out the table below for some of the agreements we create:
Business Agreements
Other Agreements

General Business Contract

Intent To Purchase Real Estate

Quitclaim Deed

General Affidavit

Promissory Note
We can also help you get a document notarized once you draft it! DoNotPay will connect you with a remote notary in a few minutes, and you'll be able to book your meeting instantly. An online notary will hold a video meeting and add their digital stamp and signature afterward!
Say No to Spam and Unnecessary Paperwork
If your inbox, mailbox, or to-do list is overflowing, our app is exactly what you need! Check out ways to declutter your life:
You can have your cake and eat it too—DoNotPay makes it possible to cut down on unnecessary red tape and save you money—all in one full swing. We can help you overturn your parking tickets, apply for a college fee waiver, uncover missing money, submit a FOIA request, and much more.
Discover Numerous Fast and Easy Solutions
DoNotPay is all about helping you through a complicated task by coming up with simple solutions: