Know What You're Signing—A Construction Contract Explained

Are you planning on building a new home, office space, or shopping mall? A lot goes into construction work, which is why you should understand construction contracts before you venture into your business.
Whether you are a contractor or a property owner, you have to deal with construction documents, construction warranties, and other legal paperwork involved.
Read on to understand a construction agreement as a legal document and learn how DoNotPay can help you write the contract. 
What Is a Construction Contract—A Simple Definition
A construction contract is a legally binding document outlining the terms of exchange between a property owner and a contractor. The contractor can be one or several companies or individual construction workers.
The agreement should list:
The scope of work

Terms of the exchange

Conditions of construction work that both parties have agreed to
Do You Need a Contract for Construction Work?
In any construction project, you will have to hire builders, buy supplies, and manage the terms of the agreement with one or multiple partners. If you want the venture to go smoothly, the safest path is to draw up a construction contract.
An official agreement helps you negotiate the terms of the exchange, establish the payment and communication methods, and determine what legal repercussions for both parties in case of a contract breach are.
Using a legally binding document ensures your rights will be protected and your partner will honor their word, whether you are the contractor or the property owner. 
What Are the Crucial Parts of a Construction Contract?
Only because you need a contract to enter into the business with full confidence doesn't mean you should sign it without understanding what each section entails. Here are the main sections of a construction agreement and what they mean:
Full name and signatures of the parties

—As is the case with any legal document, your construction contract needs to include full names, addresses, and signatures of both the owner and the contractor. Double-check if all the information you provide is valid. Otherwise, your contract won't be enforceable by law

Project description

—Depending on your project, this section can be simple or detailed. In either case, you should describe what the project is about, what you are building, and how you plan to do it. You can provide a list of items or write a paragraph about your project

Price and payment terms

—Before the contract is signed, negotiate the price of the project, payment amount, and due dates. When you agree on these points with your partner, make sure this section of the contract is unambiguous to avoid any future disputes

Scope of work

—Don't neglect to provide a full description of the project. State clearly what the project will encompass, including the quality, materials, and work schedule

Project schedule

—This section should define the timeframe within which the entire project should be completed and how the work will be divided to meet that deadline

Construction responsibilities

—Define what each of the parties' responsibilities are. You and your partner should know how to file claims, what is required to complete the project in the agreed time, and whose job it is to deliver documents or make payments
Determine Which Type of a Construction Contract Works for You
Construction contracts come in many shapes and sizes, just as the construction work does. Depending on the type of your project, your construction agreement will fall into one of these categories:
| | |
| --- | --- |
| Construction Contract Type | When It's Used |
| Cost plus | This type of contract offers the most flexibility, but the owner needs to agree to cover all the costs  |
| Lump sum | In small-scope projects, the total sum is easily defined, which is why lump sum contracts are suited to them |
| Time and materials | When the project completion can't be defined, time and materials contracts are used. The owner pays the builder hourly, daily, or weekly |
| Unit price | Some projects are long and heavily dependent on the materials used. In that case, the project is divided into small units |
| Guaranteed maximum price | GMP contracts are the best choice for owners who want to put a cap on the total price of the project |
Befuddled by Construction Contracts? Let DoNotPay Help You!
If you are not confident you can draw up legal documents yourself, you don't have to worry. When you have DoNotPay by your side, you can ditch expensive lawyers and have a personalized contract template in under a few minutes.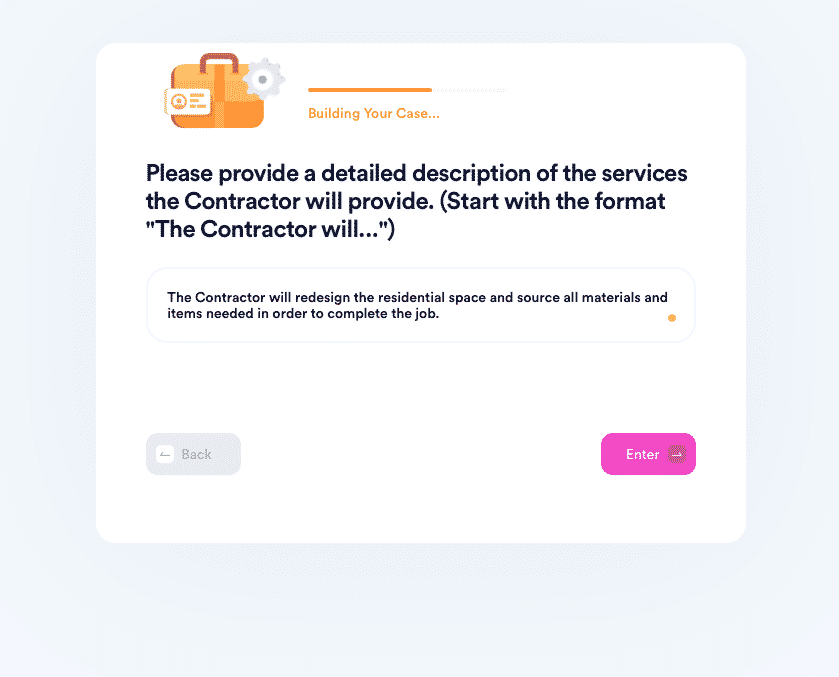 Have DoNotPay generate an unlimited number of contracts for you by:
Logging into your account from any

web browser

Telling us what contract you need

Typing in the necessary details
You can now sign and notarize your contract to ensure its legality without any hassle.
Here are only some of the most common legal documents DoNotPay generates:
General Affidavit

Intent to Purchase Real Estate

Child Care Authorization Form

Estoppel Certificate

Quitclaim Deed

General Business Contract

Promissory Note
DoNotPay Helps You Scam Scammers
DoNotPay helps you stay safe from scammers and fraudsters! 
We have developed a Virtual Credit Card product that helps you sign up for free trials without revealing your real banking information to any suspicious company. We've joined our most popular feature with a Burner Phone functionality that allows you to verify online accounts with a temporary phone number. 
That way, you'll be free to enjoy services while they're free of charge, eliminate the possibility of robocalls, robo texts, and spam emails from the shady companies, and forget about canceling the subscriptions altogether—our product does it for you!
DoNot Pay can even shield you from cyberstalking and online harassment and get you compensation for the crime you've suffered. We'll even help you take individuals or businesses to small claims court by drafting the relevant paperwork for you, accessing any public records that might bolster your case, and supplying you with a court script that you can read to the judge on the day of the hearing.
DoNotPay Is Helping You Out Left and Right
Not only can DoNotPay handle bureaucratic nuisances on your behalf, but we can make your daily life easier too!
No more waiting in endless phone queues to make a warranty claim for a faulty product or wasting the day away in mile-long DMV lines—our app will do the hard work for you! We'll call the reps of any company—even major airlines—and schedule appointments on your behalf in a matter of minutes!