Draw Up Your Consignment Agreement Effortlessly
If you have an item you want to sell, but you are too busy to deal with it and being a salesperson is not your forte, let professionals do that for you. Whenever you let someone else resell your goods, make sure to draft a legal document to define every detail of the cooperation. A consignment agreement is the best contract for this type of business.
If you're not sure how to compose one, let DoNotPay help you with this task the easy way!
What Is a Consignment Agreement?
A consignment agreement is a contract between a supplier of goods (the consignor) and reselling business (the consignee). You make a consignment agreement if you want to sell goods and retain ownership until they are sold.
Under a consignment agreement, a consignee is an agent getting a commission for the goods he/she sells on behalf of the consignor. 
Other names for a consignment agreement are:
Agreement to consign goods

Consignment form

Agreement to sell goods on consignment
Until sold, goods are stored at a facility or warehouse, under the control of the consignor, the consignee, or a third party.
What Should a Consignment Agreement Template Include?
If you need to create a consignment agreement, the following aspects are a must:
The names and addresses of the consignor and the consignee
Items for sale

—Describe in detail what you are selling

Expenses

—Define which expenses the consignee is responsible for

Pricing

—State the sale price of the item. This agreement could give the right to the consignee to discount the item's price with or without the consignor's approval

Payment

—The consignee has the right to take money from the buyer and pay the consignor the balance due after subtracting the commission. It should also state the time frame for the payment

Ownership

—The contract should state that the consignor is the owner of the item for sale, and the consignee is responsible for its sale, loss, or damage while in his/her possession

Record-keeping

—All the records related to the consignment are the consignee's obligation

Consignment period

—Both parties should agree on the time frame of the consignment, and if this period automatically extends or not, and for how long

Insurance

—Usually, the consignee has insurance that covers the consigned item

Return of products

—The consignor may request the consignee to return the items during the consignment process. He/she must do so by giving notice. The agreement should also include how and when to give notice 

Termination

—Define the contract termination rules. What happens if the item is not sold by a certain date, the consignee goes bankrupt, he/she leaves the area or dies, or the consignor dies?
Regulating every detail benefits both parties and prevents disagreements and misunderstandings.
Advantages and Disadvantages of a Consignment Agreement
Drawing up a consignment agreement comes with benefits and drawbacks affecting both the consignor and the consignee. We've selected the most important advantages and disadvantages of this agreement and put them in the table below.
A Consignment Agreement
Consignor
Consignee

Benefits

Saving inventory holding costs by sending goods to the consignee

Avoiding a retail storefront

Saving time on creating listings to sell items

No need to pay for the goods upfront 

The risk is reduced because the unsold goods can be returned at no cost

You can pay for the goods after the end-user paid and consignee commission is subtracted

Drawbacks

The profit is smaller than when selling directly to end-users

Goods on consignment may not get enough promotion of visibility

If large quantities of goods are unsold, inventory holding costs are high

It may be difficult to manage inventory related to consignment
Types of Consignment Agreements and Consignment Merchandise
There are two types of consignment agreements:
An exclusive consignment agreement gives the right to one consignee to sell the consignor's item. A non-exclusive type of consignment agreement means that several consignees may attempt to sell the consignor's item. An example of a non-exclusive agreement is hiring a few consignees to sell an oldtimer car for the best price.
People often choose consignment agreements to sell the following:
Clothing

Furniture

Cars

Books

Movies and music

Magazines and newspapers

Christmas decorations

Potted plants

Garden seeds
DoNotPay Can Draw Up Legal Documents for You
If legal terminology is too much for you and you hate drafting contracts, the good news is you don't have to. We can help you make a contract in no time. All you need to do is:
Open DoNotPay in your

browser

Type in the name of the contract you want to make

Converse with our chatbot to provide the information we need
That's all! We'll generate your contract in a minute. Once you get it, sign or notarize it to make it official.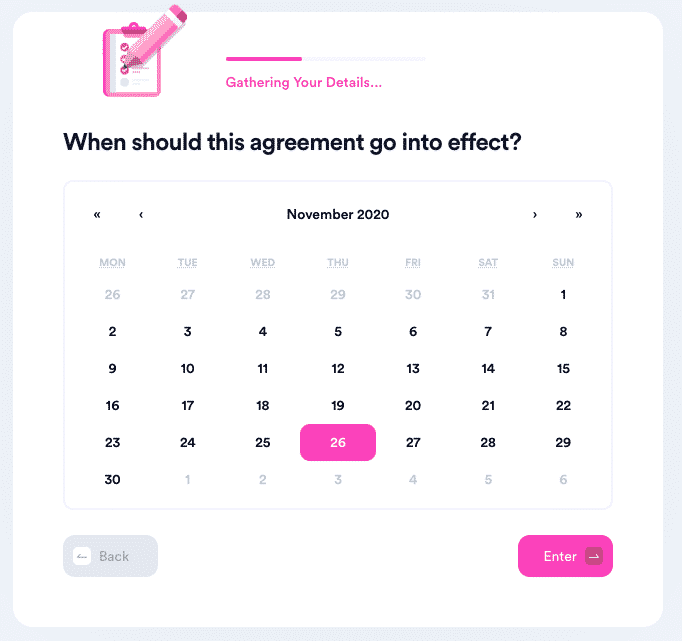 Check out the list of customizable templates we offer at the moment:
Intent To Purchase Real Estate

Estoppel Certificate

General Business Contract

Quitclaim Deed

Promissory Note

General Affidavit
DoNotPay Breaks Down Communication Barriers
Communication and new technologies walk hand in hand, and DoNotPay can smooth out any bumps on that road. On our platform, you can find useful tools for avoiding phishing emails and text messages, sending faxes online, stopping annoying robocalls, or signing up for new services without phone verification.
Contacting customer support is no party, but DoNotPay can make the process so much easier, whether you need to request a refund, demand compensation for a canceled flight, or file a warranty claim.
You can even use our platform for locating your loved ones in prison and sending them letters the proper way!
Can Your Virtual Assistant Do This?
Hey, Siri! Make me ready for my upcoming small claims court appearance. No luck? Ok, Google! Prepare a DMCA notice for that website that uses my photos without authorization. Still nothing?
DoNotPay is the virtual assistant that won't back away from issues that require legal expertise. Our lawyer bots work around the clock to get you due date extensions for utility bills, reduce your property taxes, or stop stalking and harassment before it gets ugly.
The world's first robot lawyer will provide assistance even with securing compensation for victims of crime!