What Are the Consequences of a Landlord Breaking a Lease?
For those that can't afford it or don't qualify for a mortgage, renting a property can be a great alternative until they find themselves in a better situation. However, some landlords are either ignorant of the law or count on their tenants being ignorant of the law if they are planning to break a lease. For younger occupants or first-time renters, they may not be aware that, even though they are renting, they still have rights.
With the help of DoNotPay, we can help you understand the . We will make sure that your rights are protected when your landlord tries to unlawfully terminate a lease.
What Constitutes Breaking a Lease?
A lease agreement, like any other contract, compels both the landlord and the tenant to follow its conditions. This means that the landlord cannot break the lease without a compelling and lawful reason to do so. For example, if you haven't paid rent for the month, you can face eviction after a predetermined amount of time has passed.
However, there are proper channels to do this, and the landlord must abide by the rules stipulated in the lease agreement. If they don't, then you, as a tenant, have the right to protection under the law. Learn more about the and how you can respond to the event.
What Are the Consequences of Breaking a Lease?
Some unscrupulous landlords will go to great lengths to get renters to leave voluntarily without having to evict them. For example, they may let the property go into disrepair. The reasons for this type of forced eviction could be that the landlord has someone else they want in the property or they intend to raise the rent.
However, most states have laws in place that prevent this type of behavior. If a landlord is trying to break a lease unlawfully and without just cause, they can be taken to small claims court by the tenant. They can be sued for not only the rent but also for the legal fees and relocation fees incurred by the tenant.
What Can You Do to Fight an Unlawfully Broken Lease?
In the event a landlord is trying to break your lease, you have a few options:
| | |
| --- | --- |
| Negotiate | You could have a talk with him to find out what the problem is and try to come to a mutual agreement. However, if your landlord is trying to remove you without cause, then you may not be able to negotiate. |
| Take Your Landlord to Small Claims Court | The next step is to get advice about possibly taking them to small claims court. This is going to be a last resort as legal fees can be expensive, and the process can be lengthy. However, this process can be lengthy and time-consuming. When time is of the essence, you need answers now. |
| Use DoNotPay to Protect Your Rights | DoNotPay can streamline the process of sending a letter, filing legal action, and more in just a few simple steps. |
Can You Remedy the Situation on Your Own?
If you can't come to a mutual agreement, you will need to gather as much information as possible. Any documentation you can gather to build your case will only strengthen your chances if the matter goes to small claims court. If your landlord has decided to terminate your lease without just cause, then he has broken a contract with you, and you can hold him liable.
The next step is to seek legal counsel. This may mean that you will have to pay a lawyer for their time. Some cities have free counseling available to renters through various fair housing organizations, but this can be hard to find and harder to secure.
Know Your Rights as a Renter With the Help of DoNotPay
DoNotPay is here to guide you through it and file your disputes on your behalf. Our Landlord Protection product can help you:
Get back your security deposits.
Learn about your state's eviction laws and what protections apply in your case.
Resolve disputes regarding repairs with your landlord.
Resolve disputes with roommates by filing demand letters or going through small claims court.
Break your lease early.
If you want to pursue the consequences of your landlord breaking your lease but don't know where to start, DoNotPay has you covered in four easy steps:
1. Search for and open the Landlord Protection product on DoNotPay.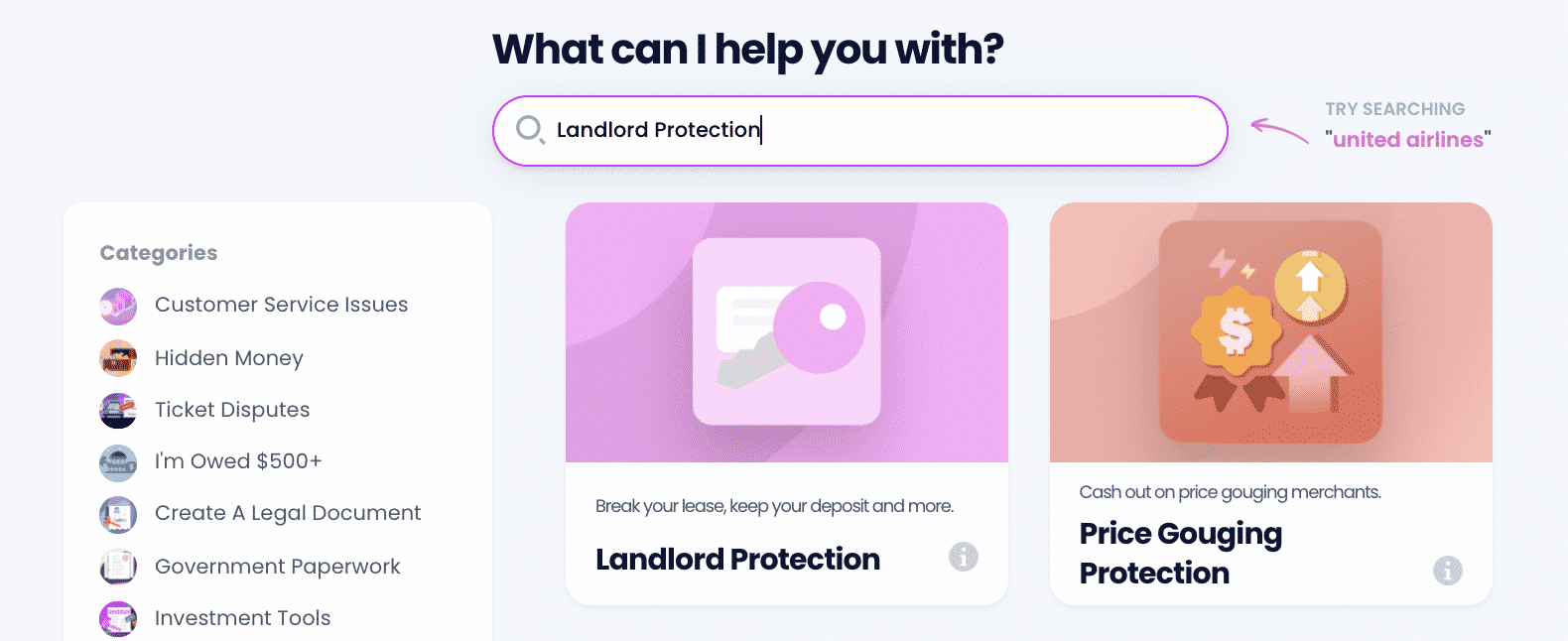 2. Select which issue applies to you.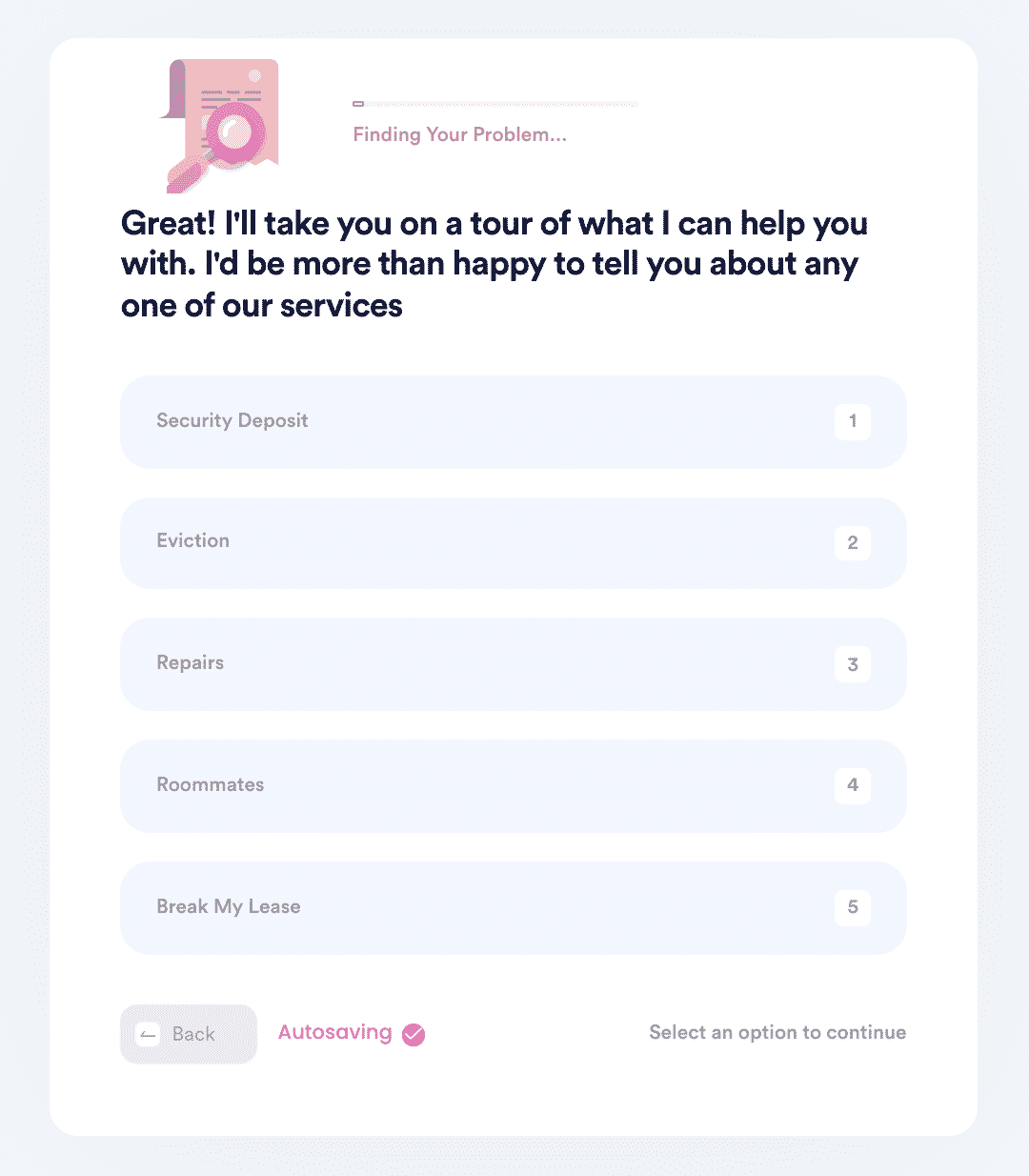 3. Answer a simple set of questions so our chatbot can collect the necessary information to create your demand letter.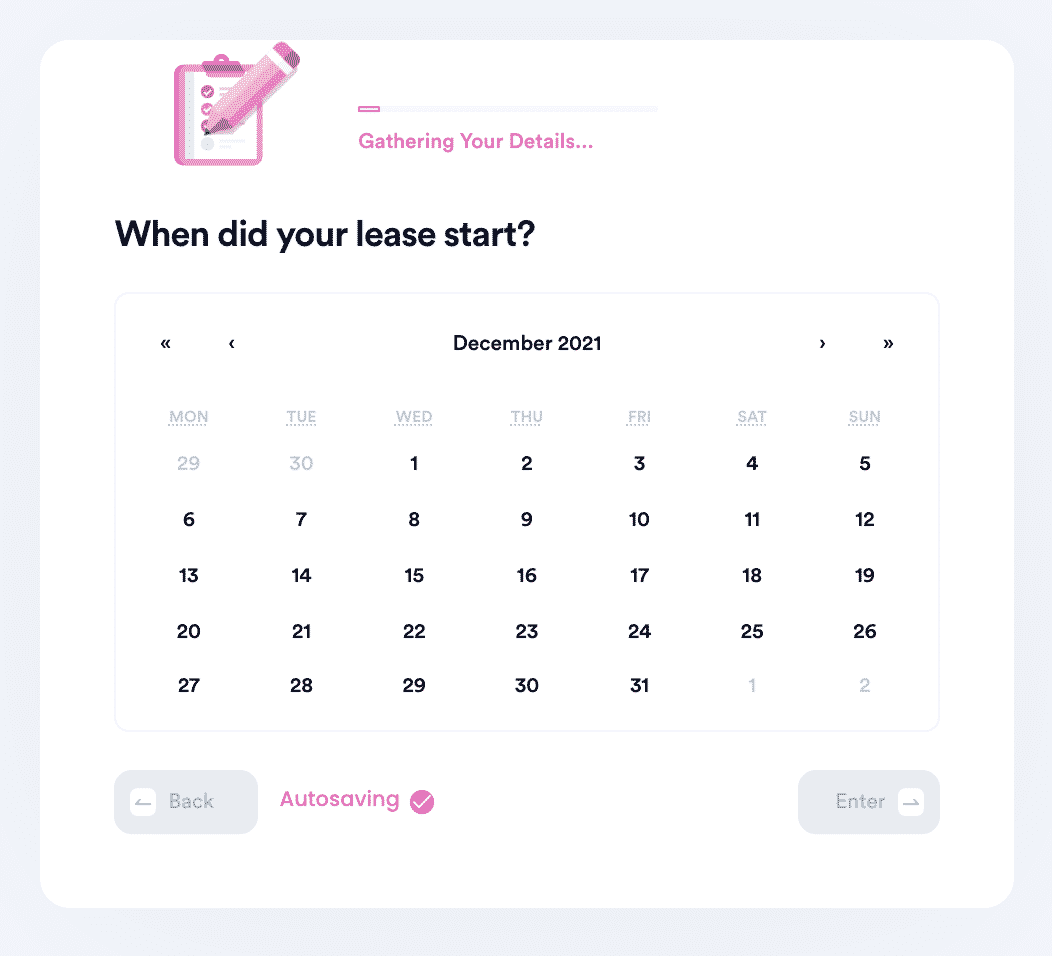 4. Choose whether you want DoNotPay to send the demand letter to your landlord or roommate on your behalf. If you already tried sending a demand letter and it didn't work, we can help you start the small claims court process.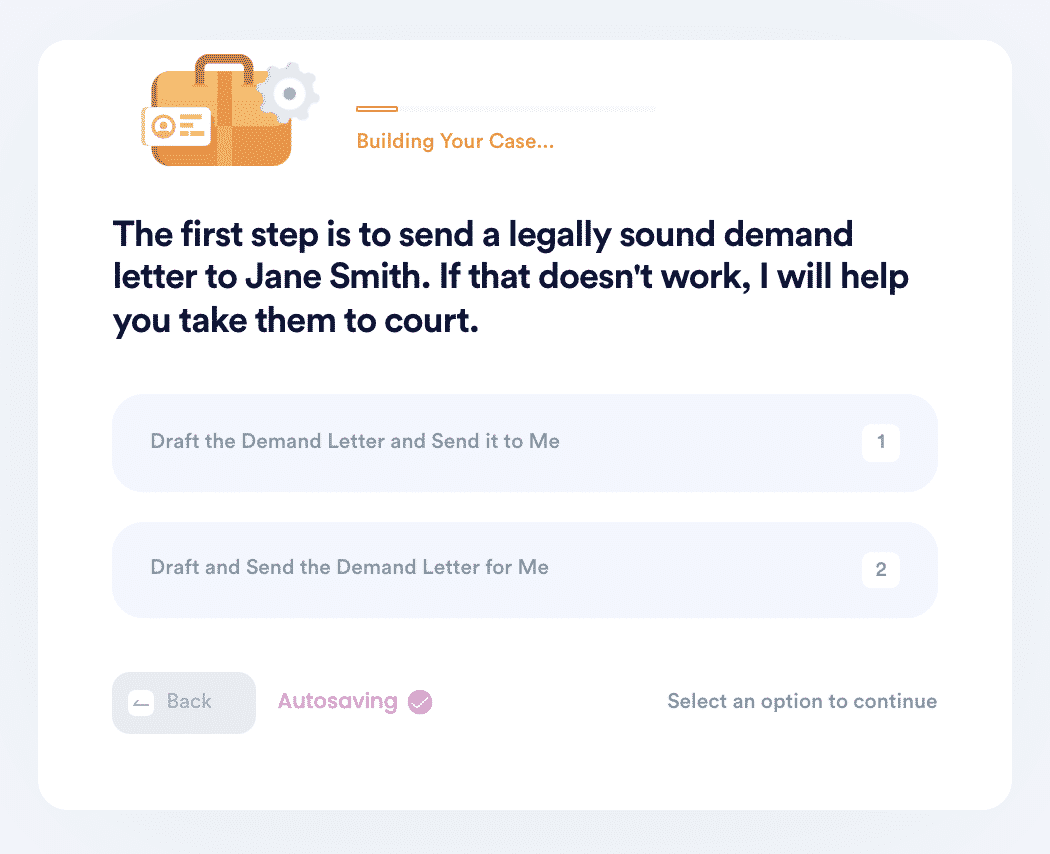 And that's it! You should hear back from your landlord directly once your demands are sent.
DoNotPay Works for Many Issues With the Click of a Button
Not only can DoNotPay help if you are being evicted or trying to recover your damage deposit, we can also help with issues such as:
Filing a complaint against your landlord

Learning how long a landlord has to return your deposit
What Else Can DoNotPay Do?
DoNotPay can help with other legal issues, as well. We can also help with:
Even though the landlord owns the building you are living in, they don't have the right to violate the terms of an agreement by breaking your lease. You have renter's rights. With the help of, we will help you protect your rights as a renter.