Draft a
Consent Letter for
a
Child Travelling to India
with DoNotPay
Whenever a child is traveling abroad without parents, they need to prepare various documents—including a minor travel consent form. Countries typically have strict rules about children traveling without the presence of one or both parents to protect them from trafficking and parental abductions.
If your child is traveling to India and you want to make sure you have everything you need, look no further! DoNotPay will give you the necessary information in this article. We can also create a consent letter for a child traveling to India or any other country in no time!
When Do I Need a
Parent Consent Letter for
a
Child
To
Travel to India
?
A child travel consent letter is needed if a minor is traveling to India:
Unaccompanied

With one parent

With a group or organization

In the presence of an authorized third party, such as a relative, friend, or teacher
The child travel consent form must be signed by the parent or a legal guardian who is not accompanying the child on the trip. If the child is traveling with an authorized individual or alone, both parents should sign the consent form. 
Additional Documentation for a Child Travelling to India Without Both Parents
When a child is traveling to India without both parents present, they need to prepare additional documents, such as:
Passport—for the child and the accompanying adult

Valid visas for all travelers

Copy of the child's birth certificate

Death certificate photocopy if one of the parents is deceased
To ensure you have everything you need, you should contact your local consulate and ask which documents to prepare. 
What Should an
India Travel Consent Letter
for
Children
Include?
A child travel consent form must have a specific structure. You may add a section that you deem relevant, but crucial paragraphs should include the information presented in the table:
Child Consent Form Sections
Details

Details about the non-traveling parent(s)

Full name of parent(s) or legal guardian(s) not accompanying the child on the trip 

The relationship that non-traveling parent(s) or legal guardian(s) have with the child

Information about the accompanying parent/adult

Full name of the person authorized to travel with the minor

Relationship that the accompanying adult has with the minor (a school teacher, grandfather, coach, etc.)

Child's personal information

Child's full name

Child's age at the time of the travel

Details about the trip

Name of the country the child is traveling to (India in this case)

Start and end date of the trip
You can include insurance and a child medical consent form with the travel consent letter. That way, you will ensure the minor will be given proper care in case of a medical emergency.
Do I Need To Have a
Child Travel Consent Form
for
India
Notarized?
It is recommended to get the child travel consent form notarized when traveling to India. Notarization proves that the signatures on the child travel consent form are authentic. If a problem occurs at the border, the customs and immigration officers are more likely to accept a notarized document.
The fastest and most practical way to have a child consent form notarized is by connecting with an online notary. The process enables you to have the form notarized from the comfort of your home via a computer, tablet, or phone. Online notaries are typically available 24/7, so you can schedule an appointment whenever it suits you. 
DoNotPay Helps You Kill Two Birds With One Stone
Drafting a child travel consent letter is not easy. You have to pay attention to the terminology, include all relevant sections, and keep the paragraphs and sentences clear and concise. When you count the notarization into the mix, you may feel like you are in over your head.
Fear not, because DoNotPay can help you with both issues! We can create a child travel consent form and connect you to an online notary from the same platform. You will save precious time and nerves and complete the procedure in a few simple clicks!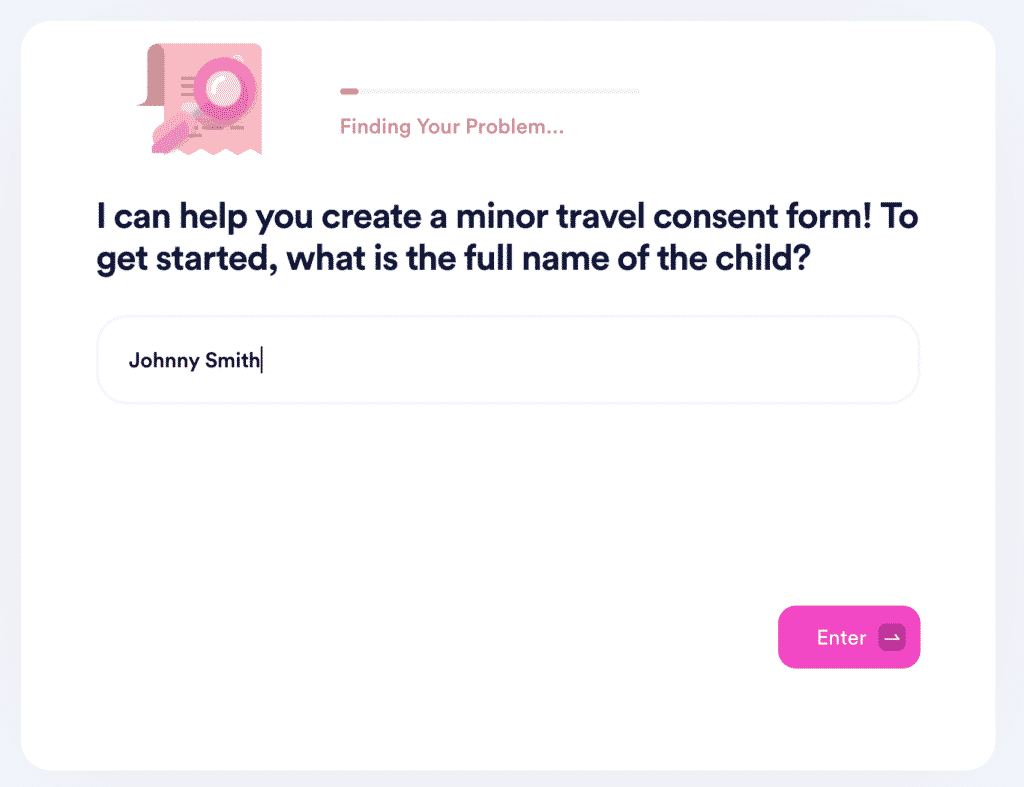 Check out how to create the document with DoNotPay:
Access DoNotPay

from a web browser 

Find our

Child Travel Consent

product 

Provide information about your child, the guardian, and the trip

Choose to get the document notarized
Getting an I
ndia Child Travel Consent Letter
Notarized With DoNotPay
Getting the child travel consent form notarized is just as simple. Follow these simple steps to complete the process:
Click on the link we send you via email

Schedule an appointment with one of our online notaries

Meet the notary on a video call and e-sign the form while he/she witnesses 

Download and print the document notarized with an electronic signature and stamp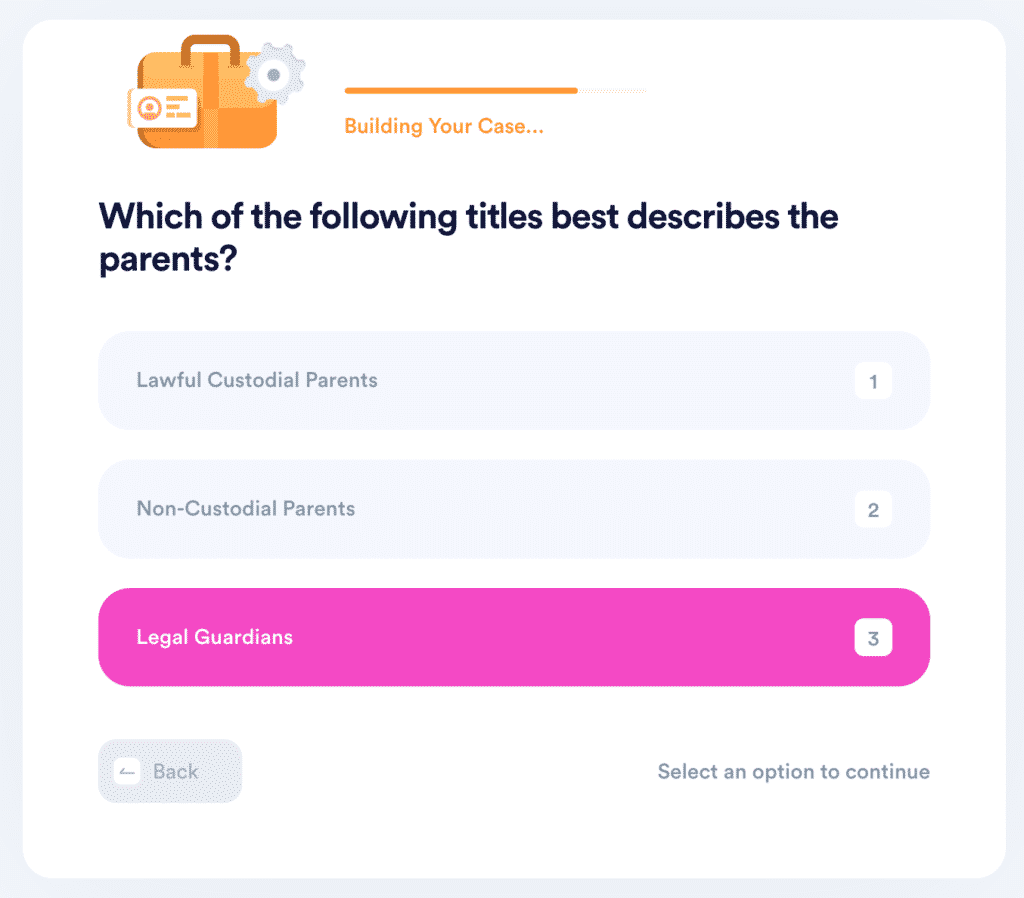 DoNotPay Knows All About Child Travel Consent Forms
Interested in when and how you should use a child travel consent form? Let our knowledge base be your main source of information! 
Maybe you are thinking of sending your child to Canada or the UK? Find out if these countries require a minor travel consent form and avoid problems with customs and immigration officers. Discover which rules many airlines—such as Air Canada—have about children traveling unaccompanied by both parents.
Are you considering using a LawDepot child travel consent form template? Read our article and find out if that's the right choice for you!
Cutting Down Paperwork With DoNotPay
DoNotPay can generate your child travel consent form, but what else can you do with our app?
This virtual assistant helps you sort out all kinds of administrative issues without ever leaving your home. 
You can:
DoNotPay's Money-Saving Hacks
Generating various legal documents and decluttering administrative mess is not the only help DoNotPay provides. 
Our award-winning app is the ultimate cash-saving tool! Check out some of our popular features:
Feature:
Description:

Virtual Credit Card

Sign up for

free trials

without worrying about being charged when the trial ends.

Our VCC is not linked to your bank account, meaning there is no way for the company to charge you for a full subscription

Chargeback Instantly

Get your money back from greedy companies in a few clicks. Our app lets you bypass the company refusing to issue a refund and requests a chargeback directly from your bank

College Fee Waiver

Get those college application fees waived in a few clicks. 

Applying to any university comes with a bunch of expenses, and if you're aiming for more than one school, the amount can go up to a few hundred dollars. Sending fee-waiver applications is easy with DoNotPay

Missing Money

Do you know that there are

almost 60 billion dollars

in the U.S. that are considered unclaimed? You may have hundreds of dollars in unclaimed money to your name without even knowing it. 

Find and claim any forgotten assets in any state with our app