How To Get Yourself the Best Connecticut Scholarship
Connecticut is home to many good schools—Yale University, University of Connecticut, Wesleyan University, Central Connecticut State College, and many others. Unfortunately, numerous students who wish to study at these institutions are hindered by the high tuition expenses. This is why scholarships and grants are created.
Even if you don't find a full-ride scholarship, you can reduce your education-related costs greatly. This guide will show you where to find the right Connecticut scholarship for you the easy way.
Types of Scholarships in Connecticut
Connecticut scholarships are provided by various organizations, foundations, higher learning institutions, or state and federal governments. You are guaranteed to find numerous financial aid options for every level of education, such as:
High school senior students
College students
Graduate school students
Scholarships for High School Seniors in CT
Some of the best scholarships for high school seniors in Connecticut include:
The Nutmeg Scholarship
Day of Pride Scholarship
Connecticut BBB Student Ethics Scholarship Award
Roberta B. Willis Need-Merit Scholarship Program
Connecticut Capitol Scholarship
Robert C. Byrd Honors Scholarship
Arrive Alive Scholarship by Carter Mario Injury Lawyers
Connecticut Minority Teacher Incentive Grant
Scholarships for College Students in CT
Here are some of the best college scholarships in Connecticut that you can benefit from:
Student Category
Scholarships
Connecticut residents

Harris Family Scholarship
Stamps Scholars Award
Connecticut Independent College Student Grant
Naomi Mildred Nicoll Scholarship
Lois Livingston McMillen Memorial Scholarship
Connecticut Aid for Public College Students
Tabor Foundation Fund
Weisman Teacher Scholarship
The Junior College Transfer Scholarship
Karen Ann Shopis-Fox Memorial Scholarship

International students

KASF Scholarship for Eastern Region
Steven G. King Play Environments Scholarship

Out-of-state students

STEM Scholarship by UCONN
The Teddy Lee Drumm Memorial Scholarship
Federal Pell Grant
Federal Supplemental Educational Opportunity Grant (SEOG)
Iraq and Afghanistan Service Grant
Scholarships for Graduate School Students in Connecticut
The following scholarships are meant for Connecticut graduate school students:
Annie's Homegrown Agriculture Scholarships
Alma Exley Scholarship Program
TEACH Grant
Greater Boston Chapter Leadership Award
Argonne National Laboratory Graduate Research Program
David Silverstone Watershed Fund Leadership Scholarship
The Connecticut Library Association Scholarship
Alfred P. Sloan Minority Ph.D. Scholarship
AFCEA STEM Majors Scholarship for Graduate Diversity Students
American Floral Endowment (AFE) Scholarships
AVANGRID Scholarship
New York Women in Communications Foundation Scholarships
How To Find the Best Connecticut Scholarships
Finding the best Connecticut scholarships requires you to stay up-to-date with the financial aid news in the state. Here are some of the ways you can stay informed:
Contact your high school guidance counselor
Talk to previous scholarship beneficiaries
Find ethnic and religious organizations that support their communities in education—There are many aid programs targeting Muslims, Christians, Catholics, Hispanics, Africans, Filipinos, Asians, Indians, etc.
Find foundations that offer scholarships to Connecticut residents—For instance, the Connecticut Community Foundation is dedicated to providing college scholarships to residents in Litchfield Hills and Greater Waterbury
Visit the financial aid office at your current or prospective school or check the financial aid section of the school's website
Complete the FAFSA to find the student aid you are eligible for based on your financial need
Use the Internet the Smart Way
Most scholarship programs are advertised online, but this doesn't mean it's easy to get the information you need. Here are a few tips for looking for scholarships on the internet:
Check the websites of federal and Connecticut education agencies
Look for professional organizations related to your major—Some offer scholarships to students pursuing higher education in the same field. For instance, the Connecticut League for Nursing offers nursing scholarships to resident students, and the Connecticut Society of Professional Journalists awards the state's residents pursuing journalism at any Connecticut university
Search online—You can use scholarships search engines or general engines like Google or Yahoo. To make the process easier, search using terms that describe your demographic group. For instance, look for the aid programs meant for:
If you find all of this overwhelming, DoNotPay has a solution for you. With our app, you get all the scholarships that fit your profile in one place and in less than five minutes. Sign up now and start applying.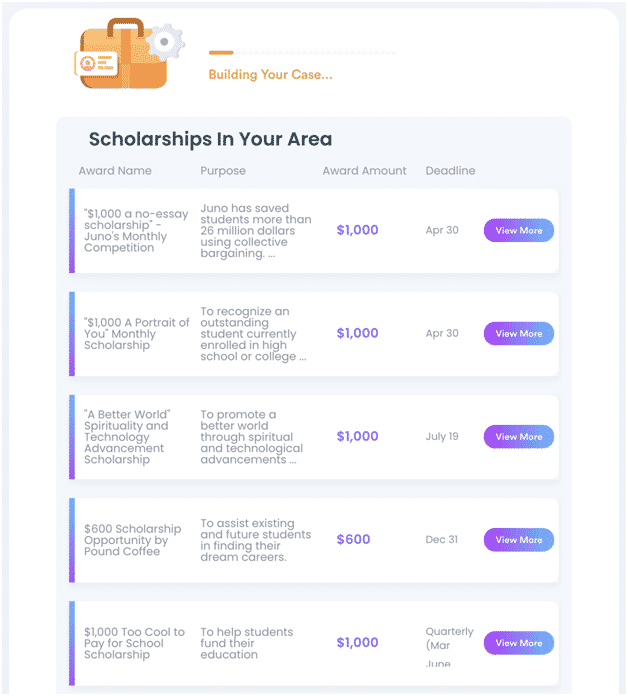 The Easiest Way To Find Scholarships—Use DoNotPay
If you find the process of searching for scholarships exhausting and time-consuming, you are not mistaken. The process is often confusing, but it doesn't have to be that way.
Why spend days browsing the internet just to find the same lists that don't match what you are looking for? Discover all your possibilities, including the scholarships that almost no one is aware of, in five minutes only with DoNotPay.
Follow these steps to get started:
Find the Apply for Scholarships tool
Answer some questions about your education history and academic interests
That's it! You will provide you with your customized list and an option to apply instantly for no-essay scholarships.
It's not searching but applying for scholarships that will get you the award. Save the time for what matters!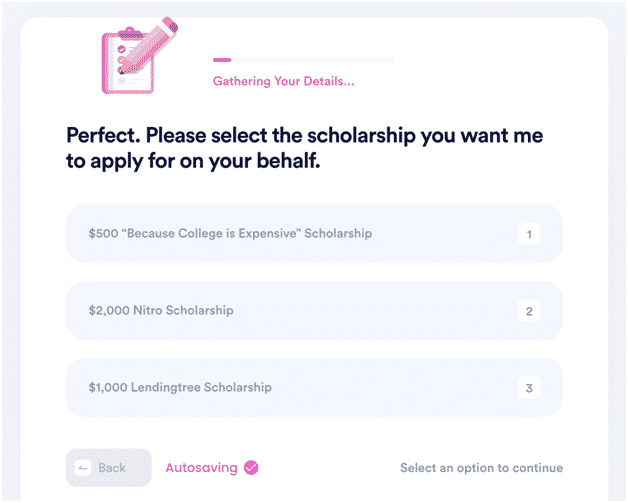 You can count on DoNotPay to walk you through other scholarship requirements, such as essays, cover letters, personal statements, and recommendation letters.
Is Bureaucracy Getting on Your Nerves? We Have a Solution!
We all know that dealing with bureaucracy isn't pleasant, and it often leads to overwhelming frustration. The good news is that DoNotPay has found a workaround! You can now do the following by using our app:
Let DoNotPay Make Your Legal Troubles Disappear!
Drafting contracts and other legal documents isn't a task you should handle on your own. Don't want to spend a fortune on lawyers? That is why DoNotPay—the world's first robot lawyer—is here to take the lead and help you out! Check out the list below to see some of the legal documents that our app can draft for you:
We don't stop there! Cut through the red tape and let DoNotPay assist you in taking anyone to small claims court, getting your documents notarized, submitting anonymous HR complaints, or requesting crime victims' compensation.