Everything You Want To Know About the Connecticut Property Tax Exemptions
It seems that property tax assessments lead to enormous tax bills at the end of every year, but it doesn't have to be that way!
If you take a look at the Connecticut property tax exemptions you can apply for, you'll see that there are many ways you can lower your property tax bills.
The information about reducing property taxes is usually scattered across many websites, and you have to go out of your way to learn:
What exemptions you are eligible for

When the application deadline is

What documents you need to submit
What if there was a service that could gather all that information for you? DoNotPay can get you a personalized guide on property taxes, tax appeals, and exemption applications without hassle!
Can You Get a CT Property Tax Relief for Seniors?
Unfortunately, Connecticut is no longer a state with low property tax rates. If you are an elderly Connecticut property owner, you can benefit from knowing what kind of senior citizen property tax exemptions the state offers. 
On the state level, Connecticut has an Elderly/Disabled (Circuit Breaker) Tax Relief Program. This means that the tax relief is funded by the state, and you can apply for it regardless of the area you live in.
You need to meet at least one of the following eligibility criteria to get an exemption:
Being 65 or older as of December 31 in the previous year

Having a spouse who is 65 or older

Having a 100% disability

Being a surviving spouse who is at least 50 years old and whose spouse was eligible for the program at the time of death

Occupying the property you own

Having lived in Connecticut for at least a year before applying for the program
You also have to meet the maximum income criteria. Check out the maximum household income you can have if you want to get tax relief, as well as the maximum credits you can earn:
| | | |
| --- | --- | --- |
| Taxpayer | Income limit | Maximum Credit You Can Get |
| Single | $32,300 | $1,000 |
| Married | $39,500 | $1,250 |
Note that the maximum household income limit tends to change annually.
The Connecticut Circuit Breaker Tax Relief in More Detail
If you want to apply for the Circuit Breaker tax relief in Connecticut, you should go to your local assessor. The deadline for submitting the application is between February 1 and May 15 for the year you wish to lower your tax bills in. 
If you are granted tax relief, it will be valid for two calendar years, after which you should reapply if you want to keep receiving it.
What Is a CT Property Tax Freeze for Seniors?
The state-based tax relief program—the Circuit Breaker program—isn't the only option for senior or disabled citizens of Connecticut to lower their tax bills.
You can apply for a Tax Freeze program that allows your town to freeze taxes on your property. The state does not reimburse towns for the revenue lost due to the tax freeze grants.
Eligibility criteria for a local tax freeze program in Connecticut include:
Being 70 years old or older

Being a surviving spouse who was at least 62 at the time of their spouse's death

Having lived in Connecticut for at least a year
You need to meet the same income limit that the citizens applying for the state-based Circuit Breaker program do.
If you are applying for a local tax relief program, you are still eligible for other tax exemptions.
What if Your Income Exceeds the Limit?
Connecticut allows towns to provide tax reliefs to senior or disabled citizens whose income exceeds the Circuit Breaker or Tax Freeze program limits.
You can apply for the tax reliefs your town offers whether you are already receiving another type of tax relief or not. The only limit is that the tax relief cannot go over 10% of your property's value in the year you are applying for a freeze or an exemption.
Other Connecticut Tax Exemption Programs
You can get a portion of your tax bills lowered in many ways if you own property in Connecticut. Here are some other options besides the Tax Freeze and the Circuit Breaker:
Tax exemptions for blind persons

Senior volunteer tax programs

Exemptions for veterans
Property Tax Exemptions for Blind Persons
Legally blind residents of Connecticut can provide a certification by a medical professional that is proof of their blindness to the tax assessor before October 1. That way, they get up to $3,000 of tax exemption.
Senior Volunteer Tax Programs
Some towns and cities in Connecticut offer tax reliefs to senior citizens if they volunteer at qualified organizations. The tax credits usually amount to $500.
Property Tax Exemptions for Veterans
Veterans in Connecticut are eligible for a $1,000 property tax exemption. They need to have served during wartime at least 90 days to get the exemption.
Low-income and disabled veterans, as well as their surviving spouses, can get additional exemption benefits.
Let DoNotPay Help You With Applying for a Tax Exemption in Connecticut
If you need help paying your tax bills, DoNotPay is the app for you! You only need to take these three steps:
Access DoNotPay

from any web browser

Navigate to the

Property Tax

product

Provide information about yourself and your property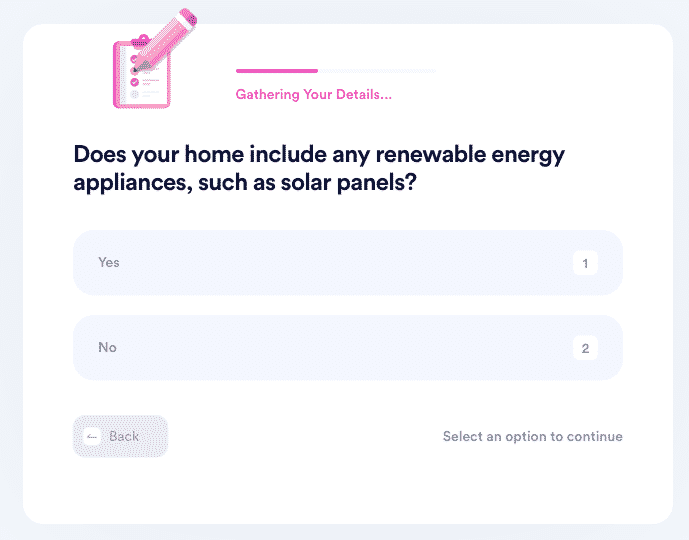 You can now say goodbye to weeks and months of researching property tax exemptions you are eligible for. DoNotPay generates a specific guide for you that tells you what exemptions you have the highest chances of getting, when you should apply, and what documents you need to submit.
In case you don't receive tax relief, you can always appeal your property assessment—another task you can use our app to do hassle-free!
Do You Know What Else You Are Eligible For?
DoNotPay is a handy virtual assistant that can reveal a world of possibilities that you may not have even been aware of. We've perfected our algorithms to identify opportunities for you to save up and take charge of your rights. 
Here's a fraction of what we can do for you:
What Else Is New With DoNotPay?
DoNotPay boasts several new features that can help make your everyday life so much easier. 
Have you been wondering how to file an insurance claim but weren't sure where or who to turn to? We'll gladly do it for you. 
Are you tired of outdated faxing practices and manual documentation? Our app can provide you with an online fax solution and draft all your legal paperwork in no time at all.
Do you need a safe place to prepare for your upcoming government test? DoNotPay will give you all the prep tests you need.
We can help out with locating an imprisoned loved one and keeping correspondence with them via our virtual mailbox.
See what else DoNotPay has in store by accessing our web app in any browser.