Summoned for Connecticut Jury Duty? Here's What You Need To Know
Do you know why you have to do Connecticut jury duty? It can be a confusing topic, but our guide will tell you what you need to know.
The court builds a jury by randomly drawing names from eligible citizens across the state. It's a foundational component of the nation's justice system and an important undertaking for all Americans.
Serving on a jury can be inconvenient as you need to arrange time off from work and budget around the meager pay that Connecticut offers jurors. That's why you need to prepare for jury duty in Connecticut by understanding what's expected of you and to what you're entitled. DoNotPay can help you .
Connecticut Jury Duty 101
You are summoned as a prospective juror through the mail if you are:
A U.S. citizen
18 years of age or older
Able to read, speak, and understand English
Of sound mind
Without a criminal record in the State of Connecticut
Your summons letter will detail the court at which you will need to appear. Whether you serve on a trial jury or a grand jury will determine what type of case you consider—the latter does not allow the accused to present a defense.
You have to do jury duty once every three years at most. You may keep getting called for jury duty on a more regular basis if you are not selected for service.
Connecticut jury duty lasts up to two months, during which time you will be on call. Those who skip jury duty in Connecticut are found in contempt of court and must pay a fine.
What To Expect in Court
Jury duty selection takes place on the first day. This process involves a series of questions to determine your viability as a juror for the case in question.
Jurors must dress professionally while serving. Connecticut courts recommend following a business casual dress standard. You should not wear any of the following articles of clothing:
Shorts
T-shirts
Tanktops
Clothing with logos or slogans
Open-toed sandals
How To Get Out of Jury Duty in CT
The following four vocations and conditions entitle a prospective juror to an exemption from duty:
Active military service
Elected office
Breastfeeding mothers
Disability
If you don't have a condition that qualifies for an exemption but you believe a medical condition would excuse you as a juror, you can submit a Request for Medical Disqualification From Jury Service.
You can apply to postpone jury duty in CT by contacting the Court Clerk's office.
What Happens if Jury Duty Conflicts With Your Work Schedule?
Your employers are legally required to give you time off while you serve as a juror. Connecticut law protects jurors from being fired for missing work.
Your employers are required to pay your usual daily compensation for the first six days of service. You are also entitled to additional daily pay in both Connecticut state and federal jury service:
| Jury Duty | Daily Wage |
| --- | --- |
| State court | $50 per day (after the first six days) |
| Federal court | $50 per day |
Connecticut's juror compensation standards are considered to be generous when compared to what other states pay.
Not Sure How To Ask for Time Off for Connecticut Jury Duty? Use DoNotPay
Your employers may be legally required to give you paid time off for jury duty, but that doesn't make it easy to ask for it. DoNotPay can help—our AI-powered app has a tool designed for this exact purpose.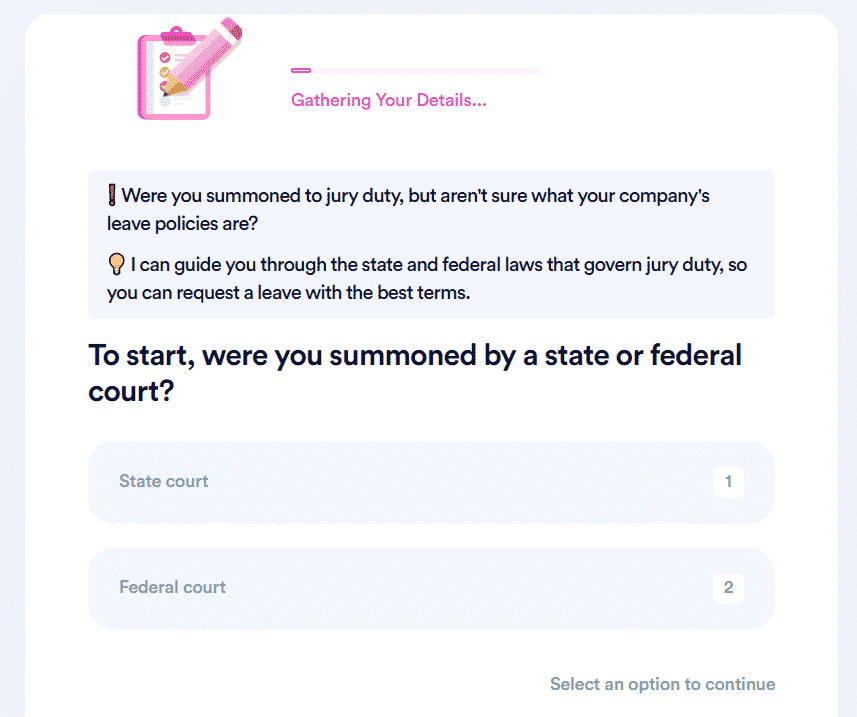 Here is how to use our Request Jury Duty Leave product::
Specify that you are a prospective juror for Connecticut
Input the requisite details about the court
Choose which days you will be absent
Upload a copy of your summons so your employer can verify your duty
After that, you can either download a copy of the letter and give it to your HR supervisor directly or let us take care of that for you as well.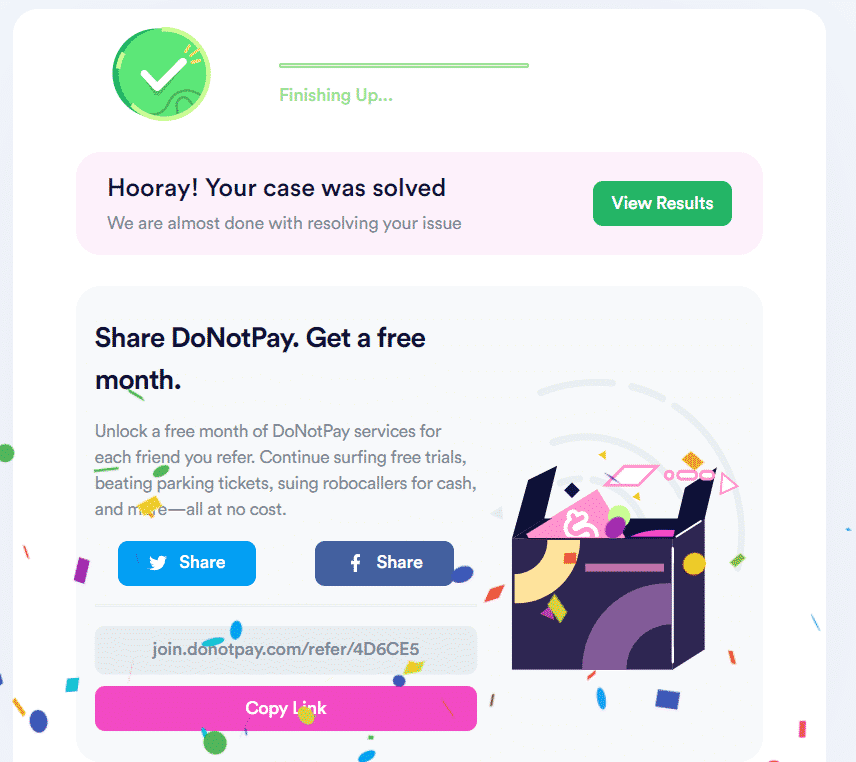 Put Greedy Companies in Their Place
If being on hold with customer service and requesting refunds and cancellations is your idea of the worst nightmare, we come to the rescue!
When you create a DoNotPay account, you'll be able to do the following with ease:
If worse comes to worst, we can guide you through suing any company in small claims court.
Use DoNotPay To Resolve Numerous Issues
The number of products we offer keeps growing. From simple chores to bureaucratic tasks and serious issues, there's not much DoNotPay won't be able to handle in a few clicks.
Would you like to search for unclaimed money you may not know about? Are you trying to save your work from copyright violations? Do you want to contact government representatives? Once you have a DoNotPay account, you will get everything done in a flash.
Even if you are a victim of stalking or harassment, violent crimes, or workplace discrimination, we can help you out! DoNotPay can also perform a sex offender search in your area and give you weekly updates.
If robocalls and spam are what's bothering you, our app will free you from such annoyances for good. Whether the spam is coming via email or text, we'll know what to do.