How To Make a Rock-Solid
Confidentiality Agreement
If you are wondering how to write a contract and have issues dealing with legal documents, you should turn to DoNotPay for help. Your virtual assistant can draw various types of contracts for you, including the Confidentiality Agreement!
What You Should Know About the
Confidentiality Agreement
A Confidentiality Agreement is a contract between two or more parties in which at least one party has to agree not to reveal certain info. A Confidentiality Agreement is also known as a Non-Disclosure Agreement (NDA). You may also find it under one of these names:
Confidential Disclosure Agreement (CDA)

Secrecy Agreement (SA)

Proprietary Information Agreement (PIA)
Whatever the name you stumble upon, this legally-binding contract can be:
Unilateral—keeps the info you share safe

Mutual—protects the info between parties
How Long Does a Confidentiality Agreement Last?
A Confidentiality Agreement doesn't have a fixed timeframe. It usually lasts from one to five years. If the info that is being kept confidential becomes public in the meantime, the contract immediately ends.
Why Is a Confidentiality Agreement Important?
Confidentiality agreements are important to ensure the protection of sensitive information. These agreements are generally made between employers and employees, and the info they protect includes:
Customer data

Processes

Company strategies

Proprietary information

Intellectual property

Any other info important to a company
What if You Refuse To Sign a Confidentiality Agreement?
If you are presented with a Confidentiality Agreement when starting a new job, you have the right not to sign a Confidentiality Agreement if you don't want to. Note that if you do not sign it, the employer will probably take back the job offer.
Who Can Sign a Confidentiality Agreement?
Different groups may need to sign Confidentiality Agreements, but these are the most common ones:
Freelancers

Contract workers

Vendors

Clients
What Types of Confidentiality Agreements Exist?
As different groups of people can sign Confidentiality Agreements, there are also various types of these contracts. Here are some of the available options:
Basic

—Between contractors, investors, or business partners

HIPAA Employee

—For people working in healthcare institutions to ensure the protection of medical information of the patients

Intern

—For individuals who are working as interns in companies

Financial Information

—To protect business financial info

Patent (Invention)

—To keep a patent or invention safe from anyone who might steal the idea

Job Interview

—For sensitive job positions that sometimes require potential employees to sign a Confidentiality Agreement at the beginning of a job interview

Employee

—To ensure that employees do not reveal certain trade secrets

Visitor

—To keep info safe from guests who visit a business

Volunteer

—For people who agreed not to be paid for their work

Student

—For a student of a college or university that is going to be working within its internal administration and affairs

Film

—To keep scripts confidential. Actors, producers, and directors sign it
What Will Happen if You Break a
Confidentiality Agreement
?
If you or another party who is a part of a Confidentiality Agreement breaks it, certain consequences will arise. You may get sued or need to pay for financial damages and other costs that come along. 
There are some instances when Confidentiality Agreements can be declared void—the ones related to crime, for example. If that is the case, you won't suffer any repercussions for breaking the agreement.
DoNotPay Can Draw Up a
Confidentiality Agreement
for You in Under Five Minutes
DoNotPay is a great tool for dealing with legal documents of various types. We can create a solid Confidentiality Agreement for you easily. You only have to follow these instructions:
Open DoNotPay in a

web browser

Type in

Non-Disclosure Agreement

as the name of the document

Enter some personal information, such as your name and address
You will have all the info in the document you need, but note that only signatures and notarization make the agreement official.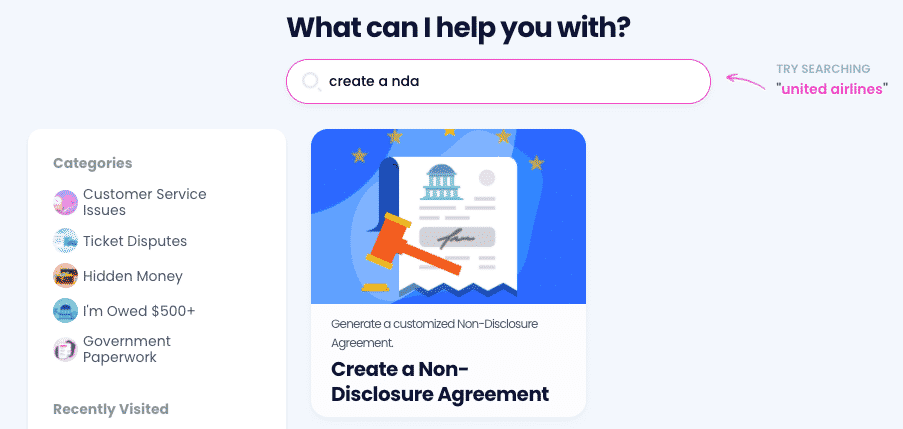 DoNotPay's Extensive Offer of Legal Documents
DoNotPay has the resources to make a plethora of other legal agreements for you. Take a look at the table below to check out all the available options:
Real Estate
Business Contracts
Other

Quitclaim Deed

Estoppel Certificate

Intent to Purchase Real Estate

General Business Contract 

Promissory Note

General Affidavit
Can You Create a Confidentiality Agreement on Your Own?
You can try to make a Confidentiality Agreement on your own, and for that action, you'll have to download a contract template. This is not the best option because templates are not tailor-made.
Using a template may seem appealing if you want to avoid paying a lawyer, but legal documents require serious legal knowledge. You can get the best of both worlds if you decide to use DoNotPay!
In case you still want to try and draw a Confidentiality Agreement on your own, you should make sure to include this info:
Disclosing party

Receiving party

Additional clauses

Signatures

Confidential info you want to protect

Set timeframe on how long the agreement is going to last

Jurisdiction

Exclusions

Non-disclosure obligations
DoNotPay Is Your Pocket-Sized Treasurer 
To pay or to DoNotPay—that is the question! Our nifty app finds money where you didn't even know you had it.
With our app, you can avoid college application fees, cancel unused subscriptions, explore free trials, and get out of paying for unfair parking tickets. 
We can also help you with high bills by composing due date extension letters or reducing property taxes, just as we can locate missing money that you can reclaim in any state you've ever lived. 
To top it all, we'll even assist you in requesting compensation from any airline—whether it is for poor in-flight Wi-Fi, a delayed, or a canceled flight.
Can't Find Your Head in All the Paperwork? DoNotPay Sorts It Out for You!
You no longer have to cash out on pricy legal advisors to do simple paperwork for you—our app can draft legal documents for you in a matter of minutes! 
We can write small claims court scripts, dispute letters for chargebacks and refunds, personalized letters to connect with inmates, DMCA takedown notices for copyright protection, and cease and desist letters for stalking and harassment protection. 
If you need to get a DMV appointment before taking a driving exam or any other government test, we're there to schedule it in your stead!