Renting a Condo? Draw Up
Condominium Lease Agreements
Typically, a landlord writes a lease agreement, but a tenant should also put in their two cents as even a simple contract should benefit both parties. Whether you're a tenant or a landlord of a condominium, we've got what you need!
We'll break down condominium lease agreements, and after a few clicks on your part, our AI-driven app will generate a customized agreement. With DoNotPay, you won't need a lawyer to write a contract, and you can forget about using unreliable contract templates.
A Condo Lease vs. Other Residential Leases
A condo or condominium is a unit of property in a property complex with common areas. A condo lease is almost the same as any residential lease, but the condo lease agreement should include terms regarding the landlord's requirement to pay the condominium fees. A condo lease agreement should also address the tenant's obligation to abide by the rules put forth by the condo's homeowner association (HOA).
What To Do Before Writing a
Condo Leasing Agreement
Leasing a condo can be a bit more complicated than other leases, so it's essential to be aware of a few crucial details before entering into a condo leasing agreement.
What Should Tenants Know About Condo Leases?
As a tenant of a condo, you should have the rights to all the common areas, such as the pool and other facilities. Condos typically have doormen and cleaners, who should be at your disposal as they are to other tenants. You should hold all the regular condo tenant rights and privileges unless stated otherwise in the condominium lease agreement. This is why you should review the agreement carefully before signing it.
What Should Landlords Know About Condo Leases?
If you're the condo landlord, there are a few steps you can take before taking on a tenant and drafting a lease agreement:
Get familiar with your state rental laws

—While there are federal rental regulations, each state imposes its landlord-tenant laws that could affect the way you need to draft your lease agreement. For example, in

Texas

, you need to follow certain landlord disclosure rules, such as the parking policies and the identity of a person acting as landlord on your behalf. Check out how to write lease agreements in

Ohio

,

Oregon

,

Florida

,

Michigan

,

Washington

, and

California

Screen potential tenants

—You can create a screening process for tenants and ask them to fill out a rental application form. While you can choose your tenant, make sure you're upholding the rules set forth by the

Fair Housing Act

Consult your condominium association

—As the condominium association is responsible for the property's operations, leasing is one of them. Your association may require an interview with a potential tenant and/or a registration with the association to be able to use the common areas
What Terms Should
Condo Lease Agreements
Include?
Every condo lease agreement should usually include the following sections:
Landlord and tenant info, such as their full names and addresses

Description and usage of the rented condo

Lease term

Payment terms and schedule

Additional charges and late fees

Security deposit details

Number of tenants allowed

Repair and maintenance responsibilities

Pet and smoking rules

Lead-based paint disclosure

Indemnification

Governing law

Signatures
Other Lease Agreements and Documents You May Need
A condo lease agreement might not be the only rental or real estate agreement you'll need to sign, regardless of whether you're a landlord or a tenant. You may want to purchase the property after renting or extend or renew your lease. Check out our rundown on various legal documents in the list below:
Create a Rock-Solid Condo Lease Agreement With DoNotPay
Drafting condominium lease agreements with our app is fast and easy! We'll handle the tough parts, and all you have to do is click a few times and answer several questions, and your agreement will be ready.
Follow these instructions:
Visit DoNotPay in a

Enter

Lease Agreement

Answer our questions to make the agreement as personalized as possible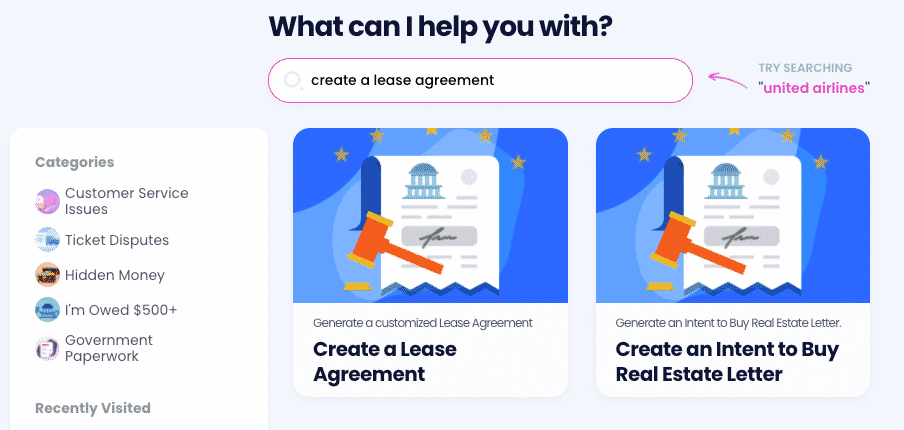 As soon as we generate your condominium lease agreement, you can print it out and review it before signing. You can also choose to e-sign it and fax it with our help.
What Documents Can DoNotPay Generate?
Condominium and other residential lease agreements are not the only legal documents we can write up for you. We've got more strings to our bow! Here's a constantly growing list of documents can create:
Type of Documents

Legal Documents

Real Estate

Quitclaim Deed

Intent To Purchase Real Estate

Residential Lease Agreement

Estoppel Certificate

Business

General Business Contract

Miscellaneous 

General Affidavit

Promissory Note
Fighting Administration Is Easier With DoNotPay 
Bureaucracy is a disease of the modern world, and we finally have a cure. Thanks to artificial intelligence, DoNotPay knows how to handle numerous rules and regulations and make your life so much easier. 
Our bots ask you a few questions, gather the necessary info, and off they go! Filing warranty and insurance claims, requesting property tax reductions, getting access to public records, or claiming unclaimed funds under your name—you can deal with these bothersome tasks from the comfort of your home and within minutes!
If you need to get in touch with customer service representatives to ask for refunds or contact airline companies regarding compensation, our platform will make the process painless and care-free.
Don't hesitate to put our app into service if you need to contest parking tickets or avoid long lines at your local DMV!
How Else Can We Help?
Not only does DoNotPay handle bureaucracy, but it also saves you money in the process. Whether you're looking for the best learning materials for government tests or planning to comb through and cancel streaming subscriptions you don't use, DoNotPay can give a helping hand.
Our platform grows every day and comes with user-friendly features that will help you manage unpaid bills, stop copyright violation, or solve problems with credit cards faster than ever!