Complaint for Absolute Divorce—NC Form Dissected
Getting divorced is often a stressful process, but you can reduce the stress if you and your spouse opt for the quickest and most affordable divorce type—the absolute and uncontested divorce.
How do you file the Complaint for Absolute Divorce NC form? We'll help you understand everything about this essential document and explain other crucial points about the divorce process, including the easiest way to create a divorce settlement agreement.
Requirements for Absolute Divorce in NC
An absolute divorce refers to the simple, uncontested divorce in North Carolina. Since NC is a no-fault state, the petitioner does not need to provide a reason for the breakdown of the marriage. You only need to state that you and your spouse cannot live together due to irreconcilable differences.
If you want to get an absolute divorce in NC, you and your spouse need to live:
Apart for at least 12 months
In North Carolina for at least six months before filing for divorce
Getting an absolute divorce means that you and your spouse agree on the divorce terms and will come up with a settlement agreement yourselves or with the help of a mediator. In most cases, you won't even need to hire a lawyer. To successfully file for an absolute divorce, you and your spouse agree that:
You do not want any spousal support
You do not want the court to divide your property and assets
How To File for an Absolute Divorce in NC
If you and your spouse have decided to file for an absolute divorce in North Carolina, here are the steps you should follow:
Fill out the court forms
File them with the District Court's office
Pay the divorce filing fee or check if you qualify for a fee waiver
Serve the divorce papers to your spouse via a third person
Set a court date after 30 days
Create and finalize the divorce settlement agreement
Visit the court for the final hearing
The entire process usually takes up to 90 days. If the spouses agree on key issues, they can get a divorce in less than 40 days.
The Basics of a Complaint for Absolute Divorce Form in NC
Here is the key information that appears in the absolute divorce complaint form in NC:
Your and your spouse's names and counties of residence
Confirmation that at least one spouse has been a resident of NC for at least six months
Date and duration of marriage
Date of separation
Children's names and dates of birth (if applicable)
Confirmation that the spouses have agreed to all divorce-related matters
Date of complaint form
Petitioner's name, address, and signature
Signature of a notary public
You can get this form as a part of the standard North Carolina Divorce Packet on the NC Courts website.
Other Forms You Need To File for Divorce in NC
To file for an absolute divorce without a lawyer, here are some other forms that you need to fill out besides the Complaint for Absolute Divorce:
Verification
Civil Action Cover Sheet
Civil Summons
Servicemembers Civil Relief Act
Notice of Hearing
Judgment of Absolute Divorce
Certificate of Service
Certificate of Absolute Divorce or Annulment
Another important document for absolute divorces in NC is the divorce settlement agreement that proves you and your spouse have settled all the issues and plan to proceed with a friendly divorce. Want to know how to create this agreement? DoNotPay can help you out!
DoNotPay Can Create the Most Suitable Divorce Settlement Agreement in North Carolina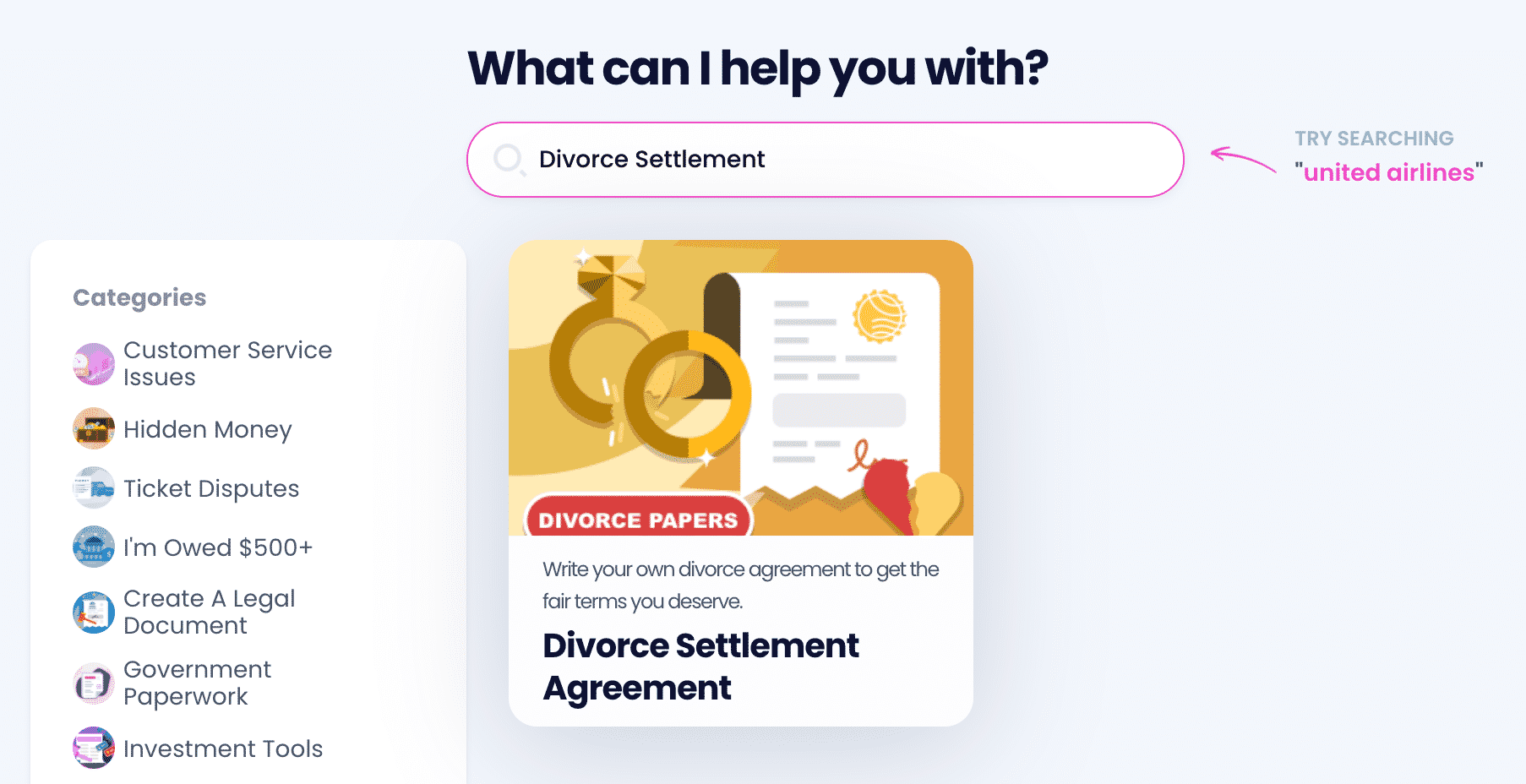 Nobody wants to complicate their divorce process more than necessary, but DoNotPay makes it even more stress-free. We can draft a divorce settlement agreement that will be valid in court and grant you an uncontested divorce.
All you need to do is follow these instructions:
in your web browser
Select the Divorce Settlement Agreement tool
Provide our chatbot with details about your spouse and children, if any
Enter information about your income and assets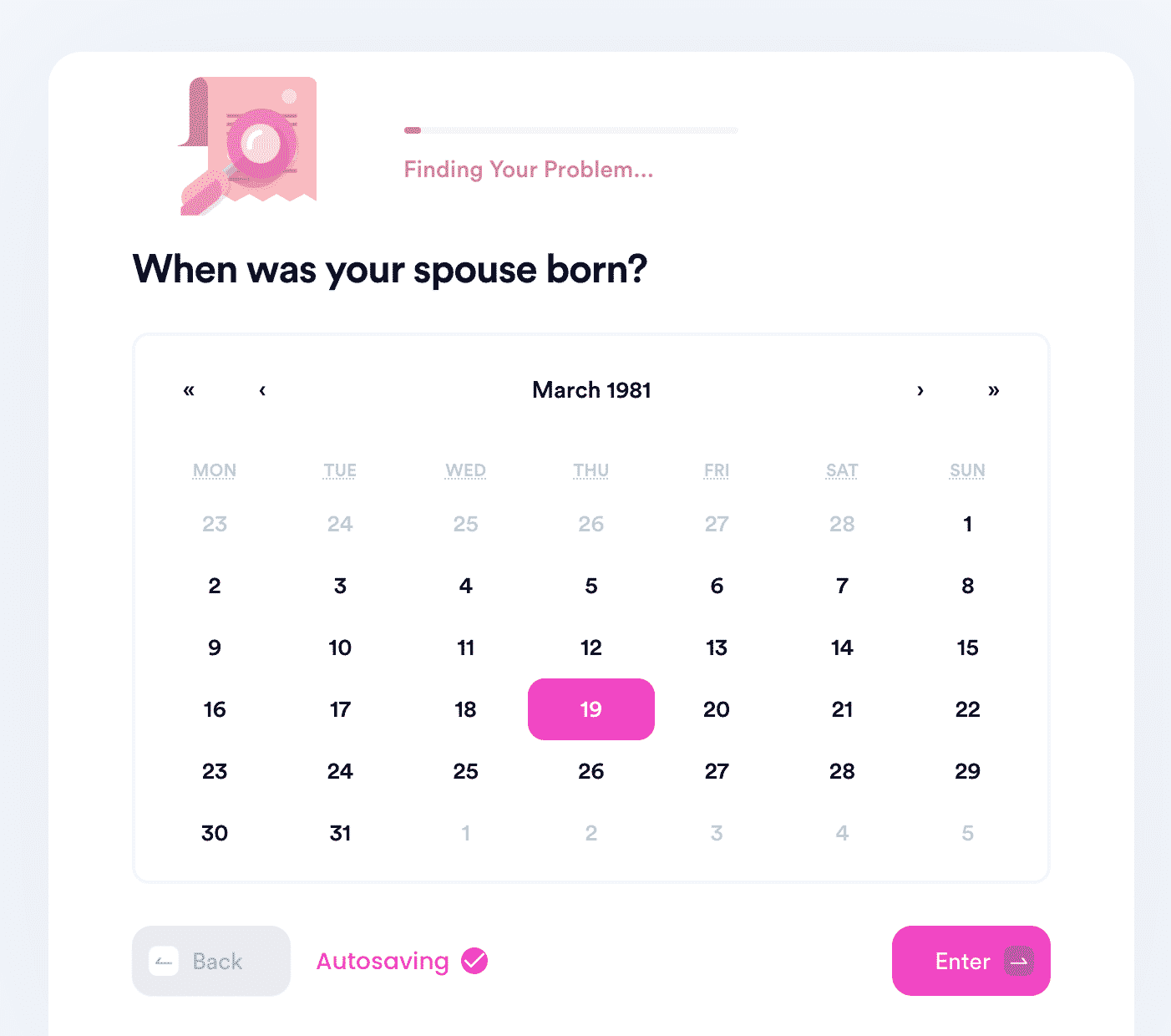 We will take it from there. Our AI-powered app will generate a legal document that is customized according to your requirements. NC law states that you need to get your document notarized to confirm you and your spouse have signed it of your own free will.
If you don't know where to find a notary in North Carolina, we can connect you with one online! You can schedule an appointment with a remote notary public and get your document notarized during a video call.
Want To Learn More About the Divorce Processes?
DoNotPay's knowledge base provides helpful guides on various divorce-related questions, such as:
| | |
| --- | --- |
| General Topics | NC-Specific Articles |
| | |
No More Wasting Money on Lawyers
Spending hundreds of dollars on lawyers seems like a waste, especially when you have a more convenient solution at your fingertips. We developed various neat features that make performing dull legal tasks feel like a breeze! The best part is that you can use them from the comfort of your home or office.
Consult the list below to see the tasks DoNotPay can help you with:
DoNotPay Offers Additional Helpful Tools
Legal tasks aren't the only ones DoNotPay can help you with! We can provide assistance for an abundance of different tasks—from stopping the pesky spam emails to contacting your incarcerated loved ones. Check out the table below and learn how to use our app to:
| | |
| --- | --- |
| Deal With Companies | Deal With Other Tasks |
| | |