Can You File for Compensation for Hit-and-Run Victims in Your State?
Hit-and-run accidents happen frequently in the U.S, even though the drivers are obligated by law to stop the vehicle after a collision and assist the victims. In most states, drivers at-fault are responsible for covering all accident-related costs, including car repair and medical expenses. But what should you do if the other driver—for whatever reason—flees the scene of the accident? Are you eligible to apply for your state's crime victims compensation program?
This guide will tell you more about your rights as a hit-and-run victim. Register for DoNotPay if you want to learn how to apply for compensation for hit-and-run victims in your state as quickly as possible.
Are Hit-and-Run Accidents Considered Crimes?
The definition of a hit-and-run accident is similar in most states. It means that an individual involved in a traffic accident—with another car, pedestrian, fixed object, or, in some states, animal—fled the scene of the accident. 
While hit-and-run accidents are considered crimes in the U.S., the criminal and administrative penalties vary from one state to another. In most states, hit and run is classified as either a felony or misdemeanor. Check out the table below for additional details:
Classification
Description
Penalties

Felony

The accident caused injuries to a pedestrian or another driver

$5,000–$20,000 fine

Up to 15 years in prison

Suspension of the driver's license for at least six months or lifetime revocation

Misdemeanor

The accident caused only property damage without inflicting injuries

Up to $5,000 fine

One year in prison

Suspension or the driver's license for at least six months or lifetime revocation
Ways To Get Compensation After a Hit-and-Run Accident
After the accident, victims usually suffer mental trauma, physical injuries, and severe car damage. Covering medical counseling and car repair costs represents a huge financial burden for most Americans. If you're a victim of a hit-and-run accident, you can try getting compensation for all the above-mentioned costs in a few ways:
If the police officers identify and arrest the at-fault driver, his insurance company should cover your costs

In case the other driver isn't insured, you can sue him or her and get restitution 

You can claim your insurance policy if the police can't capture the at-fault driver

Should your insurance and other collateral sources—such as

Medicaid

or

Medicare

—fail to cover all accident-related costs, you can file for the crime

victims compensation

(CVC) program in your state
What Are Crime Victims Compensation Programs?
Every state in the U.S. has a fund dedicated to victims of violent crimes. The states help victims deal with various crime-related expenses by providing financial aid through crime victims compensation programs. Some of the violent crimes that most programs consider compensable are:
Car accidents

that are:

Caused by reckless driving

Hit and run

Caused by driving under the influence 

Terrorist attacks

Kidnapping

Homicide

Vehicular homicide

Child abuse
The compensable amounts vary from state to state. While some programs offer modest compensation of $10,000, others provide up to $100,000 for all crime-related costs. CVC programs usually get funding from felony, misdemeanor, and traffic fines and fees, as well as the annual Victims of Crime Act (VOCA) grant.
To check which crime-related costs are usually covered by the state programs, consult the following table:
Compensable
Not Compensable

Medical and dental exams

Funeral costs

Mental health counseling

Lost wages or support

Travel costs to get medical treatments and attend court proceedings (some programs)

Relocation

costs (some programs)

Crime scene cleanup 

Pain and suffering

Lost, stolen, or damaged property 

Lodging for family members of homicide victims who come to attend the funeral 
Do Crime Victims Compensation Programs in All States Cover Hit-and-Run Accidents?
While CVC programs in most states—including Texas, Iowa, Georgia, and Louisiana—cover costs caused by hit-and-run accidents, some award reimbursement only under certain conditions. For example, Indiana grants compensation only if the driver at fault was proven to be intoxicated or impaired, while Illinois reimburses only the pedestrians injured in a hit and run. 
DoNotPay Can Help You Apply for Crime Victims Compensation in No Time!
Once you decide to file your application with the office running the CVC program in your state, you'll learn that the application process is rather lengthy and complicated. To bypass all those time-consuming procedures, turn to DoNotPay.
Our app will help you file your victims compensation application in a matter of minutes, whether you're a victim of armed robbery, the 9/11 terrorist attack, or any other violent crime. What's even better is that you can finish everything from the comfort of your home by using your PC, tablet, or smartphone.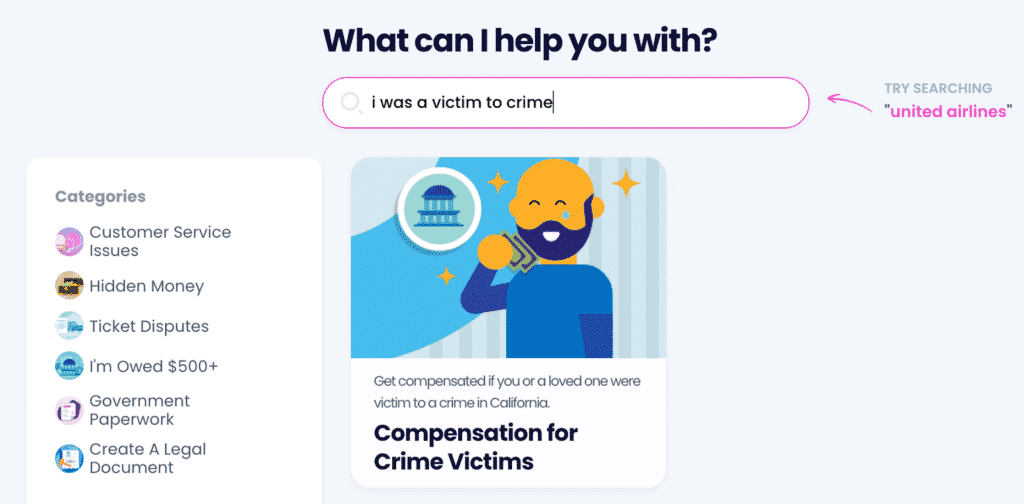 To get crime victims compensation as a hit-and-run victim in Arkansas, California, Virginia, or any other state, follow these steps:
Access our

Compensation for Crime Victims

product

Indicate whether you're the victim or a family member of the victim

Respond to our questions and verify your signature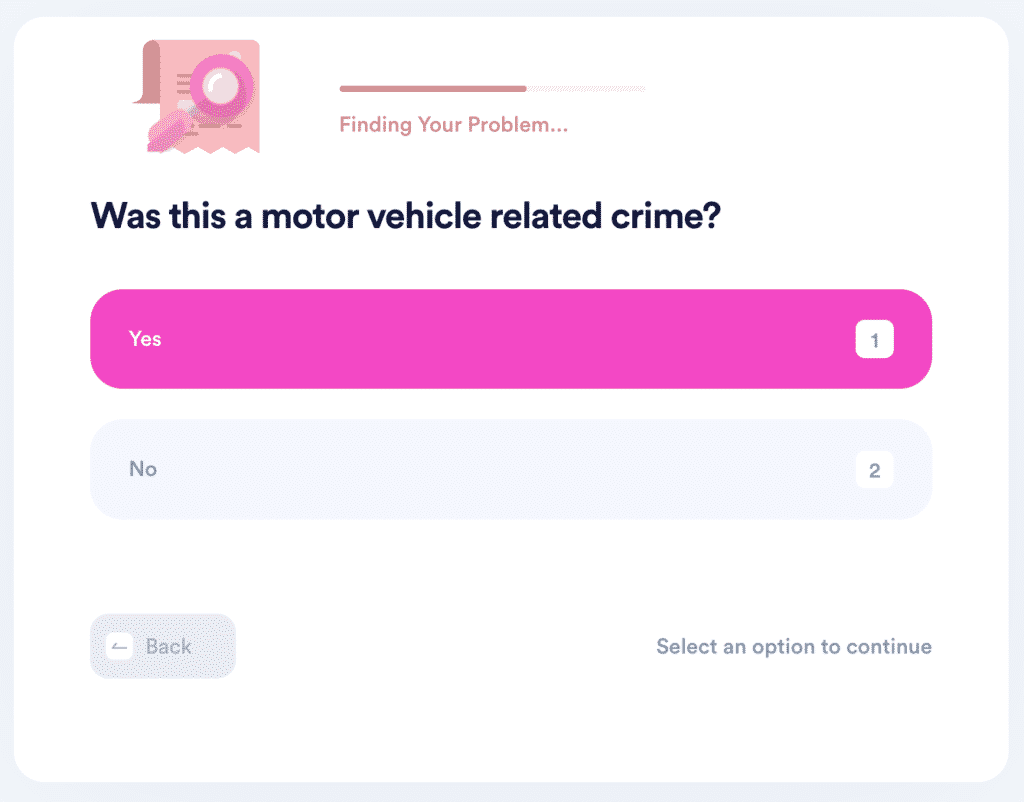 When you complete these steps and click on Submit, DoNotPay will fill out all the necessary application forms and send them to the right office in your state for review. 
Crime Victims Compensation Programs—Common Eligibility Requirements
Being a victim of a hit-and-run accident or their family member isn't enough to get compensation. You also need to meet certain requirements. To qualify for the CVC program as a hit-and-run victim or another claimant, you should:
Report the crime to the proper law enforcement authorities in the state where the crime took place in a timely matter

Cooperate with law enforcement during the investigation and prosecution

Apply for the CVC program within the time limit imposed by the program's rules

Provide necessary documents and bills to support your claim
DoNotPay Can Do Your Paperwork for You! 
Feeling like you're in bureaucratic hell? Our app will draft the paperwork you need and get you out of any hurdle before you know it! 
We can compose most of the documents that you require for any administrative purpose in your jurisdiction, most notably:
More of What We Can Do for You 
Our multifaceted app can call and record the conversation with the customer service of the company that just won't let you go! If you are having trouble canceling an unwanted service via the traditional channels, use DoNotPay to get it over and done with!
We can help you stop the persistent robocalls and robo texts from the nagging company and request a refund for unused services in a matter of minutes.
We'll also lend a helping hand in stopping spam mail—whether it's electronic or paper. Our Spam Collector product unsubscribes you from unwanted emails and cleans up your physical mailbox too!