How To Draft a Company Vehicle Use Agreement Like a Pro
Having clearly outlined rules in your company's vehicle policy is important for both you and your employees. If you are unsure of what to include in your company vehicle use agreement, we're here to help. You can rely on our guide and create your contract without too much fuss.
Subscribe to DoNotPay to draft various legal documents with ease!
What Is a Company Vehicle Use Agreement?
A company vehicle use agreement is a document used to establish which employee can use a company fleet vehicle and on what conditions. The contract is used to set out the requirements for getting this benefit, the rules that employees have to follow when using a company car, and the consequences of an employee misusing a vehicle.
How To Write a Company Vehicle Use Agreement
Writing any agreement by yourself can be confusing and overwhelming. If you aren't certain what clauses your company vehicle use agreement should cover, we're happy to clarify. Follow the list provided below to write your agreement effortlessly:
Policy—Explain the company driver policy in the first clause and say that the policy gives guidelines for obtaining and using a company car. To avoid any confusion, state that a 'company vehicle' is any vehicle that the company assigns to an employee and that the policy applies to everyone both during and after business hours
Qualification—State what qualification criteria an employee must meet to be eligible for a company vehicle. This usually involves a valid driver's license and clean driving record for a certain number of years
Employees with a disability—Say how the company will accommodate an employee with any type of disability who's eligible to use company vehicles
Personal use—Elaborate on the rules of personal use. State how and when an employee is allowed to use the company car outside of working hours and state that the safety rules still apply when a vehicle is used for personal reasons
Rules—Incorporate all the company driver rules and double-check whether all important aspects are covered. Also, make sure to mention that if an employee breaks any of these rules, they'll be subject to legal action and other consequences. This section is quite important since it lets employees know how to behave and what the repercussions they'll face if they don't oblige are
Accidents—Explain what an employee is expected to do if an accident occurs. In these instances, an employee will usually contact the company and ask them to reach out to an insurance provider. He or she will further exchange information with the other driver and report the incident to the local police department if needed
Responsibilities—Provide a detailed description of what the company is and isn't responsible for
Calculating Company Vehicle Personal Use
Setting the rules of personal use in a company vehicle use agreement can be one of the most important items when writing this document. You need to choose and clarify which one of the calculation methods from the table below will be used in your agreement:
| | |
| --- | --- |
| Calculation Method | What Employees Should Do |
| General valuation | Inquire about the price they would pay for leasing a vehicle in the same area for the same period of time |
| Annual lease valuation | Multiply the annual lease value by the percentage of miles that they drove for personal use |
| Cents-per-mile rule | Multiply the number of miles driven for personal use by the regular mileage rate (around $0.58 per mile) |
| Commuting valuation | Multiply every one-way commute by $1.50 |
Drafting Contracts With DoNotPay Is a Piece of Cake!
If you don't want to search through a ton of contract templates or spend hundreds of dollars on lawyers, we got you! With DoNotPay, you'll be able to draft various legal documents in no time!
The best part is that our app does most of the work. All you have to do is provide us with the info about the document you want, and we'll cover the rest! Sign up for DoNotPay and get started:
Enter the name of the agreement you want us to draft
Provide us with the info relevant to the agreement
Once you complete the above-mentioned steps, our app will generate your contract! You can either print or download it, and all that's left is for you and the other parties involved to sign it.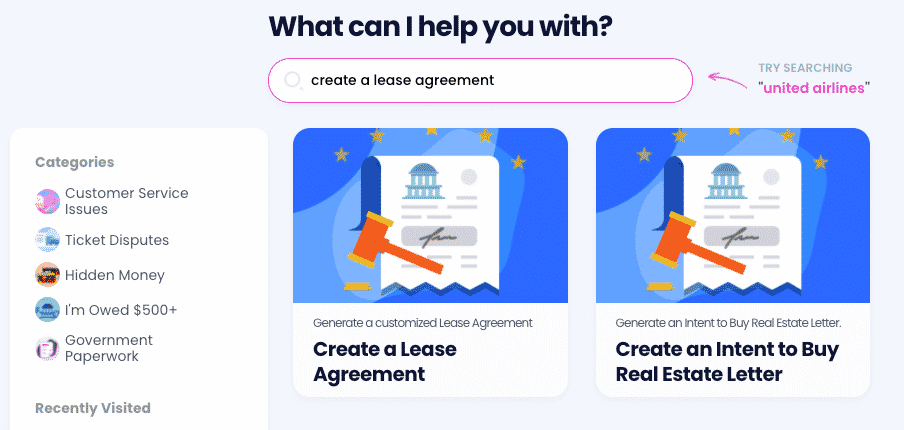 If you draft a document that has to be notarized or you want to get a notary to sign it for any other reason, note that DoNotPay has a perfect solution! Since we integrated two features, you'll be able to create contracts and get them notarized using the same app! Booking a remote notary will take only a few minutes!
To see what documents you can make using DoNotPay, check out the table below:
Real Estate Agreements
Business Agreements
Other Agreements

Intent To Purchase Real Estate
Quitclaim Deed

General Business Contract

Promissory Note
General Affidavit
There's More DoNotPay Can Do for You
In case you're struggling to cover your bills, our hacks may help you earn or save some extra money. Use our app to sign up for paid clinical trials in your area and try your luck with free raffle tickets. We can also help you get late delivery refunds and cash back on gift cards. You may not even know that you have funds lying around—rely on DoNotPay to uncover your unclaimed money.
If you have any documents or letters you need to send, we can save you the trouble of using a fax machine or waiting in line at a post office, thanks to our nifty products—Online Fax and Mailing Service.
Fast-Track Your Tasks With DoNotPay
If you've been putting off your errands because they take too long or they are too complicated, we know what to do! From filing insurance claims, getting documents notarized, submitting item return requests, demanding late delivery refunds, and getting a child travel consent—there isn't much we can't streamline for you.
You can count on our assistance even for more serious and complex tasks, such as: