Everything About the
Community Benefits Agreement
The purpose of agreements in the urban development field is to provide the necessary support for various projects and create strong partnerships between developers and members of the community. 
To define your expectations and rights, you must create a valid and comprehensive legal document. Unfortunately, this won't be an easy task if you don't get familiar with the law or hire professional help.
Our guide will show you how the community benefits agreements work and highlight their advantages. You will also get some useful tips on writing rock-solid contracts with zero stress and administrative hurdles!
What Is the Purpose of Community Benefits Agreements?
A community benefits agreement (CBA) is a legally binding document between local community-based coalitions and a project developer. 
Besides being lucrative for the developer, the particular project can bring economic and environmental improvements to residents. The document binds the communities to support the developer during the approval procedure in exchange for specific favors. Its purpose is to address particular community issues the project can solve and outline expected benefits. Unlike traditional project planning, this process brings a high level of certainty that the living conditions in a specific area will improve.
The project developer can also sign a similar document with the local government, allowing them to determine collaboration terms and conditions.
The Effects of the Community Benefits Contract
Successfully executed community benefits agreement can protect and improve:
Open space and green areas

Housing affordability

Local hiring opportunities

Neighborhood improvements

Targeted hiring development

Environmental sustainability

Wage requirements

Poverty reduction

Job training programs

Support for social enterprises

Other crucial community needs
What Are the Advantages of
Community Benefit Agreements
?
Community benefits contracts can improve the communication between developers and community members. Some of the benefits are listed in the table below: 
| | |
| --- | --- |
| Benefit | Explanation |
| Communities participate in the project and get a chance to improve their future | The community interests will play a huge role in future local development, and the opinions of the members will be more appreciated |
| The project approval procedure will be simpler | The authorities will authorize the project faster if a strong coalition of credible communities supports it |
| Local partnerships get stronger | The more cooperation and understanding between the parties, the better the living standards |
| The promises developers make are legally enforceable | A written deal prevents the developer from avoiding their responsibilities. It legally binds them to help the communities involved |
Get the Best Out of DoNotPay's Legal Templates
Since contracts are crucial in many legal procedures, their structure and contents must be flawless. Making a valid legal document is possible only if you are acquainted with the governing laws and legal terms. Another way is to hire a lawyer to create an agreement for you, which is a convenient but costly option.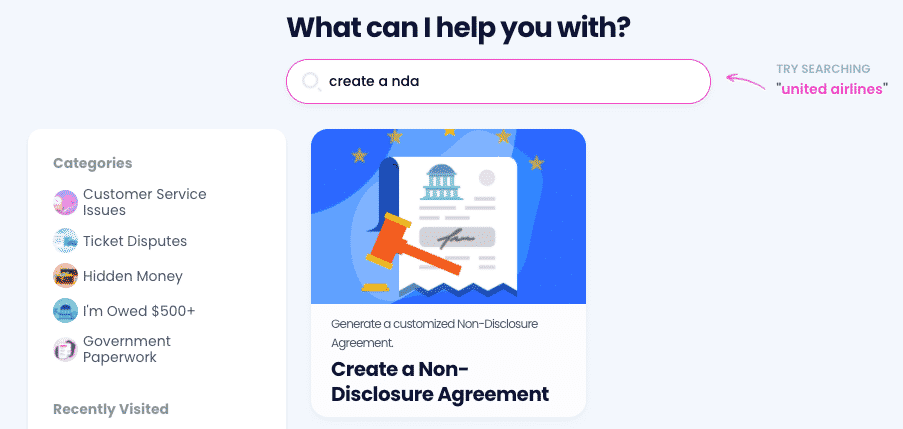 If you believe vague and often inaccurate online templates are the only remaining solution, our awarded app is here to prove you wrong. DoNotPay features the best modifiable template collection you can use to create a personalized contract aligning with all legal requirements! The best part is that you don't need hours to make it. We help you do it in a few taps!
Here's how you can get your customized document:
Sign in to DoNotPay

in your web browser

Locate the document template you want to personalize

Fill in a brief questionnaire to help us complete your contract

Download your document right away
Did you know you can also use our app for notarizing and faxing your contract? Our Notarize Any Document feature simplifies the notarization procedure by enabling you to book a meeting with a notary and have your signature validated fast. You can do all this without leaving your home, from any location or device!
Not only do we help you create killer legal documents, but we also teach you more about them! Our knowledge base is a perfect way to start your education on other contract-related issues. We offer many handy guides to various legal documents, including the:
What Other Legal Documents Can DoNotPay Create?
With DoNotPay, you gain access to many useful document templates that will make your life easier! Access our app from any web browser and learn how to create:
General Affidavit

Intent To Purchase Real Estate

Promissory Note

Estoppel Certificate

Child Care Authorization Form

General Business Contract

Quitclaim Deed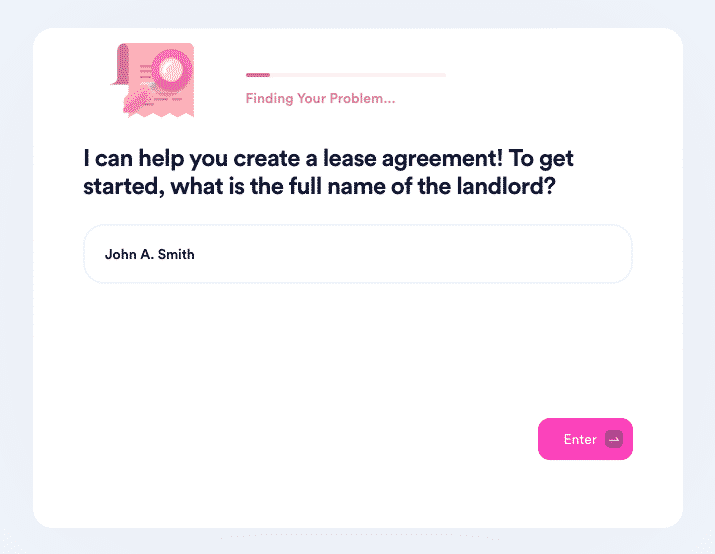 Discovering DoNotPay Will Make Your Day
If you feel overwhelmed by tons of paperwork flooding every area of your life, you can finally breathe out and let go of that stress. DoNotPay is the world's first robot lawyer that handles your bureaucratic chores for you. 
Some of the benefits that come with our service include:
Why Get a Lawyer When You Have DoNotPay?
Our agenda has one major goal—provide easy legal access to anyone who needs it. Every new feature we come up with relies on AI technology that simplifies bureaucratic procedures and saves you time and money. 
If you're wondering how to navigate tasks like contacting imprisoned friends and family members or reducing your property taxes, DoNotPay has the answers. Our service cuts through the red tape even if you need to deal with stalking and harassment, claim forgotten assets the proper way, or secure compensation for crime victims.