How Does Common Law Trademark Protection Work?
All businesses, big or small, need to have a unique identity in the industry they operate in. If your business is flourishing, you might run the risk of people trying to steal your ideas and take advantage of them. Others can use your brand name to make a profit off of it. So how can you protect your brand identity and intellectual property? You can use brand protection tools like trademarks, service marks, or copyrights.
This article will explain what common law trademarks are and how common law trademark protection works. DoNotPay also provides valuable information on how trademark protection laws safeguard your business from infringement.
What Is a Common Law Trademark?
A common law trademark is a mark, word, phrase, or combination of all three established through business or commercial use. It does not need to be federally registered but is associated with a brand or a product in a specific geographical area. Common law trademarks can include the following:
Since common law trademarks are unregistered, business owners can use the ™ symbol.
How Is a Common Law Trademark Different From a Federal One?
There are many differences between how common law and federal trademarks works, as listed in the table below:
| Common Law Trademark | Federal Trademark |
| --- | --- |
| No application process required—The first person using a specific mark in commerce owns the common law rights in the area | Business owners need to fill out an application form to register their trademark with the USPTO |
| No cost | You need to pay registration fees for every class under which you categorize your trademark |
| Less authority because enforcing the trademark is trickier | The owner can seek legal protection if anyone uses the trademark to their advantage |
| No expiration date | It expires after ten years |
| Protected in a particular area | Federally registered trademarks are protected across the U.S. |
How To Establish a Common Law Trademark
Before you establish your common law trademark, you need to confirm that your mark is original and no one else is using it in your vicinity. Although you may not be sued, you might need to rebrand your business to stay original, which can be costly.
You need to carry out an extensive trademark search. You can use the following sources for your research:
Newspapers
Public records
Internet
Business groups
USPTO trademark database
After finalizing the trademark, you can start using it for your business whenever you like—there is no specific rule to follow on how to use it. Once you start using your trademark, you own the common law rights to it in the geographic location you operate in.
You need to add a ™ symbol to your trademark to declare ownership of it. As long as you continue to use the mark, you have the right to stop other people from using the same or similar mark. You can't seek legal protection in case someone else uses it without your permission, but you can contact them and request them to change it.
Does Common Law Trademark Provide Protection?
Since they are not federally registered, common law trademarks offer little protection to a business. The only way to truly protect your trademark is to get it registered. There are various benefits of registering an official trademark, such as:
You can sue a competitor for using your trademark without your explicit permission
You can increase the earning potential of your business by being original and unique
It will discourage other parties from using similar marks in your area of business
Registered trademarks prevent business conflicts
How To Register Your Trademark With the USPTO
You need to follow these instructions to file your trademark with the USPTO:
Select an original mark or word that identifies with your brand or the goods that you offer
Search the USPTO database to confirm that your chosen mark does not conflict with another established one
Fill out the trademark application form (TEAS Plus or TEAS Standard), entering details about your business and trademark
Pay the application filing fee
Track your application status on the Trademark Status and Document Retrieval (TSDR) system
Does the process seem too much to handle? Turn to DoNotPay and make your life easier!
Register Your Trademark the Easy Way Using DoNotPay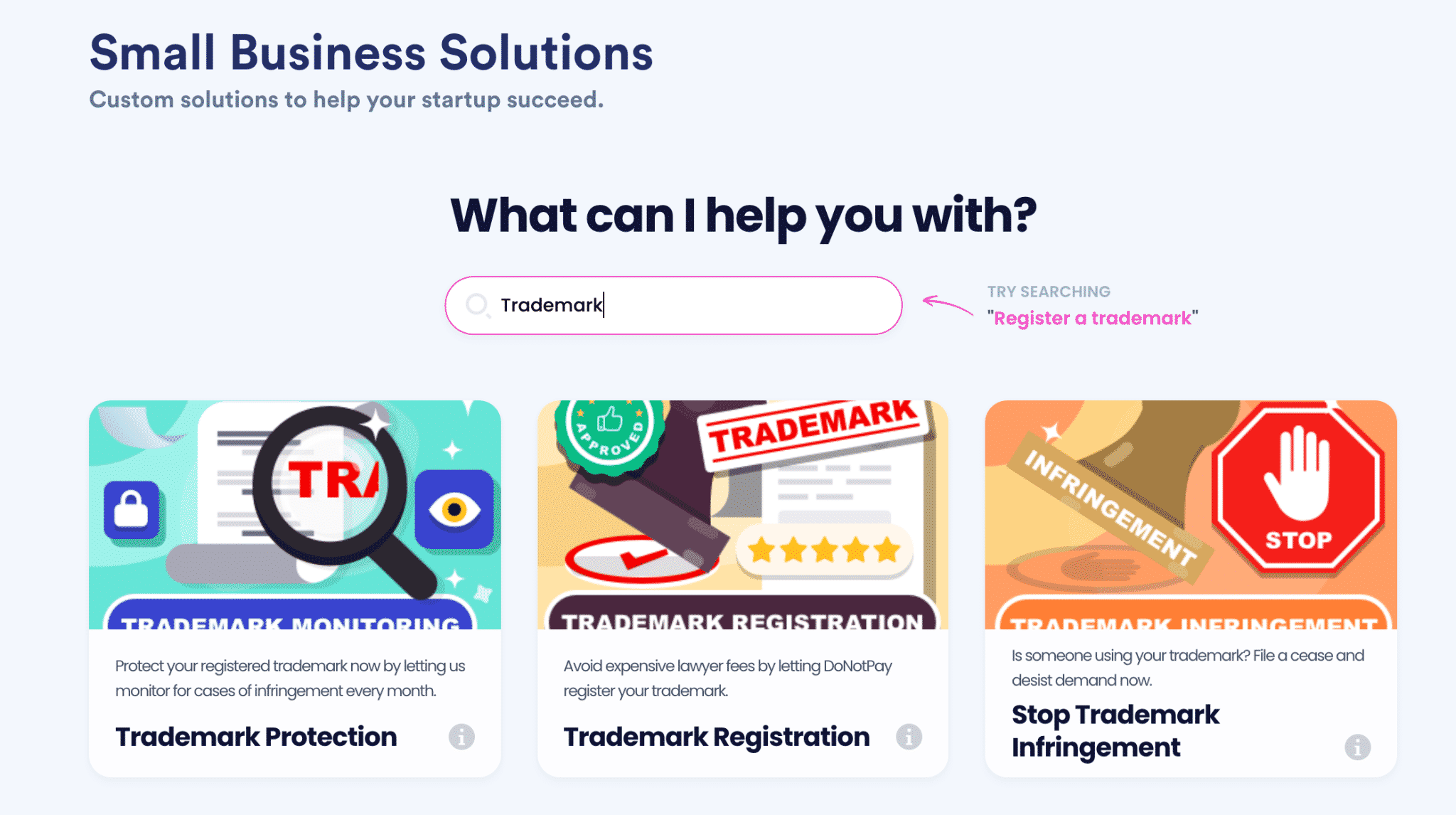 Registering a trademark can be a tedious process. You need to avoid making any errors or risk your application being rejected. Consulting a lawyer is a good option, but it can be quite expensive.
Fortunately, we have an affordable and straightforward solution—using DoNotPay! We are acquainted with the trademark requirements and offer to do the hard work for you!
Follow these quick steps to register your trademark:
Open DoNotPay in your web browser
Choose the Trademark Registration product
Provide details about your name, logo, or slogan
Pay the USPTO application fee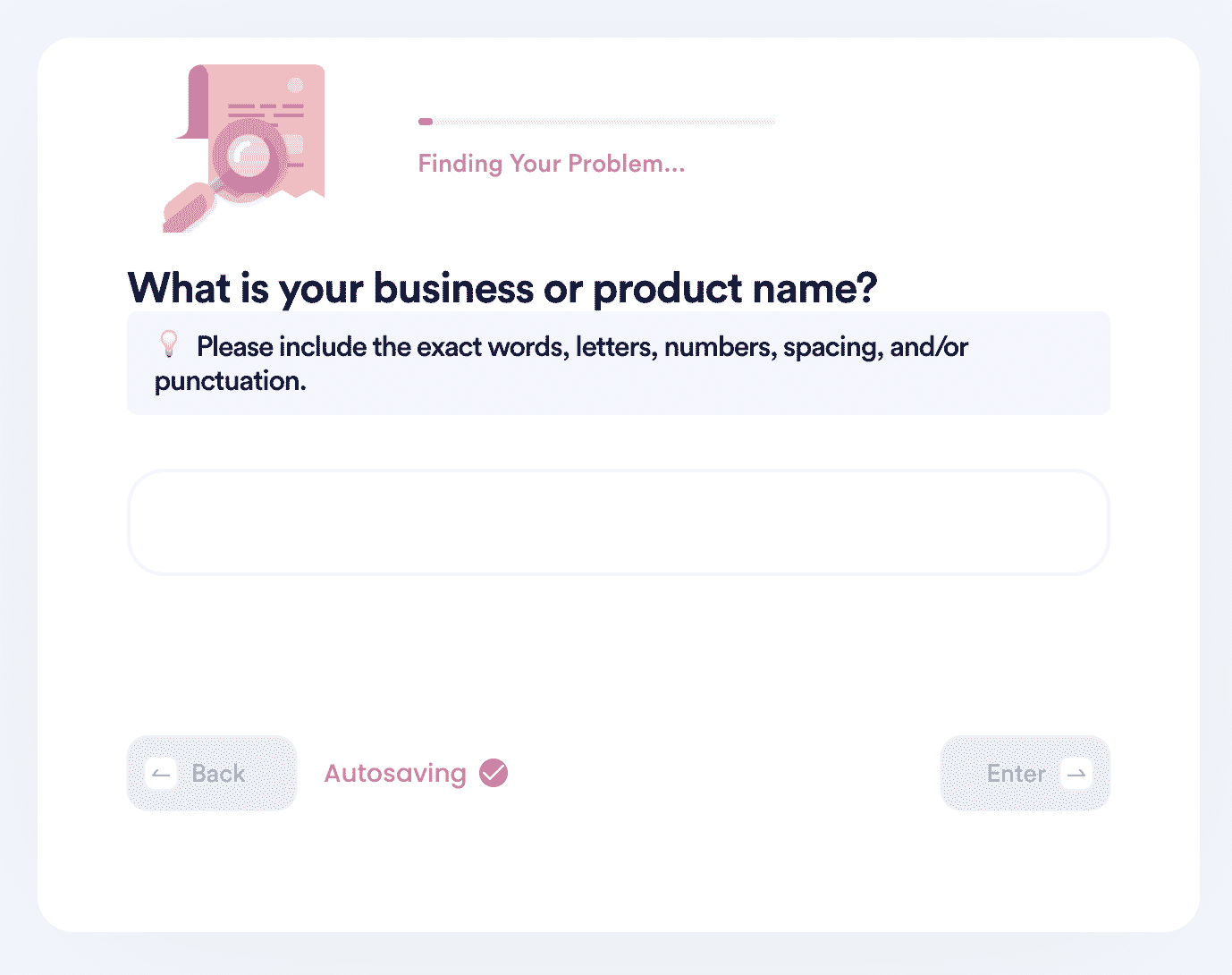 We will complete the application, forward it to the USPTO, and email you a tracking number so that you can stay updated about your application progress! Join DoNotPay today to register and protect your trademark!