Common Law Defamation
Defamation occurs when false and injurious statements or actions are made against someone and results in the damage of that person's reputation. There are two types of defamation. Libel refers to statements in writing or posted online and slander refers to a remark that is spoken verbally or gestured. Successful defamation claims must show that the subject's reputation, future employment prospects, or even physical or mental health were harmed as a consequence.
A cease and desist letter can be sent to warn the person making the false allegations to halt before legal action is taken against them. In this section, you'll learn more about defamation in common law.
Defining Defamation
As previously stated, the two components of defamation are slander and libel: 
Libel
Libel is further characterized by the fact that it leaves a lasting record. Libel can be found in emails, radio or television broadcasts, newspaper articles, or internet posts. Examples include:

A blog post outlining false claims about someone
An online review about a local business's unethical practices (that is false)
A speech broadcasted on television containing false claims about a business or individual

Slander
Slander does not leave a lasting mark and may be as simple as a verbal remark or a hand gesture. Examples include:

Claiming someone committed tax evasion
Claiming a restaurant's food caused food poisoning
Claiming someone engaged in criminal activity
Anti-defamation laws of states differ from one another. As a result, defamation laws will be interpreted differently in various jurisdictions, and defamation legislation will slightly differ.
Defining Common Law Defamation
In common law, or federal law, defamation is defined as a statement or action that harms the reputation of a third-party.
Grounds for prima facie defamation
A plaintiff must demonstrate four elements in order to establish a defamation case:
The false statement claims to be true
The publishing or transmission of such statement to a third-party
Negligence
Damage or other injury caused to the person or entity who is the subject of the statement
Establishing proof of malice
The 1964 Sullivan v. New York Times Co Supreme Court case issued a landmark decision - freedom of speech was valid grounds to dispute a defamation claim surrounding a public official.
The Supreme Court decided that the First Amendment's safeguards for freedom of expression limit the capacity of public officials in the United States to sue for defamation.
Inherently, if a plaintiff in a defamation action is a public official or is running for public office, they must show all of the usual elements of defamation in addition to the assumption of "actual malice" in order to win their case.
It was anticipated that these safeguards prevent members of the public or the press who made assumptions from being exposed to civil litigation.
How to prove actual malice
In order to establish actual malice, you must demonstrate that the defendant was:
Aware that the assertion was incorrect
Behaved with complete disdain for whether the assertion is true or untrue, or for the integrity of the person making the statement
Send a Cease and Desist Letter
If you are being defamed, you can submit a cease and desist letter to the responsible party. Sometimes, these letters are prohibitively costly and difficult to write. Discover how DoNotPay can quickly and easily write a cease and desist letter for you!
Have DoNotPay Draft a Cease and Desist Letter in Minutes!
DoNotPay is a trustworthy, and streamlined solution! The cease and desist letter DoNotPay drafts will detail the information about the case, demand retraction, and warn against future statements. All you need to do is:
1. Look for the Defamation Demand Letters service on DoNotPay.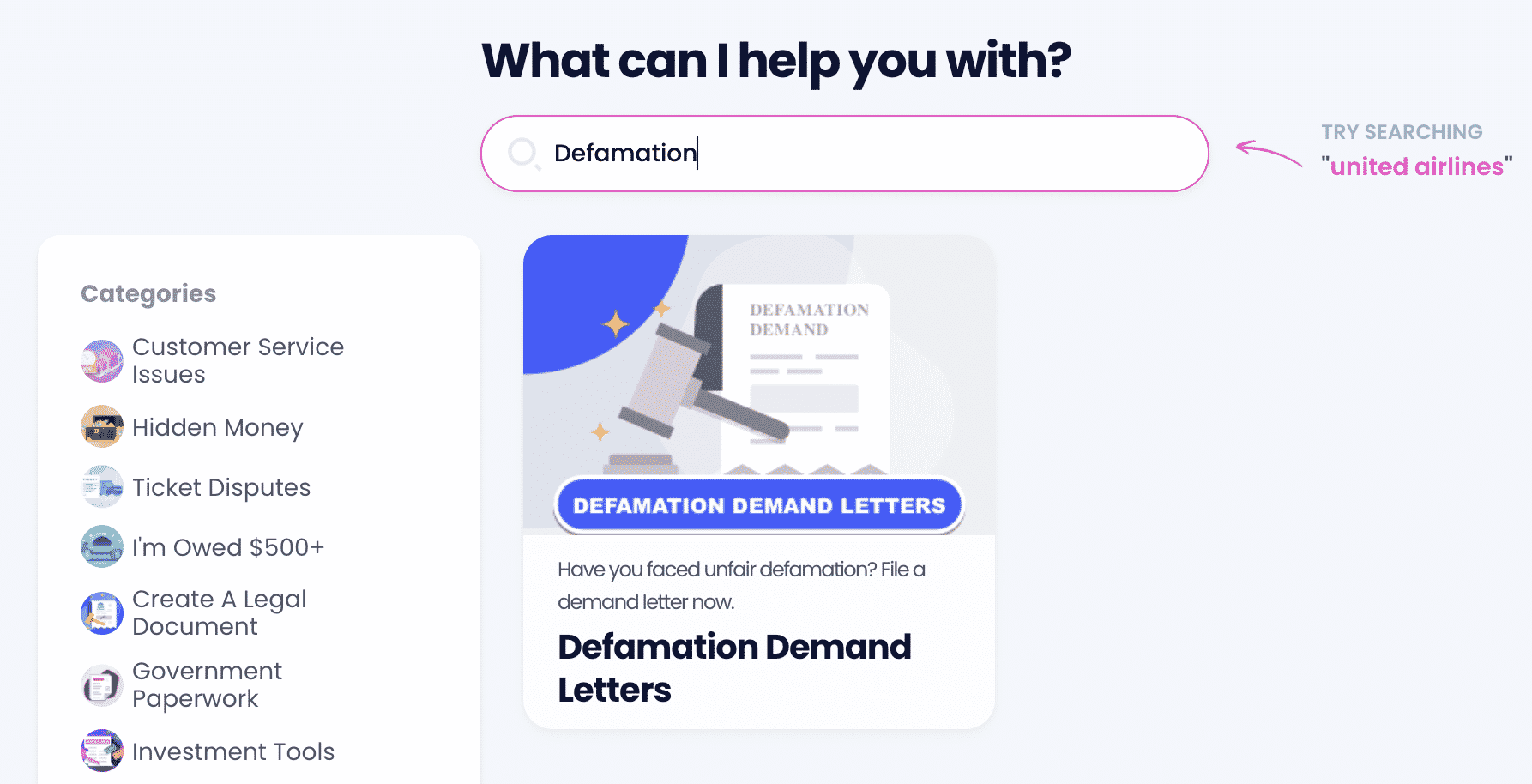 2. Tell us about your situation:
Were the statements slander or libel?
What were the statements?
Why are they false or misleading?
What consequences have you suffered as a result of these statements?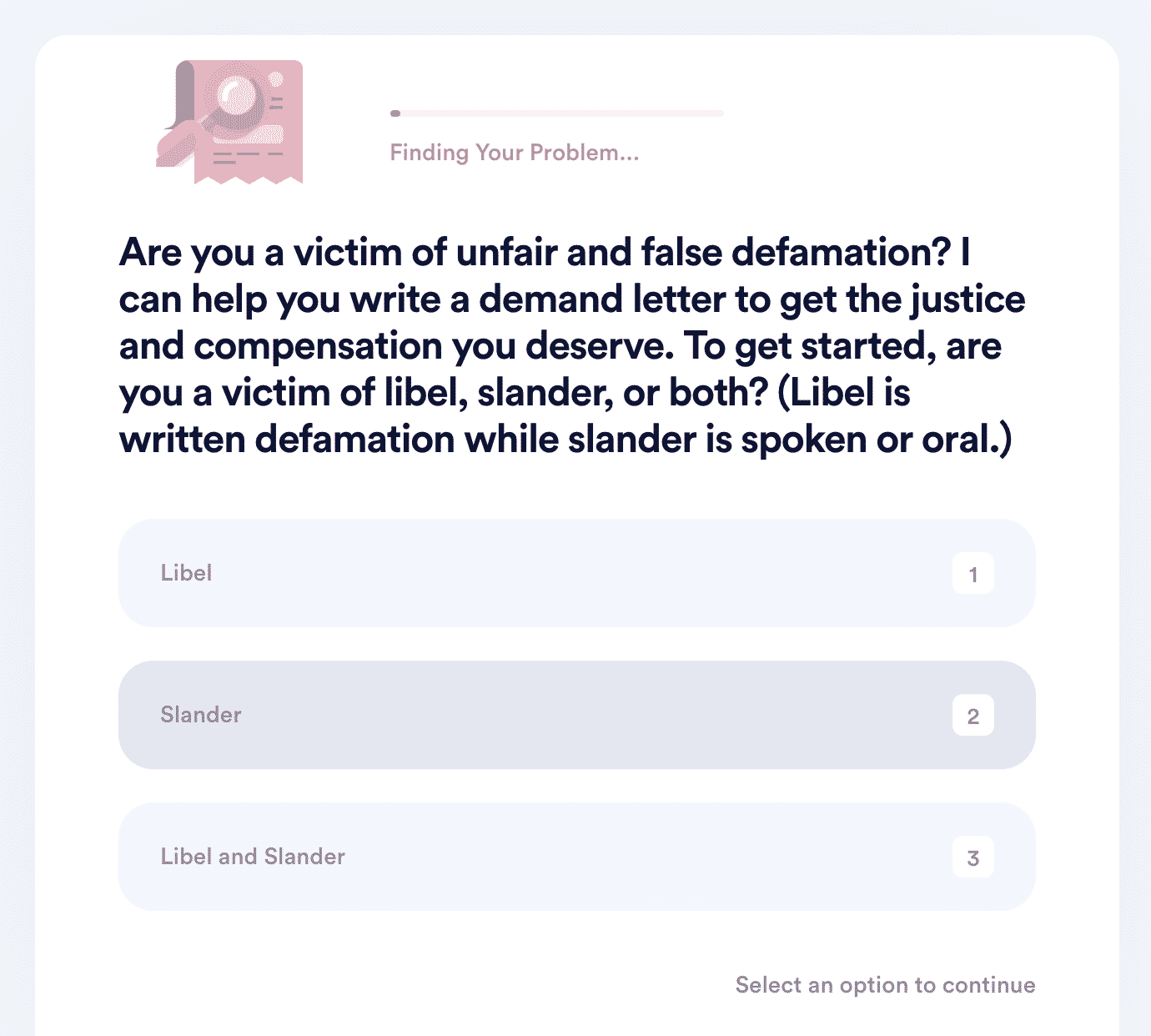 3. Based on your location, DoNotPay will immediately generate a formal demand letter on your behalf, with the most relevant state legislation regarding defamation.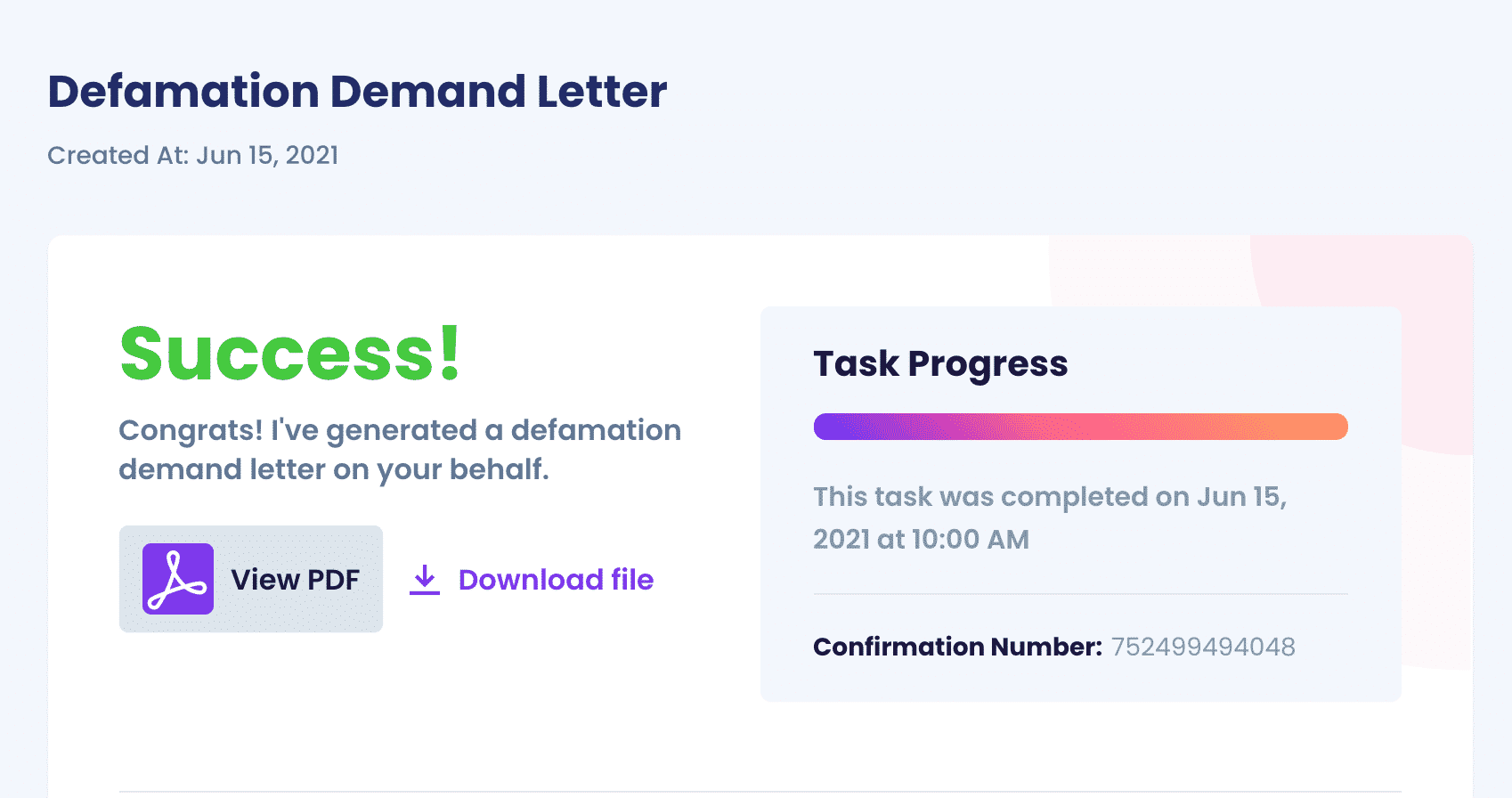 That's it! You can expect an exactly drafted cease and desist letter! The relevant state statute will also be included.
What Else Can DoNotPay Do?
DoNotPay doesn't stop at helping you write cease and desist letters. The AI-powered robot lawyer can help you with day-to-day issues such as cancelling subscriptions, creating passport photos, appealing parking tickets, and so much more! Here's what else we offer: