Learn All About the Commission Agreement

Besides receiving a monthly salary and charging an hourly rate, employees can also be paid through commission. In that case, either the employee or the employer should consider creating a commission agreement.
To learn more about the commission contract and how to draw it up, continue reading this article. DoNotPay has created an extensive guide to writing the commission contract and creating other legal documents stress-free.
What Is a Commission Agreement?
A commission agreement is a legally binding document signed between an employer who has goods for sale and an employee who will market and sell those goods. By selling the goods, the employee earns the commission as specified in the contract. The contract outlines relevant terms, such as duties of a job and a percentage or dollar amount of the commission.
Both the employer and the employee can request and create the commission agreement. There are three types of commission contracts:
Employer-employee sales commission agreement

Independent contractor

sales commission agreement

Exclusive sales agreement
The type of commission contract that should be created depends on the legal relationship between a business and the sales representative:
| | |
| --- | --- |
| Commission Contract Type | Legal Relationship |
| Employer-Employee Sales Commission Agreement | An employee is a sales representative |
| Independent Contractor Sales Commission Agreement | An independent contractor is a sales representative |
| Exclusive Sales Agreement | A sales rep has exclusive rights to sell the goods |
Why Is It Important To Sign a Sales Commission Agreement?
Signing a sales commission agreement protects both signing parties. Since the contract is a framework for a verbal negotiation regarding the terms of employment, it can prevent any misunderstanding between the employer and the employee. 
Defining the relationship, potential base salary, and commission percentage with a written contract is super important so that both parties know what to expect. 
How To Create a Commission Agreement

Whether you're an employer who pays the commission or an employee who earns it, you should know which options for creating a commission agreement you have. You can hire a lawyer to draw up a commission contract, or you can write it yourself if you can't afford a lawyer. 
Should you choose to take care of the contract on your own, the best solution is to find and follow commission contract templates online. Even though those templates are usually general and don't cover all of the clauses you might need, they can be useful guides. Make sure to find the template that fits your sales commission structure. 
Each commission agreement should include the following info:
Names of both signing parties

The legal relationship between the parties

Employment date

Non-compete clause

Commission structure

Potential base salary

Non-disclosure clause
Since every state's labor law has a different definition of commission, you will need to include the definition of the state you operate in. Make sure your commission contract includes all the relevant info as incomplete agreements can bring various risks and misunderstandings.
Sales Commission Structure Types
An important part of every commission agreement is the commission structure the employee in question follows. These are some of the main types of commission structure:
| | |
| --- | --- |
| Commission Structure Types | Description |
| Straight Commission | Employees earn income only when they complete a sale. The benefit of this structure is that it allows the salespeople to get a higher commission than most representatives |
| Base Salary + Commission | The employer provides employees with a base salary in addition to the commission. The common commission to salary ratio is 40:60  |
| Territory Volume Commission | Employees earn income based on their defined region's set commission rate. The commission is split equally among employees within a region |
| Revenue Commission | Salespeople get a percentage of the revenue they earn. Employers who follow the revenue commission structure usually pay high commission rates |
| Gross Margin Commission | The commission an employee earns depends on the final costs of the sale |
Are You Struggling To Create Other Legal Documents? DoNotPay Has Got Your Back

While you'll have to handle the commission agreement on your own, not every business contract has to be a struggle to create. DoNotPay's user-friendly Legal Documents feature can help you draw up a myriad of documents with a click of a button. You will save both time and money as you won't have to spend hours searching for templates or pay an arm and a leg for a lawyer.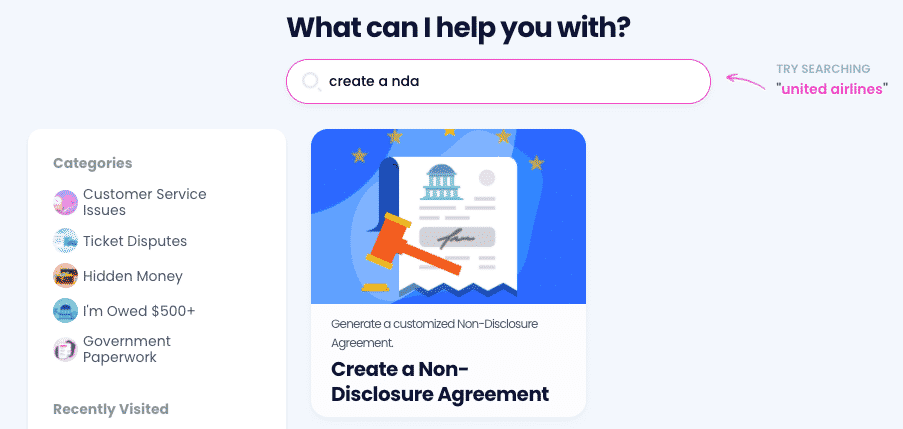 DoNotPay will help you create any contract in a few minutes for a small monthly fee. To use our feature to your advantage and write an unlimited number of documents hassle-free, do the following:
Access

DoNotPay

Enter the name of the document in question

Respond to our questions 

Download the contract and sign it 

Here's a short overview of some of the legal documents we can help you write:
Real Estate
Business Contracts
Other

Intent to Purchase Real Estate

Quitclaim Deed

Estoppel Certificate

General Business Contract

Promissory Note

General Affidavit
What Else Can Our Award-Winning App Do for You?
If you think that's impressive, wait until you've heard about other features we boast!
Our powerful app can draft paperwork for you, locate unclaimed funds under your name, cancel subscriptions, sue robocallers, and protect you from stalkers and harassers—all in one nifty browser app!
Our legal services have been recognized by the esteemed ABA Brown award, serving as a testament to our abilities to assist you with your small claims issues, free trial auto-renewals, college fee waivers, public records, copyright protection, and much more!
More Benefits of DoNotPay
DoNotPay is a useful tool for handling many otherwise annoying life's trifles, including: