What Is a Commercial Sublease Agreement, and When Do You Need It?
If you've never dealt with a commercial sublease agreement, you've come to the right place! DoNotPay is here for you whether you are a sublessor or a sublessee. This article will explain:
Understanding a Commercial Sublease Agreement
A commercial sublease agreement is a legal document between three parties:
A business entity that needs a commercial property—a sublessee or a subtenant

The lessee that occupies the space—a sublessor or a sublandlord

The commercial property owner—the lessor or landlord
The commercial sublease agreement outlines the terms and conditions agreed upon between the tenant of the commercial property and the subtenant. It also includes a statement that the property owner allows the tenant to sublease the property or a portion of the property.
What To Do Before Subletting a Commercial Property?
If you are currently a lessee under a commercial lease agreement, you should first review your original lease agreement carefully. You'll find the information related to whether you are allowed to sublease the space and under what conditions.
The commercial property owner will usually allow tenants to sublet the property, but there may be restrictions.
The second point of action is to notify your landlord about your plans to sublease the commercial space. Your original lease agreement should also include instructions on how to do it. For example, you may be required to give the lessor a notice 30 days before you sublet the space. Other requirements may include writing the landlord a notice in the form of a letter or having an option to phone or email them.
When To Sublet a Commercial Property?
Subletting a commercial property takes a lot of thought, but sometimes it's the best course of action you can take.
You may want to consider subletting the commercial property you occupy under a commercial lease agreement if your company:
Needs to relocate or close

—If the term of your commercial lease agreement isn't over, but your company needs to change office space or shut down, subletting is a great solution. That way, you save up on the costs of early termination

Doesn't require as much space as you have

—When your business operates within a smaller space than your commercial lease agreement grants, subleasing is an option you can choose. You can sublease the portion of the space you don't need and avoid having to spend resources on unnecessary relocation
Note that the terms and conditions of your sublease agreement cannot go against the terms and conditions dictated in your original commercial lease agreement. You will also be obliged to pay the landlord the rent if the sublessee falls behind on it.
What Potential Sublessees Need To Consider?
Here's what you should do if you plan to enter into a commercial sublease agreement as a sublessee:
Ask the lessee to review their original agreement

—By reading the terms of the original commercial lease agreement the sublessor has with the landlord, you will decide whether the property suits your business needs. The agreement will show whether there are restrictions that prevent you from operating your business

Do research on the sublessor

—A common practice is to ask the sublessor to review their financial records. If they refuse, you should not be entering into a sublease agreement with them. The financial information on the sublessor tells you whether they can continue paying their own rent or performing other obligations under the contract. If they can't, a landlord may remove you from the property even if you are honoring your end of the bargain
What Are the Key Elements of a Commercial Sublease Agreement?
Whether you want to draw up your commercial sublease agreement or review the one the other party provided, you should familiarize yourself with these sections:
Information about the parties

—full legal names of the parties to the agreement, along with their addresses and contact information

The commercial property description

—a detailed description of the commercial property as well as the part of the property that will be subleased

Rent and operating expenses

—rent amount and payment method

Sublessor obligations

—duties that the sublessor will have under the agreement

Sublessee obligations

—responsibilities of the sublessee and the statement that they will respect the master lease terms and conditions

Agreement term

—duration of the sublease

Option to extend

—a statement that explains whether and under what conditions a sublessee can extend the agreement

Security deposit

—security deposit amount and the details about when and under what conditions it will be returned to the sublessee

Default and remedies

—actions that are considered to be a default on the agreement by either party and how the defaults will be remedied
Use DoNotPay To Create Legal Documents in One Go!
Are you sick and tired of contract templates you can download but that don't include all the sections in a legal document you need? With DoNotPay, you can say goodbye to tiring blank forms and create personalized contracts from scratch.
The best part is that it doesn't take you more than three steps to generate a custom-made legal document with DoNotPay. Here's what you should do:
using any web browser

Enter the name of the legal document you need

Give us a few important details you want to be included in your document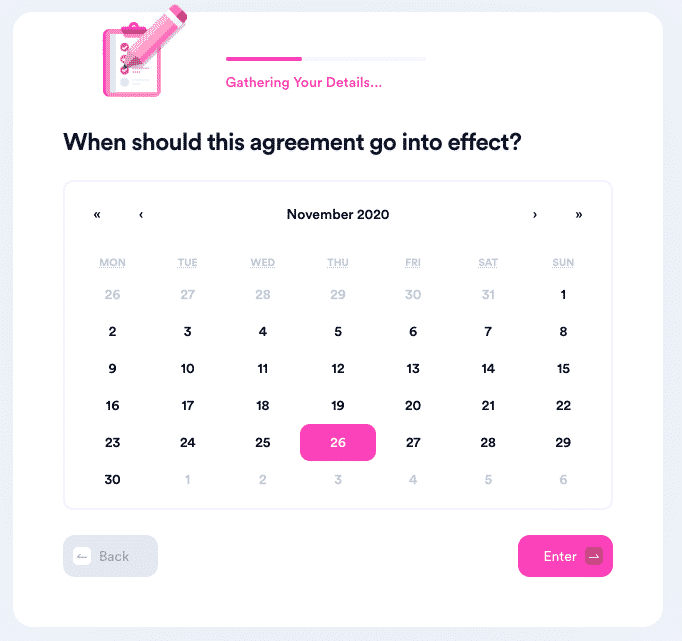 Legal Documents You Can Create With the Help of DoNotPay
Using , you can generate a number of contracts for all kinds of purposes.
Check out the table below to see what some of the most common legal documents that DoNotPay generates are:
Legal Document Type
Agreement Name

Business

General business contract

Real estate

Estoppel certificate

Quitclaim deed

Intent to purchase real estate

Other

Promissory note

General affidavit

Child care authorization form
Free Yourself From Boring Tasks With DoNotPay's Help
Our AI-driven app comes in handy for numerous bureaucratic or administrative chores that usually take up a lot of time. With DoNotPay's speedy service, even the most tiresome task will be complete in a flash!
You can forget all about waiting in line at the DMV and being on hold with customer service—we will get you to the finish line in a few clicks. Tired of the old snail mail? Use DoNotPay to mail letters fast. Better yet—fax your documents using our app. If your document requires a notary's signature, we can assist you in scheduling a virtual appointment.
No Lawyer—No Problem! Rely on the World's First Robot Lawyer
When you're in a bind but you can't afford a lawyer, there is still something you can do—sign up for DoNotPay and let our award-winning app give you a hand. With our expertise, the following tasks will be a piece of cake: