Should You Prepare a Commercial Photography Contract? 
If you are a photographer, you need to decide whether you require a commercial photography contract. While some people will advise you to create a contract to protect your projects and business, you might still have some doubts. Drawing up legal documents can be a real hassle. 
This article provides useful information that might help you make up your mind. Apart from that, DoNotPay offers an affordable tool you can use to draw up lots of agreements and documents.
Why Do You Need a Commercial Photography Contract?
You should have a commercial photography contract to avoid:
Misunderstandings

Difficulties 

Profit loss

Being sued
To protect your rights and resolve any disputes, you should sign a contract before taking photographs for different events and purposes, including:
Brochures

Leaflets

Real estate trade

Advertisement campaigns
As with any other job, you will have to agree on certain terms and conditions with your clients. To make your business transaction legitimate and professional, you should have clear terms and consequences in writing.
How To Create a Commercial Photography Contract
You can create a commercial photography contract by:
Consulting a lawyer

Using contract templates
Hire a Lawyer To Prepare a Commercial Photography Contract for You
While it is a good idea to hire a lawyer to create a contract for you, this option can be pricey. Large companies do that since they want to:
Play it safe

Make sure all legal aspects are covered
If you do not have enough funds to have a lawyer draw up the contract from scratch for you, you can have him or her review the contract you have prepared using contract templates.
Should You Rely on Contract Templates?
You can check out some photography contract templates online to determine what your document needs to include. Keep in mind that each contract should be customized for a specific project. 
Another aspect you need to consider is that some platforms require payment for accessing or downloading contract templates.
What Should a Commercial Photography Contract Include?
To make sure you do not skip important parts in your commercial photography contract, consult the table below:
Contract Sections
Additional Information

Contact information

The names and contact details of your:

Dates

Contract start and end dates

Shoot(s) if applicable

Delivery results

This part should include:

The total amount a client needs to settle

What you will deliver in exchange for the agreed payment

Date, time, and location for a one-time shoot

Cancellation policy

You should cover the following:

How and when you or your client can cancel the contract

Non-refundable retainer 

Whether:

Additional fees will apply

You will return a part of the deposit 

Payment schedule

You should break down all expected payments, such as:

The amount of the retainer when booking the shoot

Several payments for large jobs

What will happen if any payment:

Copyright ownership and transfer of use rights

Photographers need to retain copyright and can grant their clients use rights for:

A limited amount of time—common for commercial photography contracts

Life—typical for personal photos, such as wedding photographs, family portraits, etc.    

Property and model releases

If the photographs will be shown to the public, you need property and model release forms. If you are planning to use your clients' images, you:

Should inform them about it

Can charge an extra fee if the client refuses to sign the release form

Liability limitations

This part of the contract should cover what happens in case:

There is damage

The project cannot be performed

You can include events beyond your control here, such as:

Injury

Illness

Lost files

Force majeure

Editing and post-production

This section should cover:

What edits you provide (if any)

Whether clients can edit your images

How clients can use your photographs

Additional fees

These fees can include, for instance:

Cancellations

Travel expenses

Extended shoot time

Major editing and changes

Late or bounced payments

Permit costs for some shooting locations
Create Contracts Tailored to Your Needs With DoNotPay 
DoNotPay keeps designing accommodating features to help you deal with various administrative matters. One of them is our Standardized Legal Documents product that can generate various legal documents and agreements efficiently.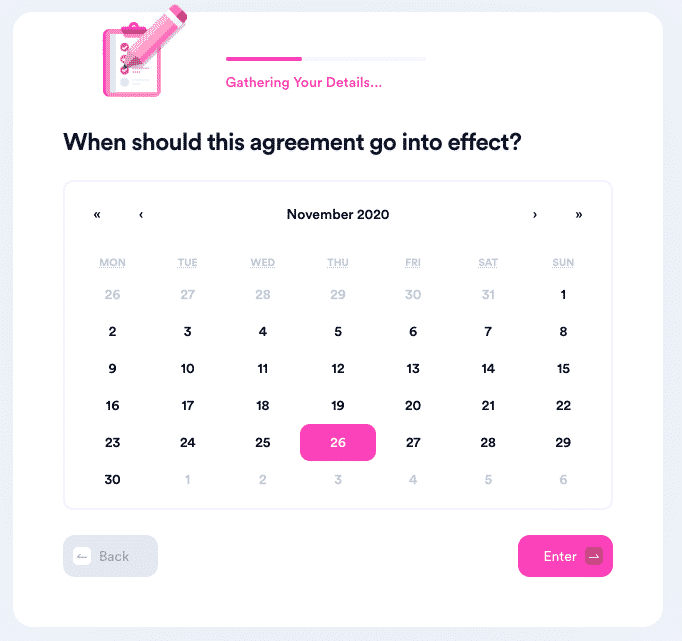 Whenever you need a customized document, access DoNotPay and follow these short steps: 
Choose our

Standardized Legal Documents

product

Enter the name of the document in the search field

Answer a few basic questions 
Once you enter the necessary information concerning your personal or business requirements, we will use it to create a document to meet your needs.
What Documents Can DoNotPay Help You With?
You can access our AI-powered app to generate numerous documents, including the following:
General business contract

Promissory note

Quitclaim deed

General affidavit

Intent to purchase real estate

Child care authorization form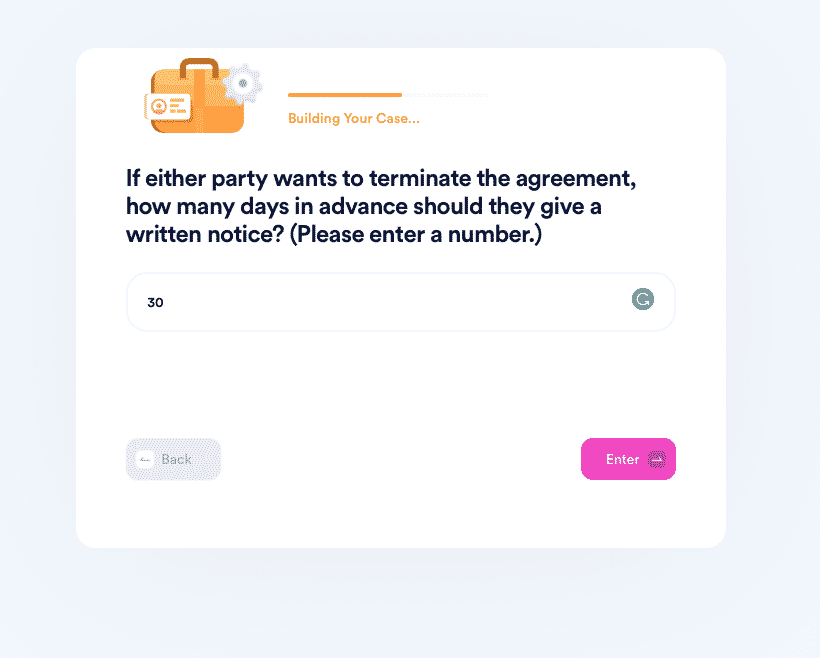 Besides creating a legal document in three clicks and a few minutes, DoNotPay also offers you the option of drawing up as many contracts as you wish for the price of one monthly subscription!
Sign up for our service if you would like to avoid:
Creating an agreement from scratch on your own

Paying a hefty sum for a lawyer's full service and time 

Using general templates that might miss significant aspects of your business deal
Facing Financial Issues? DoNotPay Can Take the Burden Off Your Shoulders
If you need to count pennies at the end of each month, DoNotPay is here to help you get a payment extension and pay your bills worry-free. 
Prospective students who struggle to cover their university-related costs can also rely on DoNotPay to request a college application fee waiver.
Do you think that your property taxes are too high? Use our app to reduce your property tax bill as effortlessly as possible. 
Get Rid of Spammers For Good!
Are spam texts and emails cluttering your inbox? DoNotPay has a few products you could benefit from! Rely on us and get rid of spam in less than two minutes. If shady robocalls are testing your patience, you can block them with our help and request robocall compensation right away.
To avoid providing your real phone number when signing up for online services, you should choose our Burner Phone feature and use the number we provide.
What Else Can DoNotPay Assist You With?
DoNotPay boasts many useful products that help millions of Americans handle their everyday hurdles in minutes. 
With us, you can prepare for any government test for a low monthly fee, send online faxes in the blink of an eye, and request cash back for your gift cards stress-free.
Do you have a friend or relative who's serving time? Use our mailing service to send letters to inmates with no hassle.
Learn how to fight workplace discrimination and confront a neighbor who's giving you headaches all through the same app!
Log in to DoNotPay and solve any administrative issue—including setting up an appointment with the DMV and filing an insurance claim—by following a few simple steps.