The Ins and Outs of a Commercial Lease Agreement

When you want to rent a business space or a commercial property, you need a commercial lease agreement. This agreement has many types and can be tricky compared to a basic rental agreement. Not to worry—we'll show you the ropes and provide answers to your questions.
What Is a Commercial Lease Agreement?
A commercial lease agreement is a legal document between a property owner (the lessor) and a business owner (the lessee). Regardless of which side you're on, a commercial lease is a serious business venture and is typically long-term. You should familiarize yourself with the potential types and terms so that you're satisfied with the agreement you're entering into.
Business Lease Agreement Types Explained
Commercial leases have different types. The three most common ones are:
Gross/full-service lease

Net lease

Modified gross/modified net lease
The types differ in the person who bears certain expenses, such as taxes. Check out an overview of all business lease agreement types in the table below:
Types of Commercial Lease Agreements
Key Features

Gross/full-service lease

Lessee pays a fixed monthly rent

Lessor covers the operating expenses, including insurance, maintenance, and property taxes

An expense cap may exist to limit the amount of money the landlord should pay

Landlord may negotiate a higher rent since they need to cover other expenses

Modified gross/modified net lease

Tenant pays rent

Both the tenant and the landlord cover parts of the operating expenses

Net lease—single net lease

Lessee pays for one of the operating costs

Net lease—double net lease

Lessee bears the cost of two operating costs

Net lease—triple net lease

Tenant must pay rent as well as all three major operating expenses

Net lease—absolute (triple net) lease

Tenant covers the rent, operating costs, and repairs

Percentage lease

Retail commercial properties typically have this agreement

Lessee pays base rent and an agreed percentage of the monthly income
How Is a Commercial Real Estate Lease Agreement Different From a Residential One?
Aside from the basic difference between commercial and residential lease agreements—the former referring to business and the latter to private rentals—there are a few more important distinctions:
Term variety

—Most landlords use a standard residential lease agreement, but commercial agreements vary greatly depending on the tenants and their businesses

Duration of leases

—The majority of residential leases last for one year, whereas the commercial ones can last for several years

Negotiability

—Commercial lease terms are more negotiable and are subject to change

Legal protection

—Commercial lessors and lessees have less legal protection than the residential ones because the state and consumer laws typically apply to residential leases only
What You Should Know Before Entering Into a Commercial Rental Agreement
Research is key when it comes to commercial rental agreements. Since the agreement is customizable, the more you know, the more it can benefit you. Here are some details you should look into before you negotiate and sign anything:
Zoning laws

Environmental laws

Location of the property

Landlord and the building owner

Potential terms of your agreement
What Should a Simple Commercial Lease Agreement Cover?
Check out what most commercial lease agreements should include:
Full names of the parties

Description of the property

Use of the property

Lease term—usually expressed in months

Subleasing

Security deposit

Rent—the amount, base rent, adjustments, and increases

Other expenses (e.g., insurance, maintenance, and repairs)

Landlord access

Improvements and alterations to the property

Dispute resolution

Termination

Compliance with the Americans with Disabilities Act (ADA)

—The property must be accessible to people with disabilities if the business is open to the public and operates with 15 or more employees
DoNotPay Can Draw Up Various Legal Documents for You
Whether you're the business owner or the property owner, you may need to draft other legal documents besides the commercial lease agreement. Using DoNotPay is the best way to write a contract. No need to Google search different contract templates because we'll do all the work.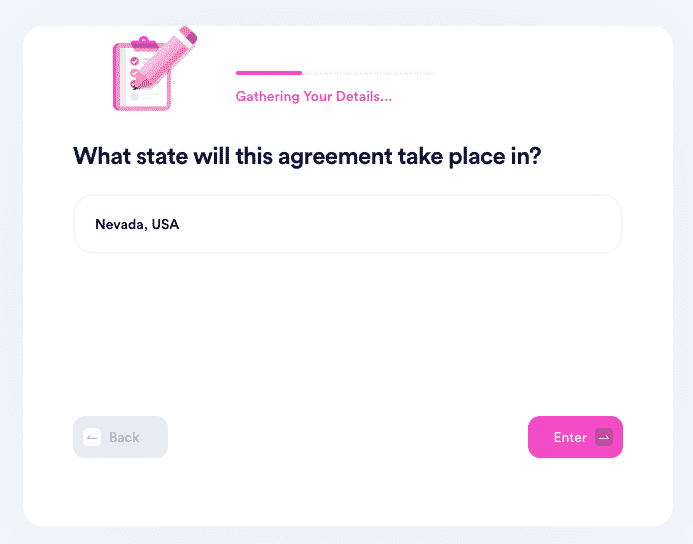 Follow these instructions to create a legal document like a pro:
Open DoNotPay in a

web browser

Enter the name of the legal document you need

Provide relevant info by answering a few questions
Our AI-powered app will get down to business and draw up an agreement of your choice in a few minutes. Remember to review your document carefully before signing or notarizing it.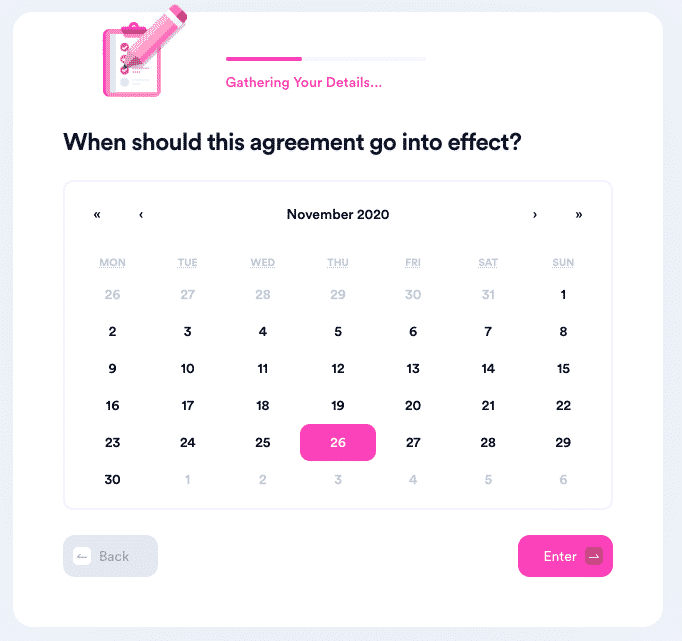 Turn to DoNotPay for More Help With Legal Documents
Our app is a vast database helping you understand and draw up numerous legal documents. The table below shows which documents we can draft for you and which we can break down. DoNotPay's knowledge base grows every day, so feel free to browse our learning center.
Legal Documents You Can Generate
Legal Documents You Can Learn About

Estoppel certificate

Quitclaim deed

Promissory note

General affidavit

Intent to purchase real estate

Residential lease agreement

General business contract
Fighting Administration Is Easier With DoNotPay 
Bureaucracy is a disease of the modern world, and we finally have a cure. Thanks to artificial intelligence, DoNotPay knows how to handle numerous rules and regulations and make your life so much easier. 
Our bots ask you a few questions, gather the necessary info, and off they go! Filing warranty and insurance claims, requesting property tax reductions, getting access to public records, or claiming unclaimed funds under your name—you can deal with these bothersome tasks from the comfort of your home and within minutes!
If you need to get in touch with customer service representatives to ask for refunds or contact airline companies regarding compensation, our platform will make the process painless and care-free.
Don't hesitate to put our app into service if you need to contest parking tickets or avoid long lines at your local DMV!
How Else Can We Help?
Not only does DoNotPay handle bureaucracy, but it also saves you money in the process. Whether you're looking for the best learning materials for government tests or planning to comb through and cancel streaming subscriptions you don't use, DoNotPay can give a helping hand.
Our platform grows every day and comes with user-friendly features that will help you manage unpaid bills, stop copyright violation, or solve problems with credit cards faster than ever!