All Your Questions About a Commercial Lease Agreement in Florida Answered
You find it difficult to understand how a commercial lease agreement works, but this article will help you get the hang of it quickly!
If you need to rent a space for your business in the Sunshine State, get ready to review and sign a commercial lease agreement in Florida.
Forget about scanning countless contract templates that only waste your time and learn how to write contracts easily with DoNotPay.
What Is a Commercial Lease Agreement?
Before entering into a commercial lease agreement in Florida, you should know exactly what this agreement is.
A commercial lease agreement is a legal document between a party that needs a commercial property for their business and the other that rents out their property to the first party.
In a commercial lease agreement, you'll see the words lessor—referring to the property owner—and the lessee—referring to the business owner who uses the property.
Unlike residential lease agreements that have a duration of at least several years, a commercial lease agreement usually lasts for a year only. The duration of the contract, along with other details, depends on what the business is and the commercial property it uses.
Under a commercial lease agreement, a business can use and operate on:
Retail spaces

Offices

Industrial spaces
Commercial Lease Agreements in Florida
If you are entering into a commercial lease agreement in Florida, the first information you want to know is how much you will have to pay. The price of using a commercial property is often calculated per square foot, but other factors are also considered, such as:
What the market value of the property is

How much the lessor spends on improvements, which is called a fit-up

What your business' credit score is
Other than knowing the price, you should also consider these specifics about the commercial lease agreements in Florida:
Business entities don't enjoy the same consumer rights that residential property lessees do

If the agreement's duration is longer than a year, the singing needs to be conducted in front of two witnesses, and the agreement needs to be in writing

A lessor should inspect the property before entering into the agreement

If the lessee finds defaults on the property, they can't sue the lessor if they inspected the property before signing the agreement 
What Information Does Your Commercial Lease Agreement in Florida Need To Contain?
Since commercial lease agreements are complicated, you should familiarize yourself with them thoroughly. To know what you are signing and be able to negotiate the terms and conditions with the other party, you should know what sections there are in a commercial lease agreement and what they mean. 
Every commercial lease agreement is different, but the following elements are found in all of them:
Names of the parties

—full legal names of the landlord and the business entity

Property description

—legal title and description of the commercial property, such as location, square footage, and the number of rooms

Lease duration

—the period during which the lease will be in effect

Rent payment

—the amount of rent the lessee will pay and the payment schedule

Agreement statement

—language that states both parties agreed on the terms in the contract

Security deposit

—the amount of security deposit the lessee will pay and when they will get the deposit back

Signatures of the parties

—signatures that the parties put on the agreement in front of a notary
Use DoNotPay To Learn More About Lease Agreements and Other Contracts in Florida
DoNotPay answers your questions regardless of what type of legal document you have to deal with.
In the table below, you can check out the information about various lease agreements and other types of contracts you may use in Florida:
| | |
| --- | --- |
| Lease Agreements | Florida Contracts |
| | |
Customize Your Legal Document With DoNotPay!
DoNotPay—your pocket-sized lawyer—designed a feature that helps you generate customized contracts in three short steps!
Ditch expensive lawyers and outdated contract templates and get a fully personalized legal document in a snap with your DoNotPay's account! Here's what to do if you want our AI-powered app to create a document for you:
Enter the name of the contract you need

Answer a few questions about the contract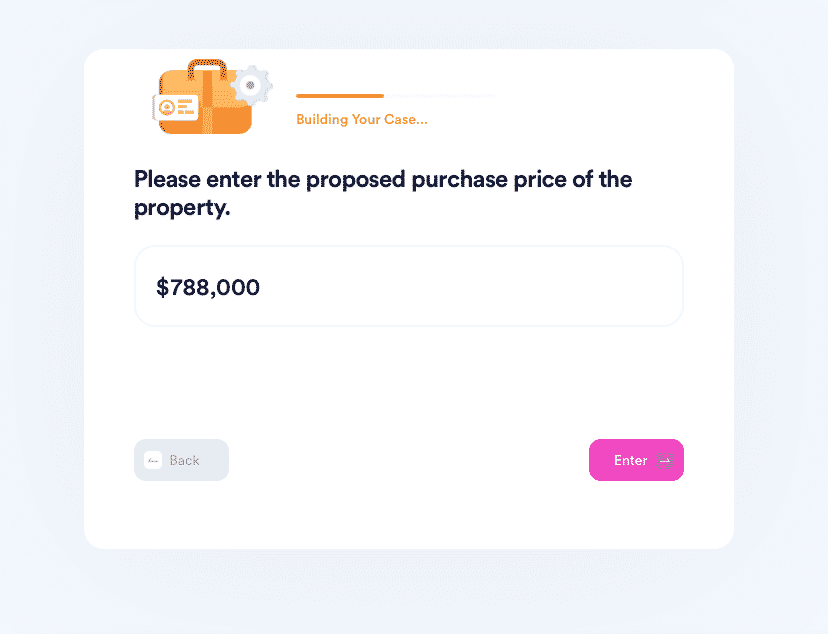 Don't forget to e-sign and notarize your document once you download it. DoNotPay's Online Notary feature helps you get the whole business done in one sitting! 
Lease Agreements Aren't the Only Contracts DoNotPay Generates
From , you can generate numerous legal documents you need in your personal and professional life, including:
Estoppel certificate

General affidavit

Promissory note

Intent to purchase real estate

Quitclaim deed

General business contract

Child care authorization form
DoNotPay—A Pocket-Sized Assistant
If you need protection from stalkers and harassers, we know what to do. If you want to fight workplace discrimination, DoNotPay has got your back. Even spammers don't stand a chance against our AI-powered app—both the texters and the robocallers.
If your situation takes a turn for the worse, you may need to take the issue to court. In this case, the world's first robot lawyer swoops in to help! You can count on DoNotPay to assist you every step of the way, regardless of whether you need to take a person or a company to small claims court.
Our App Helps You Through Numerous Red-Tape Issues
Dealing with paperwork doesn't have to be tedious. With DoNotPay's help, cutting through red tape is fast and easy. With a few clicks in our app, you'll be able to: