The Ins and Outs of Commercial Aquaponics Startup Costs
When starting a commercial aquaponic business, you must plan your budget carefully so you know how much capital you need to get your business off the ground.
In this article, we will break down the commercial aquaponics startup cost and teach you all about small business loans.
The Overall Commercial Aquaponics Startup Cost
Estimating the startup cost of aquaponics can be tricky, as there are a lot of variables that come into play. The initial cost of opening a commercial aquaponics startup ranges from $30,000 to $350,000, and it is primarily affected by the following factors:
Greenhouse expenses
Hydroponic method used
Greenhouse Expenses
While you do not need a greenhouse to run a small-scale aquaponics business, building one is indispensable for most commercial aquaponics operations. The cost of building a greenhouse depends on several aspects, such as:
Design
Capacity
Ventilation
Protection
You can expect to spend anywhere between $80,000 and $120,000 for a commercial greenhouse installation. Don't forget to factor in the cost of repair and maintenance, which can go anywhere from $290 to $9000.
Hydroponic Methods
Technology and growing methods also affect the costs of running your aquaponics startup. You have three options:
Nutrient Film Technique (NFT)
Deep Water Culture (DWC)
The Media Bed Setup
Below is an overview of the installation cost for each technology:
Technology
Cost
NFT

Fixed NFT: $30,000
Open-lid NFT: $60,000

DWC
~$64,000
The Media Bed Setup
~$350,000 ($5–$10/bucket)
Additional Expenses
You will need around $100,000–$150,000 to cover the operating capital. This budget is used for expenses such as:
Hiring staff ($8–$12/hour per employee)
Utilities ($500–$1,000 per month)
Heat, ventilation, and air conditioning ($4,850–$9,400 per month)
Fish tank and filters ($10,000–$15,000 per year)
Available Loan Options for Commercial Aquaponics Startup Costs
You can consider several loan options to finance your growing business, as follows:
The U.S. Small Business Administration (SBA) loans
Loans from banks and other lenders
SBA Loans for Commercial Aquaponics Startup Costs
SBA loans are small business loans that allow you to cover various business-related costs. Securing an SBA loan can be a challenge as you need to have an excellent personal and business credit score to qualify.
It is important to note that the SBA is not a direct lender. To secure an SBA loan, you need to apply through banks and other lenders that act as intermediaries. Rates and fees vary between institutions.
USDA Loans for Commercial Aquaponics Startup Costs
The USDA offers some of the best small business loans for agribusinesses. You can get anywhere between $200,000 and $5 million. The loan terms vary among lenders, but the USDA will set the limit on how much you can borrow based on your loan purpose.
You qualify for a loan if your business operates in a rural area with less than 50,000 residents. The money can be used to cover the cost of agricultural production, equipment, processing facilities, supplies, and machinery.
To get a USDA startup business loan, visit a credit union, bank, or any lender that is partnered with the USDA. If you meet the criteria, you can submit a loan application to the USDA.
Loans From Banks and Other Lenders
If the SBA and USDA loans don't work out for you, you can also secure funding from a local bank or online lenders. Here is how it works:
Bank loans—If you have an excellent credit score, you can apply for a traditional bank loan. The approval time can last up to several months, so this is not an ideal solution if you need cash fast
Business credit cards—Applying for business credit cards is easier compared to other types of loans. This kind of funding is useful for short-term or unexpected expenses
Find a Lender With DoNotPay Without Hassle!
Finding a lender is no longer a challenge with the help of DoNotPay's Find Online Business Loan Lender feature. Here's how you can use it:
Navigate to the Find Online Business Loan Lender product
Answer a few questions
Specify your business type and industry
Within minutes, our app will recommend the top three institutions for you to consider. These rankings are based on the rates, terms, processing speed, and potential loan amounts.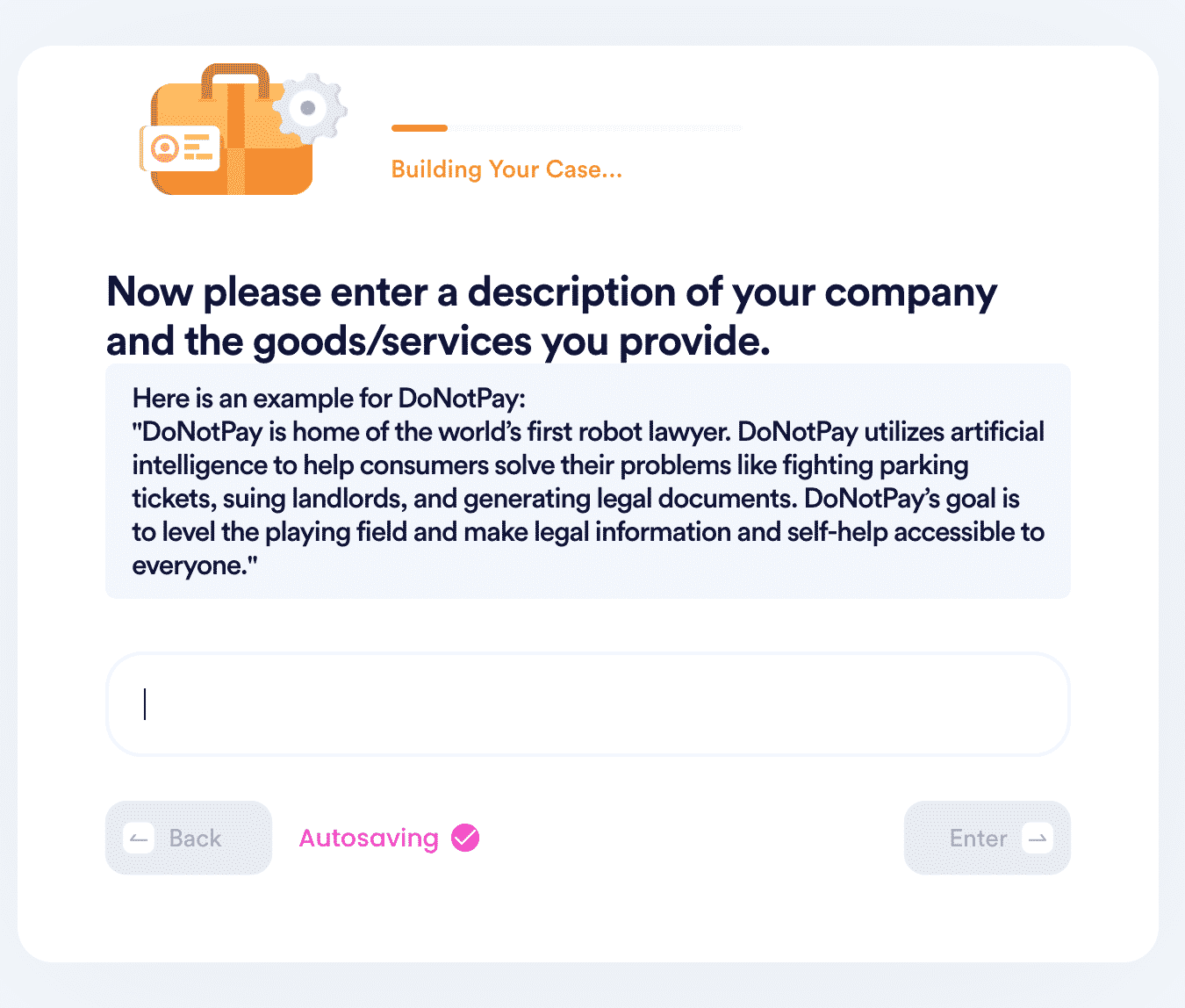 Boost Your Chances of Securing a Loan With DoNotPay!
A well-written loan request letter can make or break your chances of getting a loan. Hiring a lawyer to create the letter can be expensive. You can avoid paying a small fortune thanks to our product.
DoNotPay can help you draw up and send a professional loan request letter to any lender. Here is what you need to do:
Locate our Business Loan Request Letter product
Provide some details about your requirements and upload the supporting document
You might need to provide various business and financial statements, such as:
Profit and loss
Cash flow
Balance and assets
Our app will create a loan request letter in no time.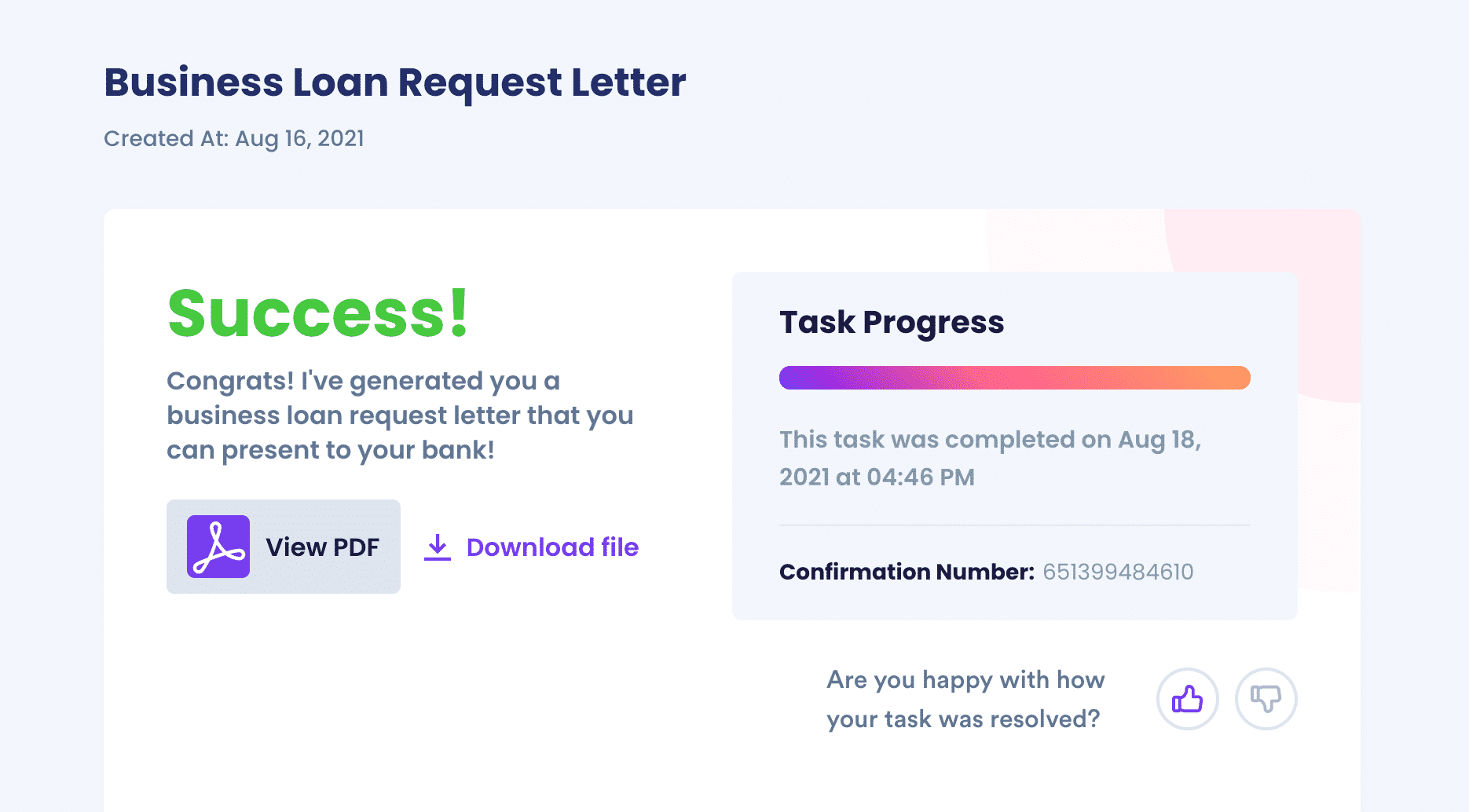 Have Other Startup Ideas To Grow? We Have More Resources You Can Check Out!
If commercial aquaponics is not the only niche you want to dip into, you should be aware of the costs of running other businesses. Here are some of the industries we can help you with:
Run Your Business Worry-Free!
Every beginning is challenging, which is why DoNotPay has everything you need to start running your business stress-free! We have created numerous easy-to-use products that will make boring administrative tasks easier to manage.
To help you get started, DoNotPay will assist you in taking care of trademark, Employer Identification Number (EIN), and DMCA agent registration, Privacy Shield self-certification, and business loan requests.
We can even help you maintain a good business reputation by:
Monitoring your trademark and filing a cease and desist letter in case someone tries to use it
Reporting fake negative reviews that could harm your business
Disputing illegitimate chargeback requests in a matter of minutes
DoNotPay Helps You Create and File a Number of Legal Documents
Why waste time worrying about how to draw up and file various legal documents when you can have the world's first robot lawyer do that in your stead? You do not have to waste thousands of dollars on lawyer's fees—our extensive database has a myriad of documents on offer.
DoNotPay will help you automate the procedure of completing and filing 83(b) election forms, write a formal demand letter requesting payment from clients who try to avoid it, and deal with other important paperwork.
Don't want to waste time going to the post office to mail a contract? Now you do not have to! With DoNotPay, you can fax and mail any document in a matter of clicks!