Your Only Guide to Untangling the Columbia University Scholarships
Being accepted at Columbia University (CU) is a big deal because of the school's Ivy League status and single-digit acceptance rates. Unfortunately, CU's high tuition costs and pricey New York City location also make it the second most expensive college in the U.S.
Many low-income group students are intimidated by the university's rising tuition fees and on-campus living expenses, which can add up to a staggering $80,000!
Columbia University scholarships and grants help you surpass financial setbacks, but looking for those you qualify for is like finding a needle in a haystack. This article will help you narrow down your search for ideal scholarships at CU and explore other financial aid options as well!
Understand the Scheme of Scholarships for Columbia University
While there is a plethora of undergraduate, graduate, and professional scholarships at Columbia University, it's hard to figure out which ones fit your student profile. To achieve that, you need to understand the scholarship distribution scheme followed by CU.
Currently, CU offers three types of scholarships, depending on the source of funding:
School-funded merit scholarships
Institutional need-based aid
Outside awards
Columbia University Merit Scholarships Offered by Campus Schools
CU is organized into 21 schools that offer strictly merit-based scholarships. Due to heavy competition, the selection committee considers the following factors before awarding scholarships:
Student's athletic ability
Extracurricular work
Volunteer service experience
Minority background—preference may be given to students from underrepresented:

Ethnic and religious communities, such as Hispanics, Filipinos, Indians, Africans, Asians, Muslims, or Catholics
Demographic groups, like black women, veterans, foster youth, or transgender individuals
At present, you can find dozens of merit-based scholarships offered by the following CU schools:
Columbia University Scholarship—Institutional Need-Based Aid
Columbia University's institutional aid fund is managed by the university's central administrative team, independent of the CU schools. This aid is also called the Inter-School Fellowship as it can be awarded to anyone attending one of the CU schools who struggles financially.
To apply for need-based financial assistance for college, you need to visit your school's financial aid office and submit the following:
Remember that institutional aid ranges from $1,000–$5,000. You need to look into campus work-study options if the award still doesn't meet your financial needs.
CU Scholarships Sponsored by Outside Organizations
Certain private organizations offer scholarships—called Outside Awards—to high school seniors or existing junior college students looking to enroll in a CU school. Many companies provide such scholarships to their employees or employees' children, but the assistance can be limited to a particular school.
Some country- or state-specific organizations offer Columbia University scholarships for international students, legal immigrants, out-of-state students, or transfer students specifically.
Here are some examples of the current Outside Awards available at CU (they may not be available every year):
How To Evaluate Columbia Scholarships Without Wasting Time
Are you bulldozed over by the overload of financial aid options at CU? We understand this overwhelm quite well.
Columbia University offers financial assistance to various students, but you may not be able to view all active scholarships on its website. If you want to evaluate the eligibility requirements and deadlines of each scholarship, you may need to spend hours and hours visiting multiple student financial aid offices on the campus.
If searching for scholarships seems too time-consuming, consider using DoNotPay's scholarship finder product. Our app saves your time by generating a consolidated list of all scholarships you qualify for in under five minutes!
We maintain the latest database of all active scholarship programs in the U.S. All you have to do is open your DoNotPay account and fill out our short student questionnaire with details such as your grades, location, interests, and qualifications. Our app will instantly match you with relevant scholarships offered by CU and other organizations across the country.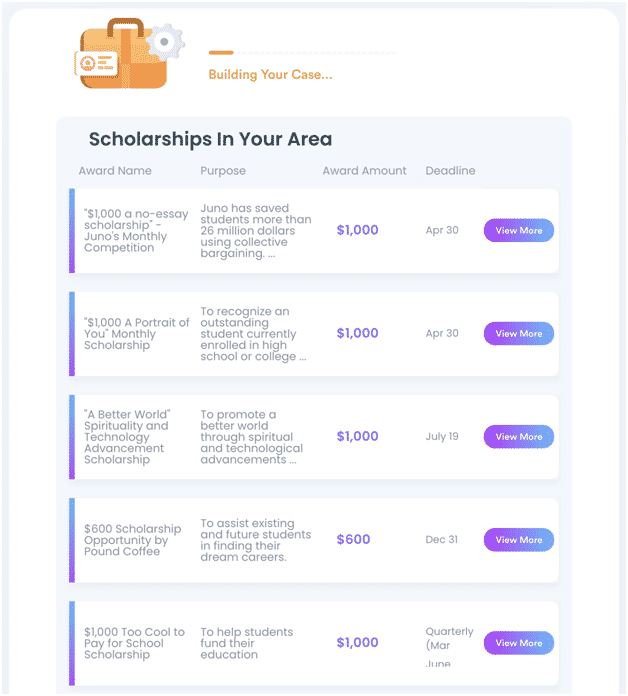 Don't Suffer in Silence—Apply for Selected Scholarships With DoNotPay's Support
The bitter truth is that, despite suffering financially, many students never apply for the abundant scholarship opportunities available to them.
DoNotPay aims to fix this problem with our handy Apply for Scholarships tool. Our app not only gives you a tailor-made list of scholarships but also offers to apply for all no-essay scholarships you qualify for on your behalf!
DoNotPay's scholarship application option generates a list of no-essay scholarships that you're eligible for. Once you browse and select your favorite options, we will apply for the selected scholarships in your name. You will also get a confirmation email after each successful application.
Here's what you need to do:
Log in to DoNotPay and search for Scholarships
Finish the student questionnaire
Choose if you want to search or apply for scholarships
Using our Apply for Scholarships product every week will ensure you're exposed to the maximum number of relevant scholarships. That way, you won't be limited to Columbia University scholarships and will have a real chance at winning other substantial financial awards.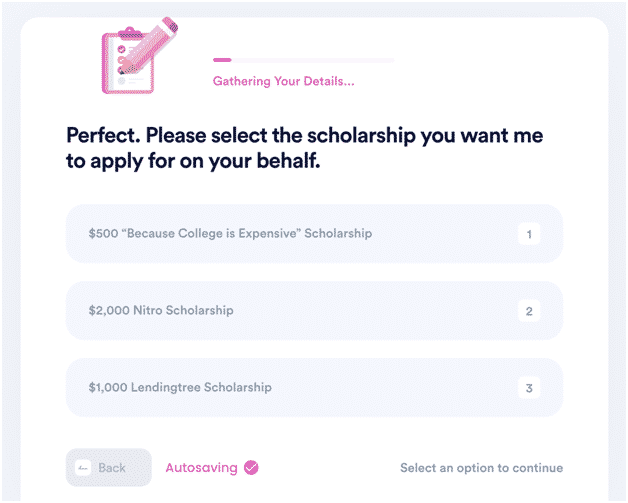 Tips To Win More Scholarships
Any scholarship, whether small or big, can replenish your college funds and minimize student loans. DoNotPay covers the no-essay scholarship game for you, but here are some tips to help you win the rest of them:
Save Time With DoNotPay
DoNotPay is not done helping you! We offer you assistance in completing a variety of tasks quickly and efficiently, such as:
Canceling Subscriptions Has Never Been Easier!
If you keep getting charged a monthly subscription fee even though you no longer want to use a certain service, don't let your money go to waste! Some companies tend to renew your subscription automatically, but that doesn't mean you have to put up with it—use our app to terminate your membership or subscription in a few clicks!
Do you want to sign up for free trials and create a virtual credit card or a burner phone number to protect your sensitive info? Once you subscribe to DoNotPay, we will walk you through the process of doing all of the above in no time!
You can also count on our assistance if you need to get rid of spam or robocalls.