Colorado's Veterans Benefits—All You Need to Know
Veterans have bravely served this country, which is why all veterans deserve easy access to their benefits. Unfortunately, many veterans have a hard time obtaining the benefits they deserve. The process is often nothing short of time-consuming and leaves many veterans frustrated with the process.
At DoNotPay, we strive to make the process of getting your Colorado veterans benefits as easy as possible. You don't need to spend time searching through multiple sites to find out what benefits you qualify for, we can do the hard work for you. Today we're going to share some important information about military benefits for veterans in Colorado and how to get started with DoNotPay.
Do I Qualify for Veterans Benefits in Colorado?
You can receive Colorado veterans benefits if you are a service member, veteran, or the family of a veteran. The following is a guideline for those who qualify for benefits.
Honorably separated active-duty veterans who served during a time of war or in receipt of a campaign medal
The spouse of a veteran who is unable to work because of a service-connected disability
The widow/widower of a veteran who is deceased is entitled to a veteran's preference
What Benefits Do I Have Access To?
Colorado offers a variety of benefits for veterans. These benefits can be separated into 4 different categories, including financial, employment, education, and recreation benefits.
Colorado offers a wide range of benefits that veterans can take advantage of. This includes property tax exemption, income tax on active duty pay, income tax on retired military pay, and a military family relief fund.
Another benefit that veterans can take advantage of is employee benefits. In fact, Colorado offers preference to veterans by way of extra points that are added to the state employment exam.
National Guard Education Benefits
Any veteran who is a part of the Colorado National Guard is eligible for state tuition assistance. Assistance can include up to 100% of tuition paid at any Colorado state-funded school. Keep in mind that this will depend on funding availability. In order to qualify, you must serve 2 years for each year granted.
Colorado offers an extensive list of recreation benefits for veterans. Here is a list of recreation benefits to be aware of:
| | |
| --- | --- |
| Hunting and Fishing License for Disabled Veterans | This provides access to a free lifetime combination of small-game hunting and fishing licenses for a resident veteran with a permanent service disability of at least 60%. Those who are resident patients at a VA hospital are also eligible for this benefit as well. |
| Hunting and Fishing License for Active Duty | Active duty residents who are non-residents of Colorado and their families are eligible for hunting and fishing licenses at a resident rate while stationed in Colorado. |
| Resident Fishing While Home on Leave | Those who are residents of Colorado on active duty and stationed permanently outside the state can fish without obtaining a license in Colorado while on temporary leave. |
| Free State Park Admission | Any active duty individuals and veterans are admitted free of charge to Colorado state parks for the entire month of August and Veterans Day. No specific residency is required. |
What Resources Are Available for Colorado Veterans?
If you're a veteran residing in Colorado, there are a variety of resources available to help you with your needs. Here are some common resources that are essential for veterans in Colorado.
Colorado VA District Benefits Office: The district benefits office is located in the Continental District at 155 Gordon St. Lakewood, CO 80228.
Colorado VA Regional Benefits Office: The Denver Regional Benefits office is located at 155 Van Gordon St. Lakewood, CO 80228.
Colorado VA Medical Centers: The Grand Junction VA Medical Center is located at 2121 North Ave. Grand Junction, CO 81501
Get Your Rightful Veteran Benefits With DoNotPay
Getting your benefits shouldn't be a difficult process to navigate. With the help of DoNotPay, veterans in Colorado can easily find the nearest VA center to help them get their rightful benefits, such as VA healthcare, VA pensions, VA disability compensation, and more.
All you have to do is:
1. Search for and open the Military Protection product on DoNotPay.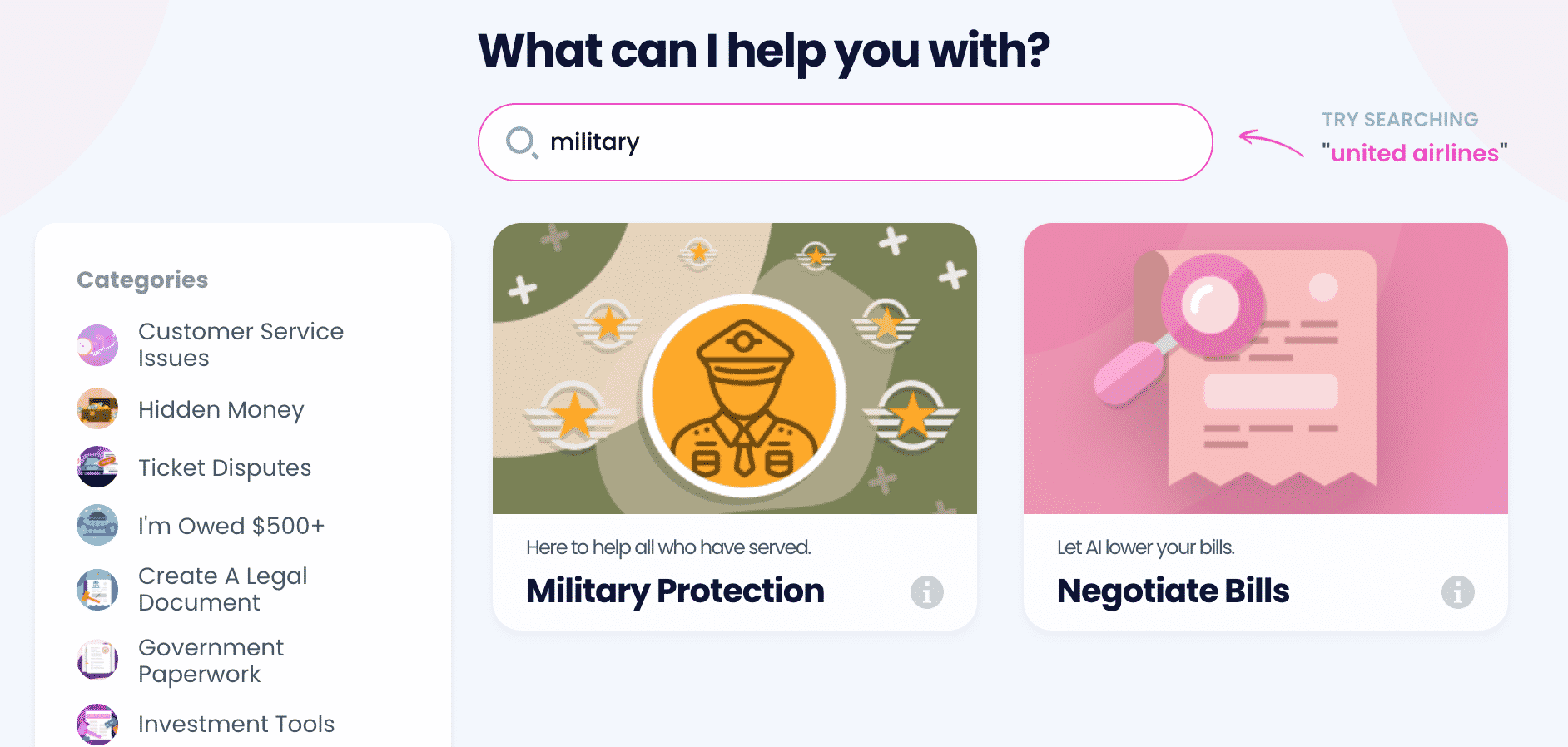 2. Select whether you want to 1) locate the nearest VA office, 2) access veteran benefits, or 3) locate service records.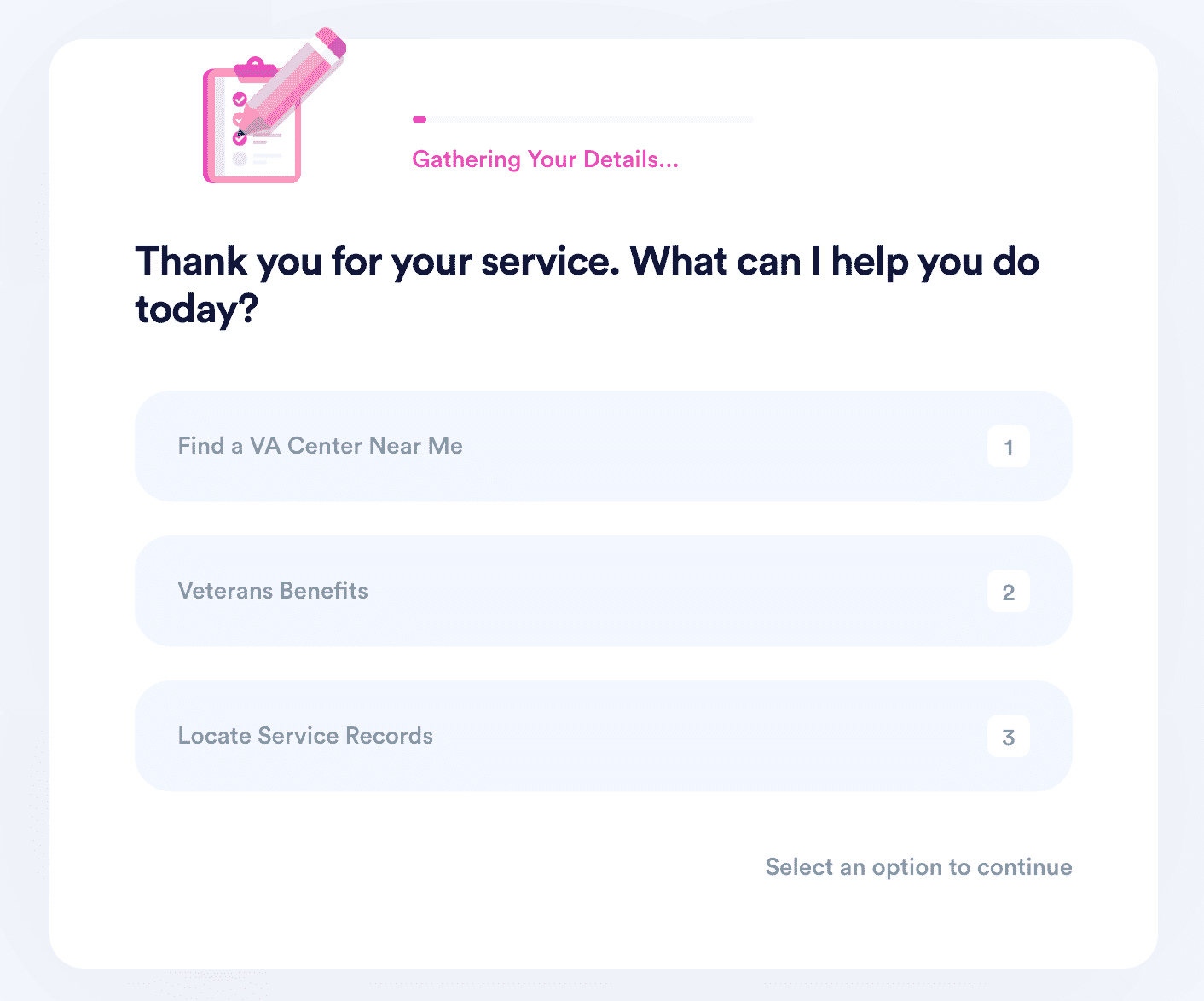 3. Answer a simple set of questions so our chatbot can collect the necessary information to help you and find the nearest office or fill out the appropriate forms.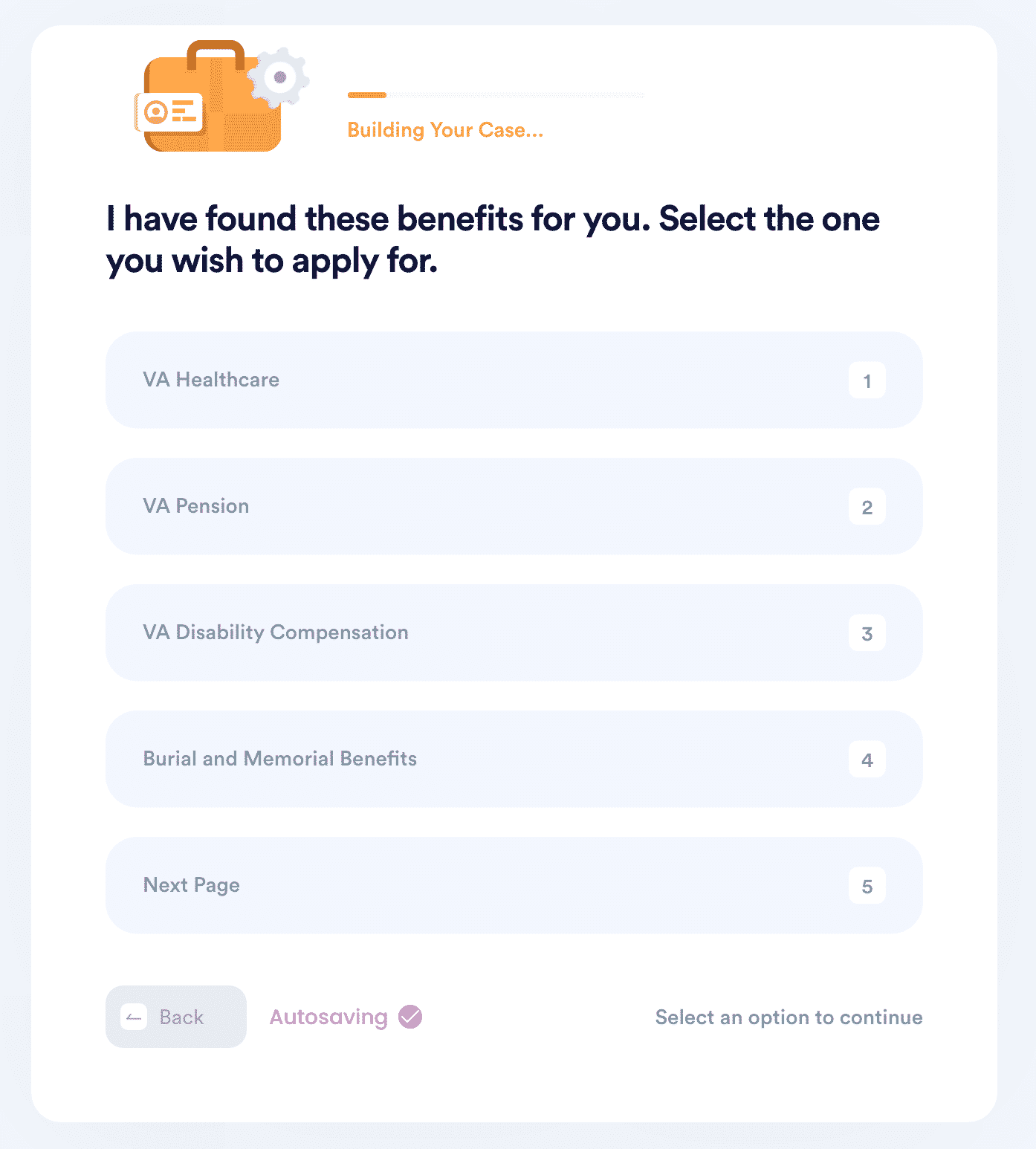 And that's it! If you choose to apply for a benefit, DoNotPay will fill out the benefits application form on your behalf and schedule an appointment with the nearest VA office so you can complete the application process!
Veterans shouldn't have to fight for their military benefits. But this is, unfortunately, a reality for some veterans in Colorado. The good news is, you don't have to navigate this process all by yourself. DoNotPay makes it easy for Colorado veterans to learn about what benefits they have available to them by locating the nearest VA office. DoNotPay is fast, easy, and successful at helping you get exactly what you need right from your laptop. Are you ready to get started? Contact us to begin locating your nearest VA office today!