Colorado Trademark Registration—How Does It Work?
Are you researching Colorado trademark registration? It is an important yet complicated process, so use this guide to get definitive answers.
Registering a trademark in the state of Colorado entitles you to valuable protection, keeping your brand secure from unauthorized use by your competitors. The application process can be time-consuming and expensive, which is why it is so important to know what you are getting into. You can also register for a trademark on the federal level and .
What Is a Trademark in Colorado?
Colorado state laws define a trademark as a word, name, symbol, device, or any combination thereof adopted and used to identify the goods of a particular entity and to distinguish them from goods made or sold by others.
The following parts of your brand are eligible as trademarks:
They are organized in 45 classes that specify what type of good or service they protect. Trademark is not precisely the same as a service mark, which protects a brand asset associated with a service. Copyright is different from both in that it protects works of authorship instead of brands.
State and federal trademarks are valid for ten years. You need to renew them every five years to maintain your trademark.
Why Is It Important To Register a Trademark in Colorado?
While a trademark does not have to be registered, there are many benefits of doing so. A trademarked brand cannot be used by other entities without risk of legal recourse. If a competitor uses a part of your brand to promote their product, you can sue them for infringement.
Small businesses operating locally do not have to trademark their brands. If they scale to the state or national level, they are highly encouraged to do so. Without the legal protection that a trademark entails, the value you have developed in your business is vulnerable to unauthorized use.
How To Register a Trademark in Colorado
You can only file Colorado trademark registration applications online. If you need help with the procedure, you can turn to DoNotPay.
| Filing Method | Yes/No |
| --- | --- |
| DoNotPay | Yes |
| Online | Yes |
| By mail | No |
| In person | No |
The process depends on the nature of the trademark you intend to file:
Trademarks owned by an existing business record
Trademarks unassociated with an existing business record
If the mark you wish to file is connected to a Colorado state business record, follow these steps to register:
Navigate to the Business Organizations page
Select Search business database
Input the record name or ID number
Click on Search
Choose the ID Number of the appropriate entity
Navigate to the summary page
Select File a Form
Navigate to the Documents Available for Filing page
Choose Statement of Trademark Registration of a Reporting Entity
Follow these steps to file a trademark unrelated to the current existing business record:
Go to the Business Organizations page
Choose File a business document
Select File a form to create a new record
Choose the Register a trademark option
Do You Need a Federal Trademark?
Federal trademarks are also not mandatory, but they are valuable for companies operating nationally. State trademarks only protect your established brand within Colorado.
If you want to register your trademark at the federal level, you must do so with the United States Patent and Trademark Office (USPTO) and consult their database to ensure your brand does not infringe on another on file.
How To Register a Federal Trademark
To register your brand with the USPTO, follow these steps:
Visit TEAS (Trademark Electronic Application System)
Log into or create an account
Open an application for your specific trademark class
Provide the required information about your brand
Submit the application
Trademark Costs & Expiration Periods
Colorado-based and federal trademarks involve these direct expenses:
Filing fees
Legal expertise
The Colorado Secretary of State Office and the USPTO charge a filing fee for trademark registrations:
| Application Type | Fee |
| --- | --- |
| Colorado | $30/class |
| Federal—TEAS Plus | $250/class |
| Federal—TEAS Standard | $350/class |
You will also need legal assistance to ensure you carry out the process correctly. Any errors with your application will likely result in a denial. That means a waste of time and money spent on the registration and filing fees.
Businesses often hire trademark lawyers to consult on the procedure. Unfortunately, doing so is cost-prohibitive. Colorado lawyers will charge up to $500/hour.
DoNotPay Is the Low-Cost Way To Get Your Trademark Registration in Colorado and Beyond
No room in your budget for an expensive lawyer? Do not let that stop you from getting the legal status your growing brand needs.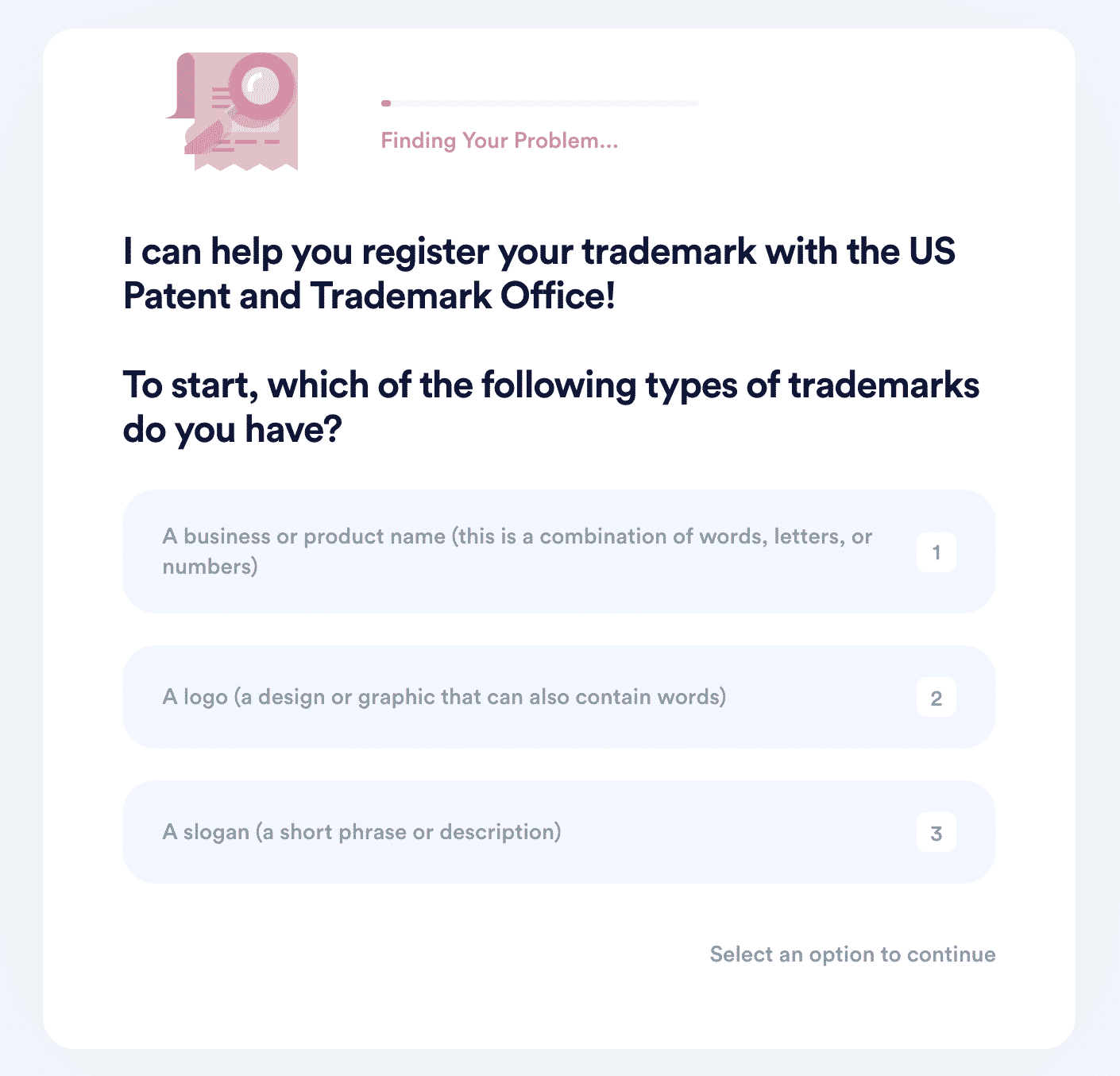 DoNotPay offers the Trademark Registration tool that streamlines the application procedure on the federal level, ensuring the following tasks are carried out efficiently:
Gathering of the required information
Execution and submission of the application
Facilitation of review and signing
Here is how to use our Trademark Registration tool:
account
Select the Trademark Registration tool
Input the necessary information about your brand
We will connect you with the USPTO so that you can receive updates and track the progress of the registration process.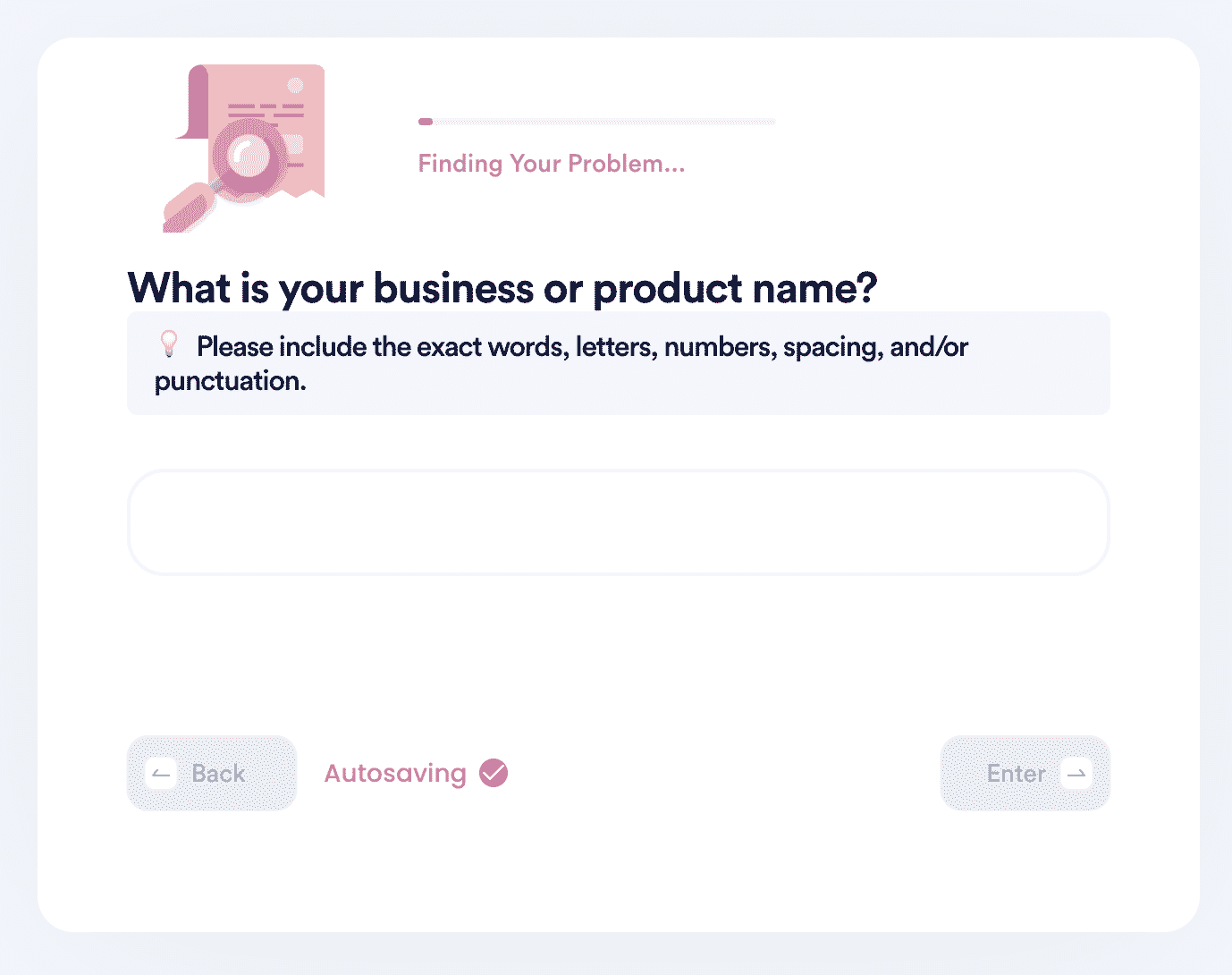 Small Business, Big Issues—Resolve Yours With DoNotPay
DoNotPay is here to offer a helping hand in your business endeavors. We can help you handle various procedures as effortlessly as possible. Want to make sure you get a small business loan for real estate purchases, job creation, debt repayment, and similar? DoNotPay is here to assist you in writing a convincing request letter! Want to make sure your employees and shareholders save money on taxes by filing 83(b) election forms? We can help with that too!
The world's first robot lawyer has a myriad of nifty features at your disposal. Use your precious time to work on your brand while we take care of most business-related issues for you. Our app can help you:
Fight unfair chargebacks
Deal with illegitimate online reviews
Send formal demand letters to clients who won't cover the cost of your services
File the self-certification request with the Privacy Shield program in a matter of clicks
Send documents to your customers or business associates from the comfort of your office with our faxing and mailing tools
DoNotPay Helps You Deal With Various Registration Processes!
One of the first tasks you should complete as a business owner is to obtain an Employer Identification Number (EIN). Applying for it is usually a tedious process unless you use DoNotPay! We can file your application on your behalf and notify you accordingly.
Does your business have a website that allows users to share or store content? An important aspect you should take care of is registering a DMCA agent, and DoNotPay is here to make the process easier!
If you wish to register your business name, slogan, or logo as a trademark but you're not sure how the process goes, rely on DoNotPay and finish your registration in no time! We can also help you protect your trademark by monitoring it every month and filing a cease and desist demand if anyone tries to steal it.