Keep Your Family Safe With the Colorado Sex Offender Registry
Colorado counts over 11,880 registered sex offenders in the state database and imposes several restrictions regarding their movements and whereabouts.
DoNotPay has all the facts—from what the Colorado sex offender registry rules are to what you can do if a perpetrator lives in your vicinity. We also offer a quick and organized solution for searching the registry and staying on top of the Colorado sex offenders near you. to get access to it!
The Lowdown on Sex Offenders in Colorado and Applicable Laws
Every Colorado sex offender is required to register within five business days of being released into society. If the offender is discharged from the department of corrections with no supervision, he or she has three business days to register.
The registration period depends on the crime committed, not the tier or level system:
Class 1, 2, or 3 felony—20 years
Class 4, 5, or 6 felony—Ten years
Third-degree sex assault—Five years
Other misdemeanors—Five years
Colorado's sex offender registration laws say that sex offenders need to update their registration annually five days before their birthdays. Those charged as Sexually Violent Predators have to register every three months.
Failure to comply with the registration rules is a crime, and the offender will be charged with a felony or misdemeanor—depending on the severity of the offense.
Information about sex offenders who fail to register will be published on the Colorado Bureau of Investigation (CBI) website.
Registered sex offenders in Colorado are subject to several restrictions:
They cannot reside within 1,000 feet of the following:

Schools
Parks
Daycare centers
Churches
Libraries

They need to abide by certain travel restrictions

If a sex offender from another state is coming to Colorado and staying for over 14 consecutive days or more than 30 days in the calendar year, he or she needs to register with the state within five business days of arrival
If a Colorado sex offender plans to visit another state, he or she has to register with the CBI, their parole officer, and the registry in the state they're traveling to
How Can I Find the Sex Offenders in Colorado?
With the passing of Megan's Law, information about sex offenders became freely available in the interest of public safety. You can map out the sex offenders in Colorado or any other state to find out if any of them reside, work, or go to school near you. To search the Colorado Sex Offender Registry, you need to:
Open the Colorado Bureau of Investigation website
Accept the User Agreement
Choose your search method:

Select Search to find the offenders by name
Select Search by Map to find the offenders by location

Enter the details in the required fields
Hit Search or Map by Location
You can sign up to receive weekly notifications on sex offenders according to your ZIP code. You can do this by hitting Notifications on the menu bar and creating an account.
It is important to note that the Colorado sex offender registry does not include information about sex offenders who are juveniles or convicted of a misdemeanor offense. For a complete list, you can contact either of the following:
Local Police Department
Sheriff's office
Colorado Bureau of Investigation (CBI)
The Colorado sex offender registry is reported to being outdated and full of offenders who are too old to be considered dangerous. DoNotPay has the optimal solution for searching for sex offenders in Colorado with our Sex Offender Search tool.
Use DoNotPay To Find Sex Offenders in Colorado in No Time!
The Colorado sex offender registry is not the quickest and most convenient way to keep yourself informed about the sex offenders in your vicinity. It's full of outdated information and elderly offenders. For a more up-to-date and accurate list of sex offenders near you, you can rely on DoNotPay.
To use DoNotPay to search for sex offenders in Colorado, here's what you need to do:
Click on the Sex Offender Search feature
Type in your address and specify the mile range; alternatively, you can search by name
Select the weekly check option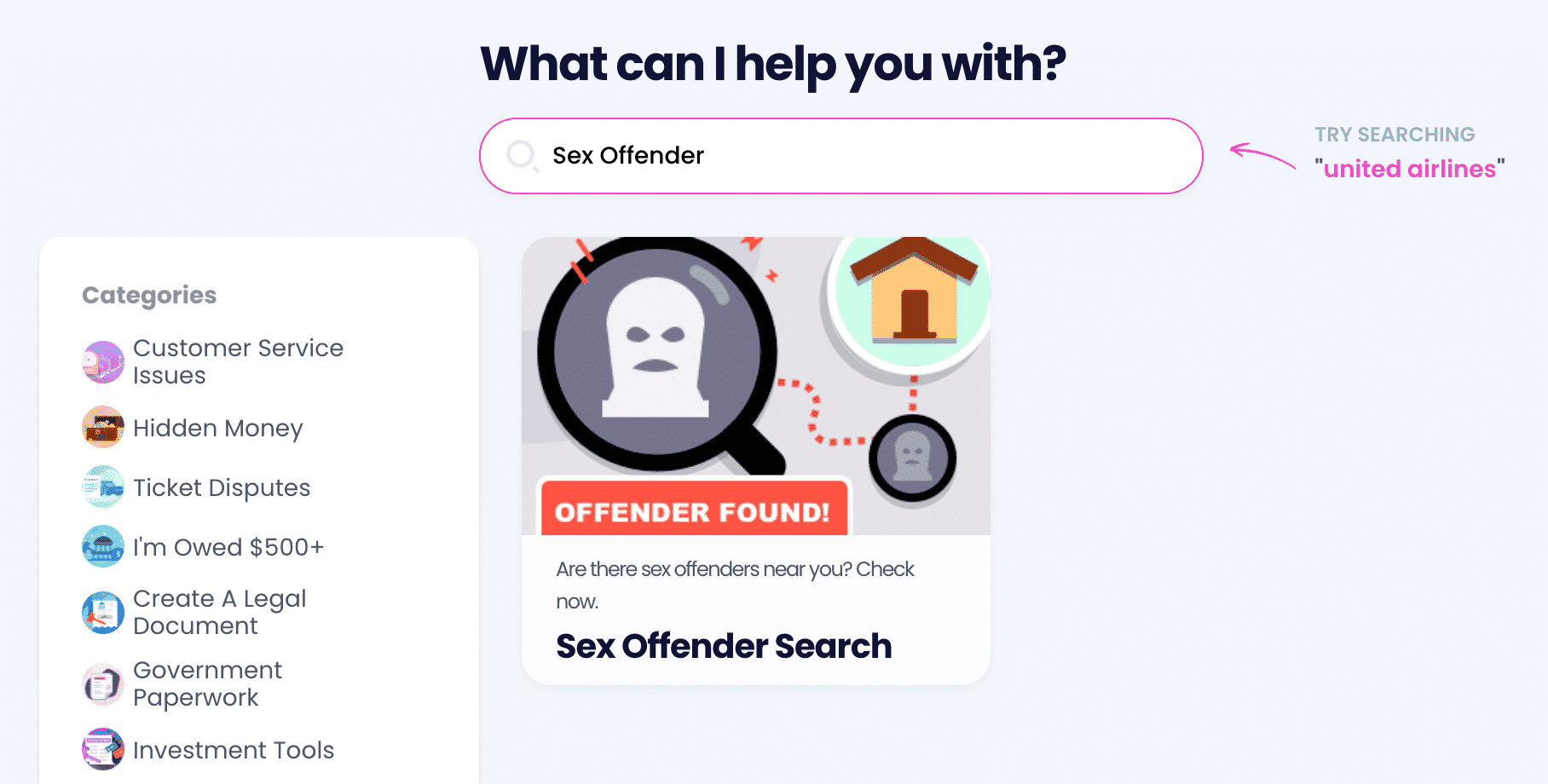 Our convenient search tool can give you much-needed peace of mind. You will automatically receive a report of the sex offenders located in your area. The greatest benefit is that you won't have to keep searching for sex offenders and be unnecessarily flooded by dated information—we will conduct weekly searches in your stead and keep you up to date with the latest registrants in your vicinity.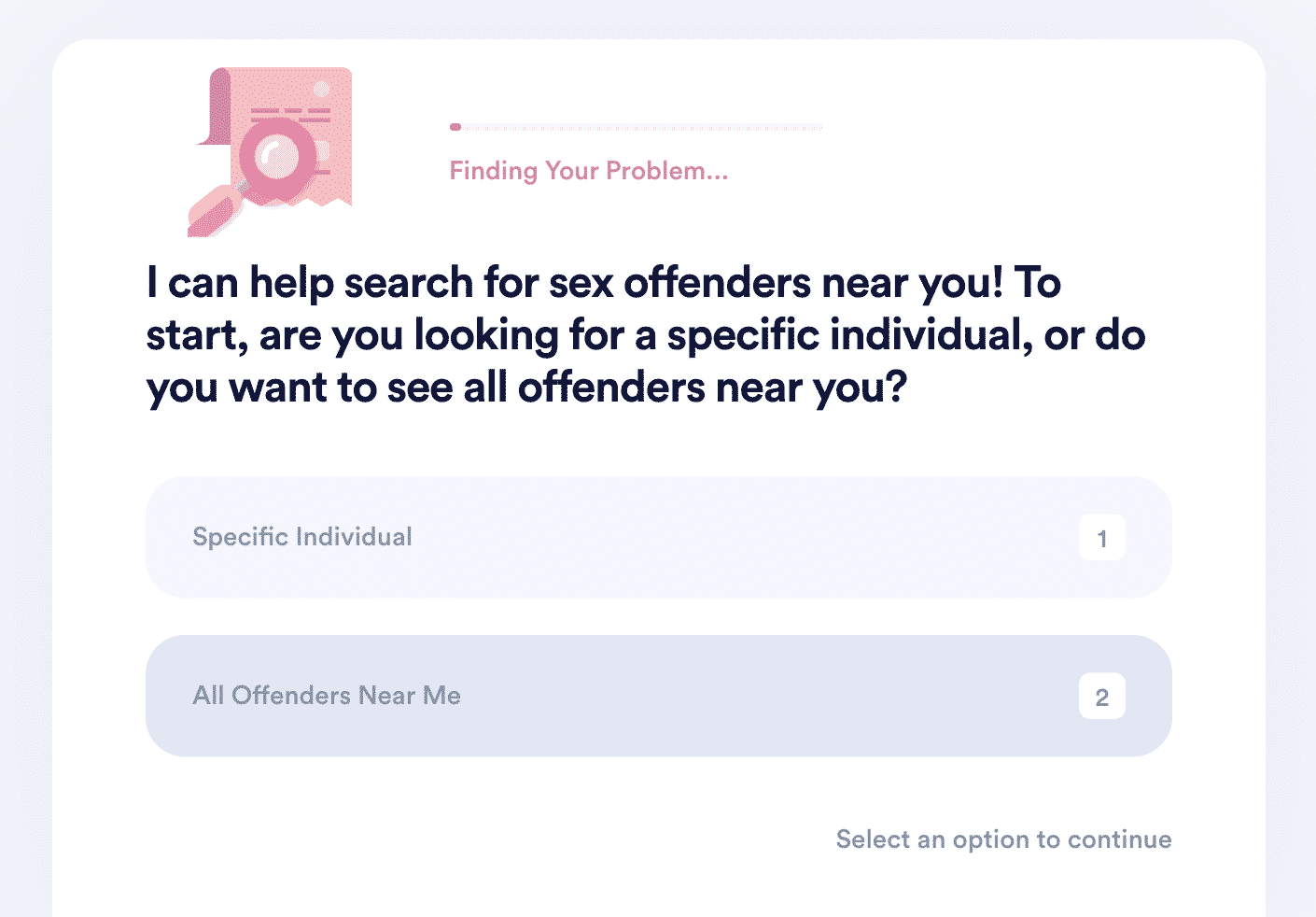 How Can You Keep Your Family Safe if There Is a Sex Offender Living Nearby?
If a sex offender is living nearby, there are precautionary measures you can take:
Talk to your sheriff to voice your concerns and check if the offender's registration details are up to date
Hold a community meeting to discuss any concerns that may be taken to the sheriff
Prepare a safety plan for your family. Ensure everyone is familiar with the numbers they should call in case of an emergency
Talk to your children and explain that they can say No to anyone if they don't feel comfortable
Introduce yourself to the offender, voice your concerns, and see if he or she will cooperate by coming to community meetings
Only the Sky Is the Limit for DoNotPay
DoNotPay has an insane number of features that keeps growing. Our platform can help you:
Say Goodbye to Spam Mail With DoNotPay
DoNotPay has designed a feature that will put a stop to the flood of junk and spam mail into your inbox! We can help you join a class action against a spammer or take any person or company that's wronged you to small claims court!
Need a virtual credit card number or a fake phone number to protect yourself from scammers? We've got you covered! We can help you fight text spam or even assist you in sending mail without any chance of error.
Our users' safety is our number one concern, so we've developed a feature that will protect you from cyber stalking or harassment!