A Simple Guide to Getting Colorado Scholarships
Besides the rivers, national parks, and mountain ranges, Colorado also offers quality higher education. The Centennial State is the home to over 360,000 students. With 62 colleges and universities, students have a plethora of options when it comes to getting their bachelor's, master's, and doctoral degrees.
While browsing the available education programs, you might notice that the cost of studies can rise to head-spinning amounts. You don't need to pay for these expenses out of pocket when there are numerous Colorado scholarships to help you out.
The common problem is finding the right aid programs that you are eligible for—DoNotPay will help you conquer this challenge.
Follow our brief guide to get all the necessary information about finding and securing scholarships in Colorado.
Scholarships in Colorado You Should Know About
The funds for scholarships can come from a variety of funders—including:
The State of Colorado
Foundations
Profit and non-profit organizations
Philanthropists
Companies
If you want to find the right programs for you, the following groups might help you with that quest:
General scholarships
School-specific scholarships
Career-specific scholarships
Minority scholarships
General Scholarships
In the sea of different aid opportunities in Colorado, these are the ones that stand out:
| Scholarship Name | Basic Eligibility Requirement | Award |
| --- | --- | --- |
| Greenhouse Scholars Scholarship | High school seniors residing in Colorado, Georgia, or Illinois | $5,000 |
| Steven G. King Play Environments Scholarship | U.S. and international students who are college juniors, seniors, or graduates studying landscape architecture at a Landscape Architecture Accreditation Board (LAAB)-accredited institutions | $5,000 |
| Partner Colorado Scholarship | Permanent Colorado residents aged 17–40 who attend school in the State | $1,000 minimum |
| Everitt Companies Single-Mother Scholarship | Single mothers | $2,000 |
| Family of Bradley Gendron Scholarship | College freshmen who have type one diabetes | $1,000 |
School-Specific Scholarships
Each college and university has scholarships for its students—freshmen, sophomores, juniors, seniors, and graduates. If you plan to attend school in Colorado, you should look into the following gift aid opportunities:
Career-Specific Scholarships
Scholarships can be awarded to students in a specific field or industry. Some of the most prominent career-specific aid programs in the State are:
Gordon Scheer Accounting Scholarship—for undergraduate and graduate accounting students enrolled in an accredited Colorado college or university
The Bureau of Health Professional's Nursing Scholarship—for students studying to become licensed nurses
MGMA Western Section Scholarships—for students majoring in medicine-related subjects
Scholarships for Minorities
If you belong to a group that is classified as a minority, you can be eligible for unique aid programs. Some of the scholarships for minorities that you should keep an eye on are:
The Dr. Julianne Malveaux Scholarship—for female African American sophomores and juniors
The A.T. Anderson Memorial Scholarship—for American Indian and Native Alaskan students enrolled in medicine, engineering, or mathematics majors
​​LAEF General Scholarship—for Colorado students of Hispanic heritage
The Alexander Foundation—for students who identify themselves as gay, lesbian, or transgender
Where To Look for Scholarships for Colorado Students
Begin your search by turning to the following sources:
Colorado Department of Higher Education—For state-specific scholarships, this is the place where you should go to
Financial aid offices at schools—Colleges and universities have their financial aid and scholarship offices where you can inform yourself of available programs at their institutions. You can also inquire about department-specific scholarships for your major
High school counselor—If you are a high school senior, you can talk to your counselor about college aid. He or she can also give you directions on how to conduct the search
Profit and non-profit organizations—Look into local and state organizations for specific groups you belong to—such as women, veterans, homeschoolers, creative writers, students with learning disabilities, and others. You can earn a scholarship based on your interests, beliefs, or causes you support
Ethnicity-specific organizations—The majority of the states—including Colorado—have aid programs dedicated to ethnicities who are considered minority groups. If you are Asian, African, Hispanic, Filipino, Italian American, or of any other heritage, you might get financial support based on that
Internet—You can turn to the mother of all knowledge—the internet—and search for aid using relevant keywords—for example, biology major scholarships in Colorado. Most key details are available on the funders' websites
Does this sound like too much of a hassle? You can unify the research process by turning to a single source of scholarship information—DoNotPay. Subscribe to our app, and we'll single out any Colorado gift aid program that you qualify for.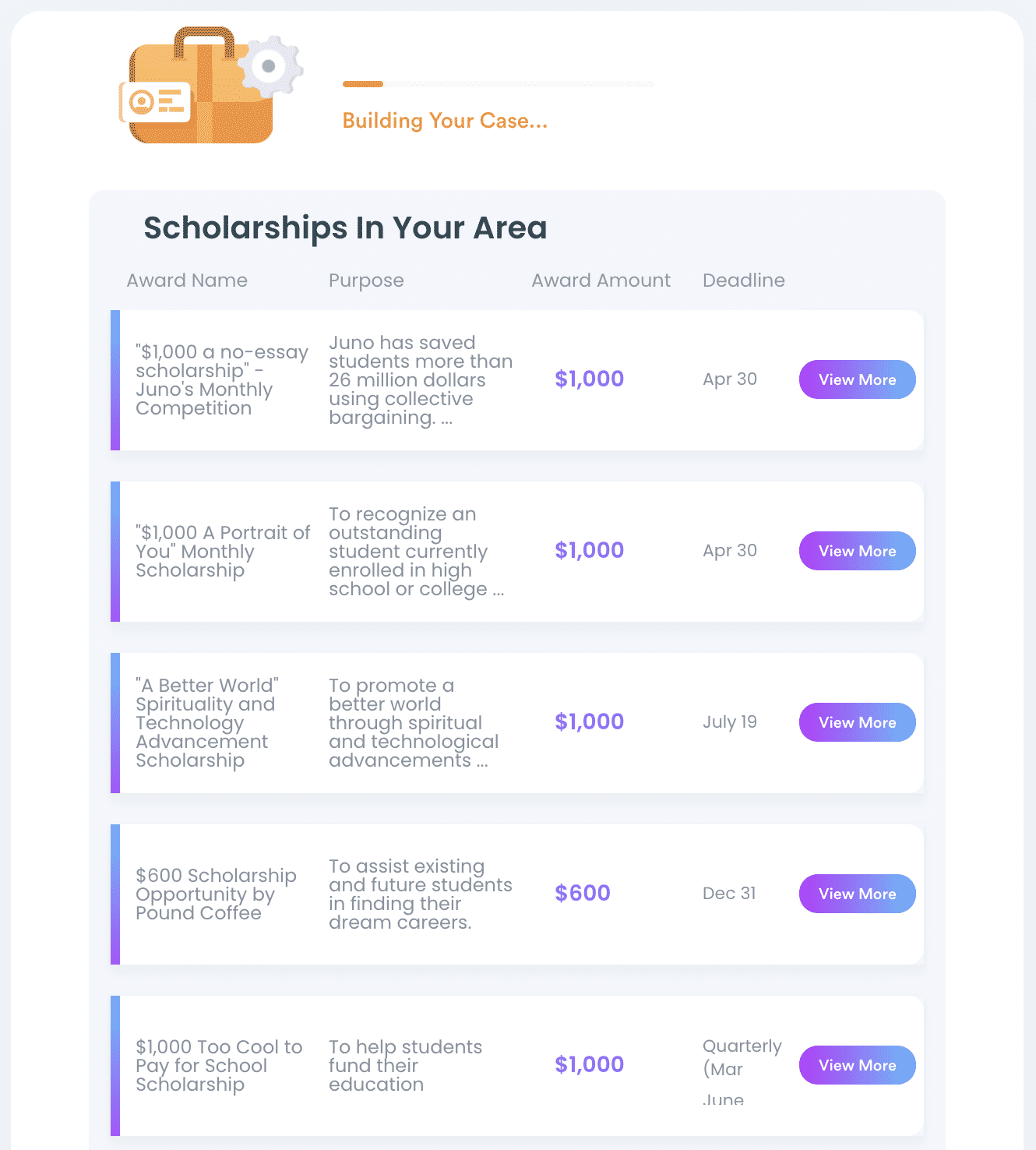 How To Apply for College Scholarships in Colorado
The applications are handled by the scholarship provider. Follow the steps listed on the websites of funders to finalize your request.
If you want to qualify for federal and state scholarships and grants, you will need to complete:
Free Application for Federal Student Aid (FAFSA)
Colorado Application for State Financial Aid (CASFA)—if you are a Colorado ASSET (Advancing Students for a Stronger Tomorrow) student
The CASFA form is for students who don't have a lawful immigration status but have resided in this State for three years or more prior to graduating high school in Colorado. Non-residents and non-U.S. citizens who are residents can apply for institutional aid using CAFSA.
Besides these forms and the ones required by the provider, you might also need:
Proof of your involvement in a certain organization or cause
Choose DoNotPay, and a Full List of Scholarships Will Display
DoNotPay brings all information you need about scholarships and grants. Provide us with info about your level of study, grade, and interests, and a tailored list of aid will pop up. In less than three minutes, you'll get to see all programs you qualify for, including the less popular ones with lower competition.
The process takes only a few minutes as you need to take three simple steps:
Select the Apply for Scholarships product
Answer our chatbot's questions
Revise your list of college scholarships in the app and apply for any no-essay one automatically through DoNotPay.
Anything Else You Need?
DoNotPay offers an exhaustive range of products and services for one low monthly fee. You can take full advantage of our offer once you resolve the issue at hand.
Our app can both save you money and help you earn it—sign up to appeal parking tickets, get assistance with utility bills, get compensation from airlines, request a refund, have your college application fees waived, find your missing money, reduce property taxes, enter any sweepstake, or send a financial aid appeal letter to any school.
We can also turn your gift card balance into cash, help you apply for scholarships, and assist you in getting compensation as a victim of crime.
There's Even More to Our Offer
The world's first robot lawyer can turn any nightmarish admin or legal procedure into a piece of cake. Look into our knowledge base to find out how to send a letter of warning to your bad neighbor, submit an anonymous complaint to your HR, fight workplace discrimination, get access to public records, deal with a stalker or harasser, put an end to robocalls, and file a complaint with any company.