Key Aspects of the Colorado Real Estate Contract
The process of buying a property can be bittersweet—while the prospect of owning a new home is thrilling, the risks of making the purchase can be overwhelming. That is where real estate contracts come in handy. 
Real estate purchase agreements are fairly similar everywhere in the U.S., but you should always pay attention to the specifics that apply in your state. That is why most real estate transactions in the Centennial State require contracts that the Colorado Real Estate Commission approves.
This article will provide all the information you need before signing the Colorado real estate contract. 
What Is a Real Estate Contract?
Real estate contracts are legal documents that define the terms and conditions of a real estate transaction between the seller and buyer of said property.
The purpose of a real estate contract is to outline the expectations and protect both parties in the process.
There are three types of a real estate contract:
Real estate assignment contract

Purchase agreement
Types of Colorado Real Estate Contracts
The following table displays real estate contracts that the Division of Real Estate in Colorado approves:
Real Estate Contracts and Forms
Contract Types

Listing Agreements

Exclusive tenant contract

Exclusive right to buy

Exclusive right to lease

Sales Contracts

Contract to buy and sell—commercial

Contract to buy and sell—land

Contract to buy and sell—CO Foreclosure Protection Act

Contract to buy and sell—residential

Contract to buy and sell—income-residential

Manufactured home contract to buy and sell

Deeds of Trust

Due on transfer—creditworthy

Due on transfer—strict

Assumable—not due on transfer

Deeds

Warranty deed

Quitclaim deed

Special warranty deed

Bargain and sale deed

Promissory Notes

Earnest money promissory note

Promissory note for deed of trust (UCCC-no default rate)

Promissory note for deed of trust

Bills of Sale

Bill of sale—Contract to buy and sell real estate

Bill of sale—Personal property agreement
You can check out the complete lists of real estate forms and documents on the Division of Real Estate website.
Colorado Residential Purchase and Sale Agreement
Even though there are a lot of contracts under the real estate umbrella, we refer to residential purchase and sale agreements when talking about buying and selling property in Colorado.
The Colorado purchase agreement is a contract that outlines the terms of a property transaction between its seller and buyer. The purpose of a purchase agreement is to:
Protect the buyer

—Signing a purchase agreement enables the buyer to terminate the contract without losing money

Define the seller's obligations

—Once they sign the contract, the seller is obligated to sell the property unless the buyer agrees to terminate the contract

Minimize potential risks

—When buying and selling property, the party that is at most risk is the buyer. That is why the state of Colorado created a strong residential purchase and sale agreement that focuses heavily on the buyer's protection
What Are Required Disclosures in a Colorado Purchase and Sale Agreements?
When signing a Colorado real estate contract, the State requires the seller to provide a disclosure statement to notify the buyer about the condition of the property and its previous issues.
Disclosures that the seller must include are:
Lead-based paint disclosure

—The U.S. Consumer Product Safety Commission requires sellers in Colorado to provide the lead-based paint disclosure to potential buyers

Methamphetamines disclosure

—The seller must allow the buyer to conduct testing on the real estate to make sure it was never used as a methamphetamine laboratory

Sellers residential property disclosure

—

The disclosure form that incorporates every state-required disclosure, including those that relate to:

Taxing districts

Common interest community

Methamphetamine lab

Potable water

Transportation projects

Oil and gas activity
If the property contains or is equipped with energy-related technologies, the seller must also include the green disclosure form.
What Does a Colorado Real Estate Contract Include?
The state-approved purchase and sale agreement is 18 pages long and covers the following terms:
Price

Duration

Riders or addenda

Contingencies

Disclosures

Earnest money

Considerations

Closing costs

Both parties' signatures
There are Colorado real estate contract templates online, but it is best to use the official form from the Division of Real Estate website.
Draw Up Legal Documents in Colorado in a Jiffy With DoNotPay
Writing contracts is not an easy task. Making even minor mistakes can lead to an unenforceable legal document. If you don't want to pay an arm and a leg for legal assistance, you should ask the world's first robot lawyer for help!
With DoNotPay's service, you can create numerous legal documents mistake-free within minutes. The process is as simple as it gets:
Type in the name of the contract you need

Answer our chatbot's questions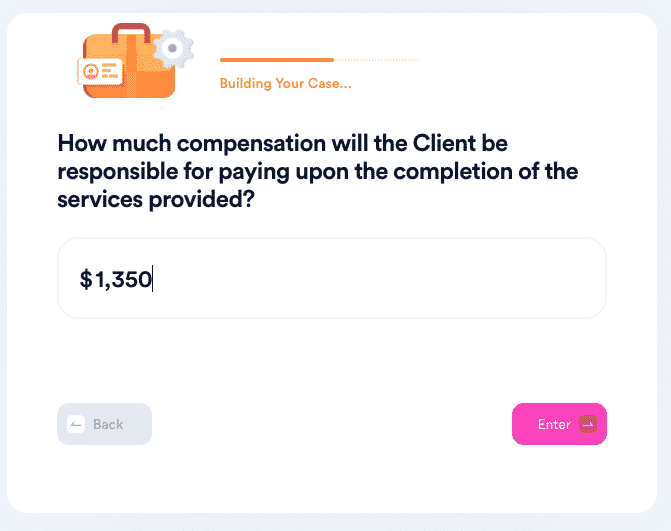 Once you complete the steps, we will draft a customized legal document that you can later sign and notarize.
What Contracts Can DoNotPay Create?
to create one of the following legal documents in no time:
General Affidavit

General Business Contract

Child Care Authorization Form

Promissory Note

Quitclaim Deed

Bill of Sale

Residential Lease Agreement

Intent To Purchase Real Estate

Estoppel Certificate
DoNotPay Is an Ultimate Money-Saving Assistant
Our app can help you manage bills that are too high to pay, but there are plenty of other money-saving possibilities out there we can help you with.
Want to challenge a parking ticket? DoNotPay can dispute parking citations in any city! Is someone getting revenue from your creative work? Cut the thieves off with DoNotPay!
We can also help you get your college application fees waived, file any insurance or warranty claims, locate unclaimed funds in your name, or earn some extra cash from paid clinical trials in your area.
No More Risky Free Trials With DoNotPay
Do you love free trials but tend to forget to cancel your subscription before the trial ends? If this is the case, check out DoNotPay's virtual credit card for a risk-free experience.
With our virtual credit card, you can sign up for any service without worrying about unwanted charges. DoNotPay will even provide you with a random email address, which will help keep your inbox clean from spammy emails from the company.
Our app can also get in touch with the company's customer service, request a refund from them, or even escalate your issue to small claims court if the company is challenging to communicate with.